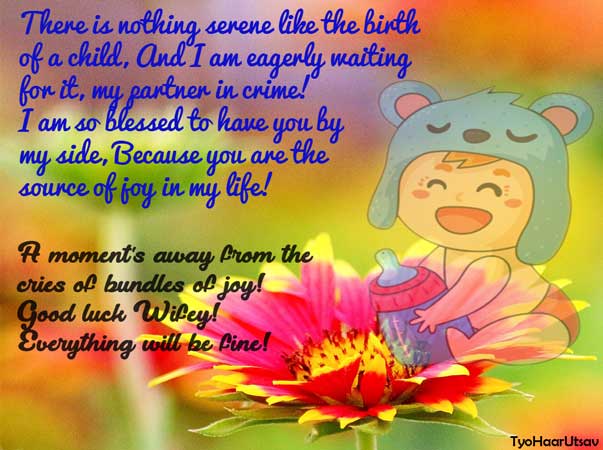 Invitation vector created by freepik – www.freepik.com
When it comes to the final moments of giving birth, it is natural to feel anxious. After all, the woman is going to bring a life force that she has nourished for nine months. As a husband or boyfriend, your inspiring message or letters to her before giving birth can really help her to feel ease and relax to bring the baby into the world.
But coming up with a soothing and helpful message at the last moment can be difficult which is why we are writing this post. Here, we have prepared not only the beautiful message and letter for your wife (or Girlfriend) before giving birth, but we have also jotted down heartwarming short poems, and rhymes for the same.
Messages to wife before giving birth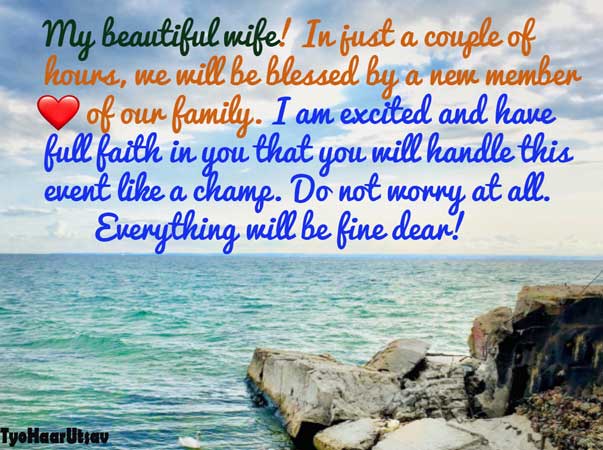 My beautiful wife! In just a couple of hours, we will be blessed by a new member of our family. I am excited and have full faith in you that you will handle this event like a champ. Do not worry at all. Everything will be fine dear!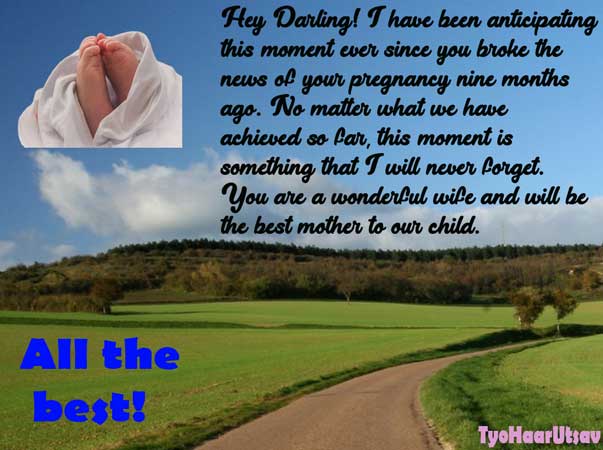 Hey Darling! I have been anticipating this moment ever since you broke the news of your pregnancy nine months ago. No matter what we have achieved so far, this moment is something that I will never forget. You are a wonderful wife and will be the best mother to our child. The Almighty is there with us sweetheart and he along with the docs will surely help to cruise this delivery process. All the best!
Legends say that the more rigorous a hustle is, the sweeter the reward. But I know that you will handle this child's birth very well because you are brave and a kind soul who has nothing but love in her heart, ready to be fully bestowed upon the bundle of joy, who is going to arrive on this planet in just a couple of hours. Stay cool, stay calm! Things will be alright! Love you!
Motivational letter to wife before giving birth
Hey (Name of your wife)

I can't fathom the words to express my excitement. We are going to be parents in just a couple of hours and I will owe this beautiful gift to you for the rest of my life. In all your professional and personal endeavors, I have seen you cruising past through the difficult phases and I am totally confident that you will easily absorb the complexity of the phenomenal childbirth process.

I am sure the Almighty is radiating its blessings upon us right from above because we deserve every happiness in this world. Waiting eagerly for the newborn to arrive and I promise to be the best father and husband in the world. Take a deep breath! And relax dear because professionals are there to help us in everything! God bless us! Love you!


Lots of love (Name of the wife)
(From about to become a father)
*** Related Post: – You may also want to read best Thank you messages to wife after giving Birth !! ***
Short Rhymes and Poems for the wife before giving birth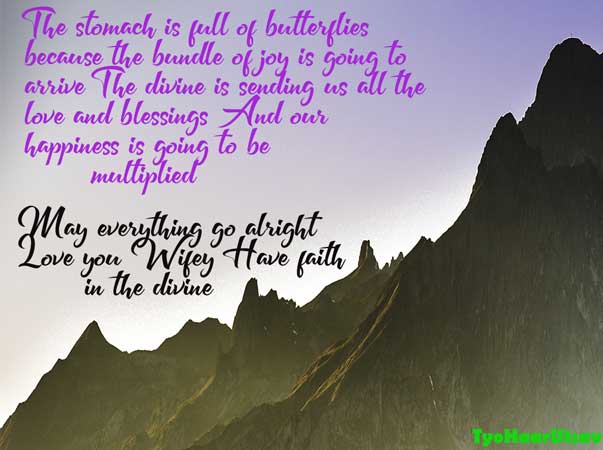 The stomach is full of butterflies,
Because the bundle of joy is going to arrive!
The divine is sending us all the love and blessings,
And our happiness is going to be multiplied!!

May everything go alright! Love you Wifey! Have faith in the divine!
There is nothing serene like the birth of a child,
And I am eagerly waiting for it, my partner in crime!
I am so blessed to have you by my side,
Because you are the source of joy in my life!

A moment's away from the cries of bundles of joy! Good luck Wifey! Everything will be fine!
Message to Wife expecting a baby Boy in just a few hours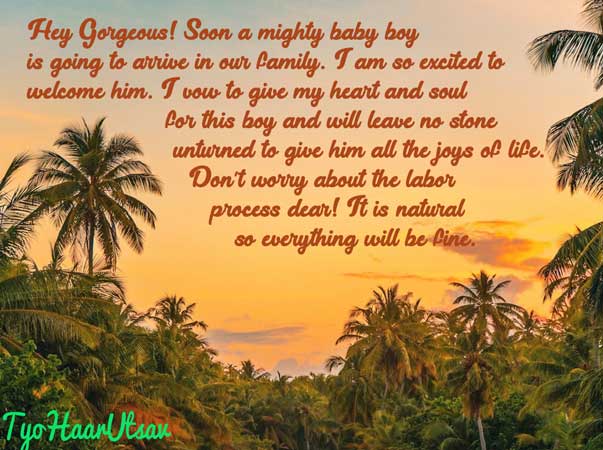 Hey Gorgeous! Soon a mighty baby boy is going to arrive in our family. I am so excited to welcome him. I vow to give my heart and soul for this boy and will leave no stone unturned to give him all the joys of life. Don't worry about the labor process dear! It is natural so everything will be fine.
Letter to Wife who is about to give birth to a baby girl
Hey (Name of your Wife)
I have always wanted a baby girl; a girl that will be reminiscent of your beauty and who will possess all my love and attention! At the same time, I understand how you are feeling right now dear! You may be anxious about the whole process, which is totally fine, as your body is preparing for the amazing phenomena of childbirth that is about to take place.

And this is why I am by your side. We will witness this glorious moment together. I also know that you are one hell of a strong woman who will cruise through this process. You are a kind and altruistic woman and the divine has all its blessings bestowed onto you. May everything go smoothly and fine. Very eager to welcome my daughter into this world. Relax darling and have faith!

Cheers!
(Your Name)
About to become the father of a gorgeous baby girl
Hey Dear Wife!

I know I should have been by your side during this crucial moment of our lives. But as the circumstances turned out, I may not be there with you only but simply praying with all my heart for the birth process to go smoothly.

You may not believe but God gifts a very high threshold of pain tolerance to women for this amazing phenomenon. I know that you will handle this process with all your might and that our baby will arrive smoothly on this planet.

I feel sorry to not be by your side at this time. But I promise you that I will be the best father and husband who will have the world at their feet. Stay calm dear, stay relaxed because the professionals are there to help you out too. God bless us and all the best for the birth!

(Name of the Husband!)
About to deliver twin boys — Beautiful message to Wife before giving birth to them
Dear wifey!! There has never been a more surreal and anticipating moment in my life as this one, where you are about to give birth to our twin beautiful boys. Don't worry gorgeous because millions of women safely deliver twin boys in this world. The whole phenomenon may be challenging but I know that you will safely go through this process. The docs and nurses will, of course, help you and I will be by your side so that we can overcome this natural phenomenon. All the best darling! May the boys land here safe and smooth!!
Letter to the wife who is about to give birth to twin girls
Hey Beautiful!

We are just hours away from welcoming our twin baby girls. I know a lot is going inside your mind dear i.e. how everything will go about. While as men, we can't even come close to how women feel at this time when they are about to bring a heart-beating living organism into this world, and not one, but two girls in your case!


But what I can certainly say is that I know you very well. And I know that you are up for this surreal moment that will change our lives forever. Rare are the people who get blessed by twin baby girls and my anticipation is at an all-time high. Never even in my life I have felt more alive and I am sure you must be feeling the same.

I guess, there will never be a moment like this again in our lives. The Almighty is certainly bestowing us with two beautiful girls and he has all the blessings in this world upon you dear! Everything will be alright dear. And I will be by your bedside to give you comfort during this surreal time of our lives.

To the brave woman who is about to become the mother of two beautiful twin girls. Cheers!!

From
A handsome Dad who will give his heart and soul to his family for the rest of his lives.
Conclusion
We hope that you have enjoyed various messages and letters to your wife just moments before she is about to give birth to the baby. The moment of bringing a life force into this world is nothing less than ecstasy and tranquility. And this is why we have all the respect for women who are the bringer of a newborn into our lives.
We will add more messages and letters in this post from time to time. Feel free to leave your feedback in the comment section. Lastly, all the good luck and happy wishes to you and your wife for the birth process.