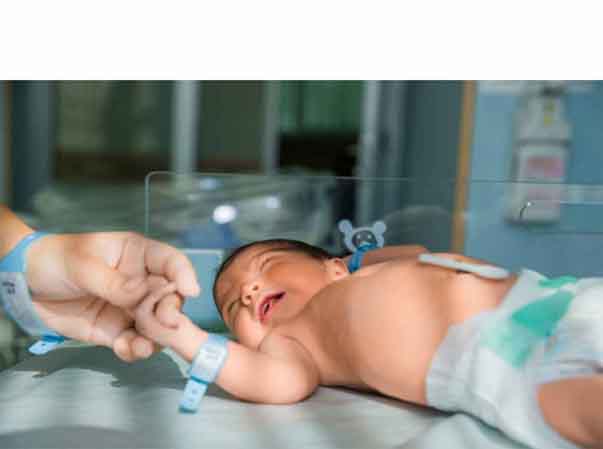 Image Source: – Baby photo created by KamranAydinov – www.freepik.com
Your Wife not only care for the baby for nine months in her womb but more importantly, bears enormous pain in order to give birth.
So in all, it absolutely makes sense to give a heartfelt and sincere thank you messages to your wife for giving birth to your child. After all, she endures nine months of mood swings, hormonal imbalance and what not so as to provide a safe, warm environment for the baby to develop.
Thank you message to wife for giving birth
Many many congratulations dear wife! The almighty has bestowed us with its great blessings through this beautiful child. You are one brave woman for bearing the pain like a champ and I admire your courage. A new chapter is about to begin in our life. Thanks a lot my dear wife for bringing our child into this beautiful planet.
There is no better joy for a man than to see his beautiful wife bring along a cutie pie from another dimension of existence. I take a vow today to give the very best of life to both of you. While I may have a single heart, it now feels equally divided between the two of you!!
Take a bow, my dear wife, for bringing such an adorable baby in our life! This is your best gift to me and I will ever be grateful to you! I am flooded with the emotion of joy and I can't wait to bring the two of you to our beautiful home together.
How to say gratitude cum thank you messages to wife for giving birth to your son
I am so proud of you that despite all the difficulties, you successfully brought our beautiful son into this world. You have given endless joy to me and I will eternally be grateful to you for giving birth to my son. Love you sweetheart!!
While we always wish to get a glimpse of the divine, the beautiful son of ours is a pure reflection of love, innocence and tranquility of the Almighty itself. I now feel as if God has sent me a companion to fulfill my dreams. All this is because of my lovely wife who has happily absorbed all the struggle for the last nine months. Kudos to you sweetheart!!!
Our beautiful son resembles his beautiful mother so much! He really is adorable and I feel that the divine has fulfilled my desire to have such an adorable son.
I cannot fathom how in the world you absorbed so much pain to deliver our beautiful son!!! You are really one hell of a strong woman and I absolutely admire your courage! Blessed I am to have such a strong lady as my life partner. Can't restrict my joy for our newly born son.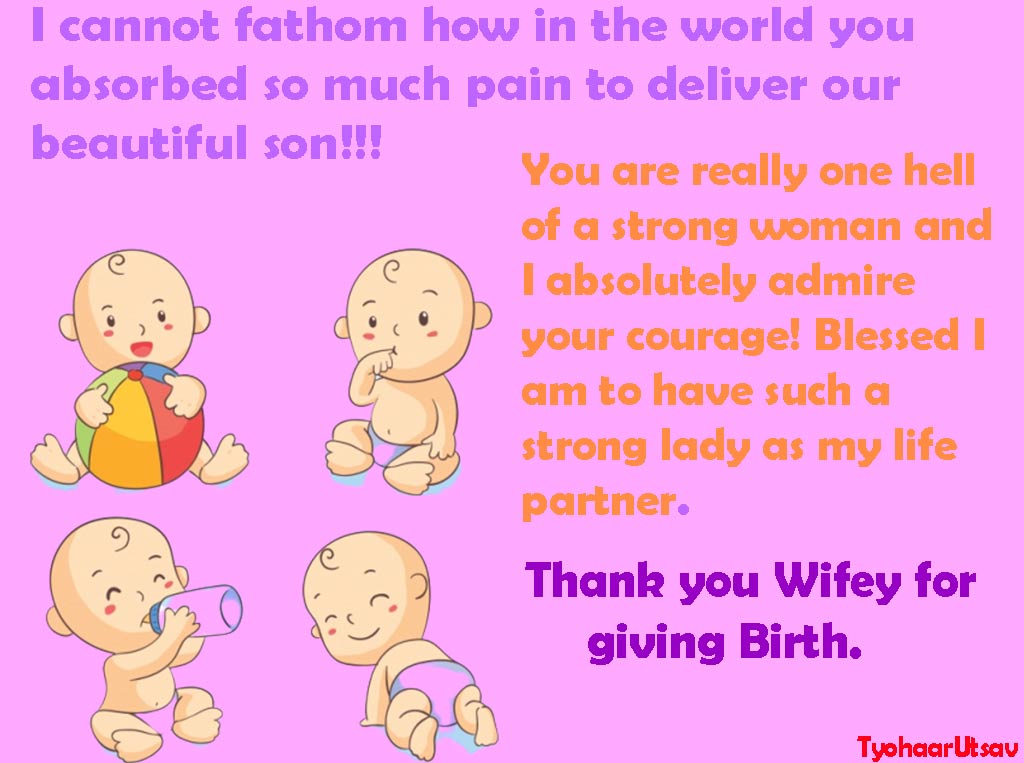 Heartfelt thank you message to your wife for giving birth to your daughter
No family could be whole without a daughter, and that's exactly what I always wanted from the almighty. And now you, my gorgeous wife has delivered me a super cute baby girl. I can't thank the almighty enough and you for fulfilling this wish. I feel like our family is completed now!!!
May the arrival of this beautiful girl brings happiness, joy, health and fortunes in our lives. No amount of appreciation will be enough for my dear wife for giving me this beautiful gift. Grateful to the almighty that both the child and mother are safe and healthy!!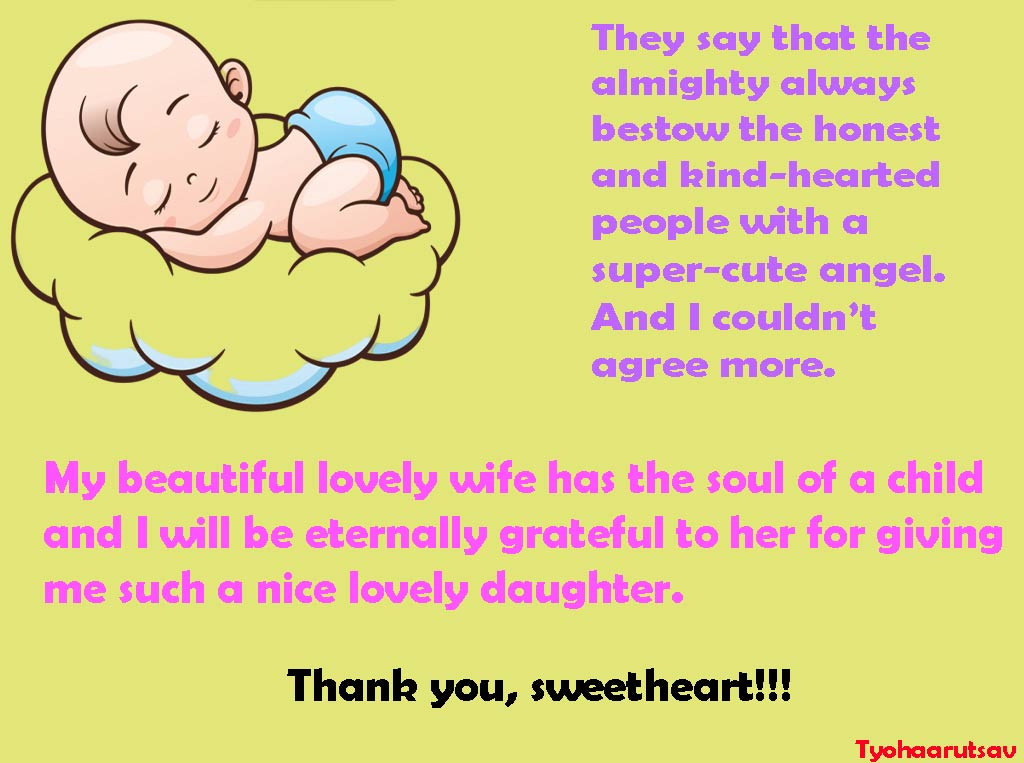 They say that the almighty always bestow the honest and kind-hearted people with a super-cute angel. And I couldn't agree more. My beautiful lovely wife has the soul of a child and I will be eternally grateful to her for giving me such a nice lovely daughter. Thank you, sweetheart!!!
Greeting your wife a nice message for the birth of twin baby boys
I am so proud of you honey for bringing two cutest baby boys in our lives. I absolutely admire your ability to withstand this difficult process! You have been a wonderful wife and I can't wait to see ur life unfolding with these two cutie munchy twin boys.
Words cannot convey the joy that you have given me through these adorable twin boys! It has been a challenging 9 months and you emerged victorious like a champ. I am so eager to see how our life will unfold with these two little guys, who truly are the blessings of the cosmos. Can't wait to bring the three of you home.
Cutest message to wife for the birth of twin baby girls
There is nothing more proud for a man to welcome the two little sweet angels in our life. And all the credit goes to my strong willed dear wife who withstood such enormous pain! This is the best gift from the divine for our good deeds in life!
I have always longed for a daughter and God has gifted us not one but two of them!! Special cheers to my lovely wife who so bravely delivered both of them. This beautiful day will forever be etched in my memories.
May the two little adorable girls illuminate our lives with joy, sunniness and vivacity. Dear wife, the almighty has finally brought our prayers to fruition. And I can only be grateful to you for giving me two adorable daughters that I will cherish for a lifetime. This is the happiest moment of my life, courtesy to you!!
Sorry cum thank you message to your wife for not being with her during the birth of the child
Despite the unavoidable circumstances of which you were aware of, I may forever regret for not being there with you while you were delivering our child.  But I absolutely do not want to take anything away from this joyous moment, courtesy to you and our newborn baby, which the Almighty has bestowed upon us. I want to say sorry and a sincere thank you to my dear wife for giving the happiest moment of life.
While I am certainly remorseful for not being at your side during such an important event of our life, the birth of our healthy beautiful son has elevated my mood to stupendous happiness. This is a once in a lifetime feeling of exultation for me and I have only you and the almighty to thank for. Can't wait to take you and our new guest to our sweet home.
Funny humorous cum congratulatory message to wife for giving birth to your child
I cannot express my ecstasy to you for bringing this gorgeous baby into the world. I was really worried about the whole thing but you really handled everything like a strong woman. Amazed to see such a pure form of consciousness in the form of our child. I just hope he doesn't copy your anger and my procrastination! Congrats for becoming a proud mother!
Expect to have more sleepless nights, mischievous and troublesome habits of this adorable sweet little guy, who is likely to grow up to be like his father!!! But be assured that we two guys we always love you unconditionally in every moment of life! Congratulations dear for the baby boy! We will now have a time of our life!
My dear wife will now have to take care of two children including me! But I am sure she will absolutely cherish that! Congratulations my sweetheart! You have showered lots of happiness in my life and I am grateful to have you!!!
Thank you letter to wife for giving birth to Daughter
Dear ……(Name of Wife)…..
After a lot of prayers, wishes and struggle, you have finally given me a beautiful daughter. I congratulate both you and me. Know that whatever the circumstance be in future, I will always be grateful to you for your lovely gift to me. 
We envisioned so many dreams and happy moments about our toddlers. And the divine has now bestowed us with this beautiful baby girl. I promise you that our family will prosper and will enjoy the heights of success, health and fortunes. May the almighty keeps its blessings upon us forever.
From
Your Handsome Husband and a doting (about to become) father
Thank you letter to wife for giving birth to Son
Hey SweetHeart
We tried, failed and finally succeeded. Many Many Kudos to you for overcoming the grueling delivery. You are a mighty woman and am so proud of you. Our beautiful boy is reminiscent of our beauty, innocence and tranquility. I am so excited for the upcoming years where will have a joyous occasions at every moment of time. I envisage a future where our family will enjoy riches, happiness and abundance. Prayers to wishes to the divine to keep his blessings upon us forever.
From
Proud husband for a gorgeous girl and father of a cutie munchy baby girl
Thank you letter to wife for giving birth to twin Baby boys
Sweetheart!!
I am so so astounded with the birth of twin baby boys. Words cannot explain the surge of my happiness and I have every reason to thank you from the bottom of my heart! You are a ray of sunshine who has transformed my life to the core. And with those two beautiful boys, I can't really restrict being contemplative of the cheerful, happy and prosperous time of our family in the coming years. All my love to you for darling! You are so courageous!!
From
Your Darling husband and an optimist father of twin baby boys
Thank you letter to wife for giving birth to twin Baby Girls
Honey!!!
It is only a blessing of the almighty that two gorgeous angels have arrived in our life to radiate exuberance, sunniness and joy. No matter how much I will do for you, this gift has already reciprocated me for decades. I pray to the almighty that our daughters enjoy health, longevity and success beyond our wildest expectations. Very proud of you Darling! The home is decorated for a grand welcome of the three of you!!!
From
Your charming husband and a proud father of twin baby girls
Things to keep in mind while writing a thank you message for your wife for giving birth
Three important things have to be considered. First you need to acknowledge the hardship of your wife for nine months. Then you can add in the beautiful lines based on the gender of the baby. These two points are usually enough to create a heartwarming message but if you were unavailable at the time of birth, then you should add in a sincere sorry also in the message.
Conclusion
I hope that you have liked the messages in this post. I am sure a lot of great messages can be added to this post in the near future. I always strive my level best to consider myself in the same situation as the writer (husband according to this post) and then jots down the messages that really move the heart. 
Also, a kind requests to all our readers to disable AdBlock on this site. We vow to always use user-friendly ads which not only help us to recover the cost of writing and servers but also do not disrupt the experience of the reader.