There is an innate desire in every human being to see the good for everyone. While ego and jealousy may creep sometimes in between friendships, we always desire good for our friends, especially if they are sick, had an accident or suffer from a dangerous disease.
Get Well Soon messages works wonders, especially if they are written with a lot of sincerity. In this post, we will not only provide you with amazingly written Get Well Soon Wishes and Quotes for friends but will also give you guidelines for
How to create them

What to avoid at all costs

Quotes from famous people

Suggest some amazing movies and songs to them for a lighter mood

Give references for wonderful strong people in the world who have emerged victorious from terminal diseases
Besides the above, there are plenty of GIFS and Images in this post also which will bring a smile on the faces of your friends and best friend. Feel free to copy, customize and send it to as many friends as you wish who you think would benefit from them.
What to Avoid at all Costs and What to include
First and foremost, while sympathy is heartwarming, overdoing it makes your friend feel as a victim, which is the last thing you want to convey in your message.
Secondly, avoid very long messages at all costs. Short and sweet usually works best depending on the situation of your friend.
If your friend is suffering from terminal diseases and if you think that they are very unlikely to make it, please do not include talks like death, heaven, reincarnation.
It feels offensive when the recipient reads a message like "All happens for a reason" or "God has some better plans for you surely". While your intent is surely to make them feel better, it does the total opposite to the reader.
And lastly, do not send overly religious messages if your friend does not have faith.
Now you know what not to include, it will be easier to remember what to include. No matter what you write down, the intent is always to convey that you sincerely care for your friends and wish for their recovery.
Short Poems, Prayers and rhymes For your Best Friend
May the stars shine at night with their full light,
Because they want to adore you with all their might!
Hope you will be feeling alright,
Because you have thousands of well-wishers at your sight!
Let my magic wand wither all your illness away,
I will pray for you until you are okay.
Hope that my love and well wishes inspires,
May you eat all the medicines that the doctor prescribes!
It's always gloomy doomy when you are not at your best,
But worry not, because you will heal fast with the proper bed rest!
Let no negative thoughts sink in your pure heart,
Because our prayers and wishes for you will always be there in our hearts!
No sickness can keep you down with all the prayers I offer for your recovery. Rise up and be strong!

Quote by W. Root
You have overcome many obstacles in the past,
This sickness too will not last!
The divine has given you a strong heart
And I know that you will overcome this illness very fast!
Paragraph jokes for Both Male and Female Friends recovering from sickness
Your immune system enjoyed a long vacation,
Now it's time to give him some much needed work.
Don't worry you will be fine,
But enjoy this time to rest and do your favourite work!
"I was starting to think that you were invincible. It's good to know that you are human after all. I'm looking forward to you getting back to your invincible self. Get well soon, superman"

Quote by Blake Flannery
There is no better time other than sickness,
Because you enjoy the love, attention from your enemies too!
Keep the spirits high in your heart,
Because our well wishes are there for you in all our soul too!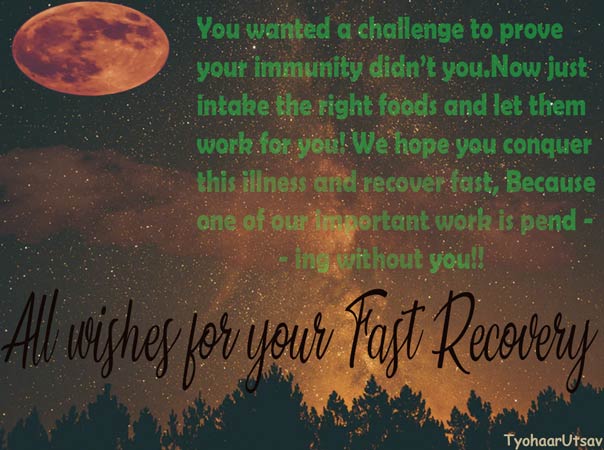 You wanted a challenge to prove your immunity didn't you,
Now just intake the right foods and let them work for you!
We hope you conquer this illness and recover fast,
Because one of our important work is pending without you!!
Recover Soon messages after accident
Hey Dear! My best wishes to you for recovering from this accident. Know that you are strong from within and that our prayers are with you! God bless you and take care!
I understand the excruciating pain that you are undergoing because of this accident. May the divine give you love and support to help you recover quickly. My thoughts and well wishes are with you!
"Health and good humor are to the human body like sunshine to vegetation."

Quote By Massillon
I just came to know about your accident. I was worried but I know that you have it in you to rebound back from difficult scenarios. Heed advice to the doctors and take ample rest.
Hey dear! First of all, I am very sorry to hear about the accident. Secondly, there is no rush to go to work until and unless you become healthy and hearty just like your usual self. Please refrain from taking stress and follow the doc's advice. I am sure you will be fine very soon! Take care
How to write a sympathy message for a terminal disease?
When someone is suffering from a potential terminal disease, it is very difficult to inspire a positive message. Such messages need to be from the heart without involving any negative talks like "death", "heaven" and "God's plans", etc.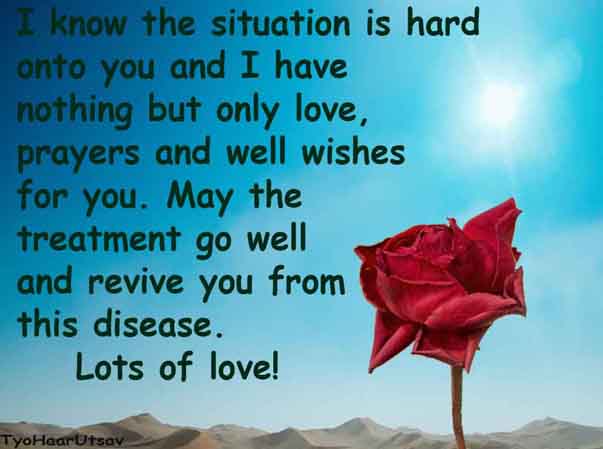 I know the situation is hard onto you and I have nothing but only love, prayers and well wishes for you. May the treatment go well and revive you from this disease. Lots of love!
You have been a wonderful human being and have helped thousands of people till now. I know nothing will happen to you because God is with you! Heed the doc's advice, listen to soothing music and stay optimistic. Things will be fine!! Hugs and kisses!
Where there is a will, there is always a way! I know that your desire to make a comeback is strong.  When it comes to wishing for you, I will leave no stone unturned to ask it for it from the divine. Stay strong Dear!
If God could take away everything from me and fulfill just one wish of mine, it would be your heath! You have a benevolent heart and I wish there would be more people like you on this Earth! Wish you all the best for the battle against this disease.
One line get well soon messages
God can only be kind and helpful to the most altruistic man I have ever known. Hope you will recover fast!
You may not know how many hearts are wishing for you. May the almighty speed up your health
The planet needs people like you. We won't let you go. Stay strong and optimistic because we are with you!
"The treatment is really a cooperative of a trinity–the patient, the doctor and the inner doctor."

Quote by Ralph Bircher
We may not have spent many moments together but still my heart and soul is yearning for your recovery! Lots of speedy recovery wishes!
May your immune system rev up and counter this challenge with ease. Eat healthy, take rest and worry nothing! Good health is yours.
I miss your gorgeous smile and zestfulness. Life feels so dull without you. Hope you make a quick recovery!
Long inspirational Texts of Get Well Soon
The doctors and nurses will have nothing to worry about because they have an individual whose immune system will keep every flu and viruses out of the body. Just heed their advice and you will be back to your usual self within days.

"I reckon being ill as one of the great pleasures of life, provided one is not too ill and is not obliged to work till one is better"

Quote By Samuel Butler
You have conquered difficult challenges throughout your life and I admire your tenacity to keep the positivity high. Let your body, heart and mind recuperate and I hope you will take it slow from now! Enjoy the much needed rest. Best wishes for speedy recovery!
Diseases and sicknesses have a weird way of making us believe that we are less than we actually are! But when the going gets tough, the tough gets going. I know you will emerge victorious from this stupid disease. Get well soon!
You are the most tender-hearted person that I have ever come across and God doesn't let such nice people suffer for a long time. Eat right, drink healthy and think soothing thoughts and you will back to usual zestfulness within no time. Hope I have said everything.
There is no doubt that I have spent some of the most amazing moments with you. I miss your infectious and stomach aching laughter and your sarcasm. But I know that you will be alright soon because all of our wishes are upon you. God bless!!
You have infused nothing in us but only positivity, charisma and a hell lot of self-esteem and confidence. I wish the Almighty would give a friend like you to every person on this Earth. In this difficult time, our prayers and wishes are all with you. All the love and luck for a fine health!
Want their mood to be lighter? Suggest some great songs & movies that will help them to feel better.
LORYN – Stand By
2. DJ Project & Deepside Deejays – Over And Over Again
3. DJ Project feat. Giulia – Nu (Official Video)


Scary Movie 3  (Comedy)
Drag Me To Hell  (Trailer)
Stories of Amazing people who have recovered from serious sickness and from terminal diseases or teaching valuable things to others
There have been some fascinating stories of some people who have made miraculous recoveries from seemingly unbelievable scenarios. We at TyohaarUtsav do not believe in blind faith and neither we are the advocates of the people that we are mentioning below but we feel there is a need to introspect something if there are people making noises in their field, for the right reasons!
Joe Dispenza: – Renowned for his workshops for meditation, Dr. Joe Dispenza has numerous patients who have made remarkable healing from cancer, blindness and other unimaginable medical conditions. While it is difficult to believe that because conventional medical science says differently, hundreds of people have given their testimonials on Dr. Joe dispenza's channel. Feel free to check the below one.
Dr. Bruce Lipton: – Known for promoting the teachings of Epigenetics, Dr. Bruce Lipton has made his presence on different platforms, all which can be found on Youtube. Epigenetics is a legit science which states that the environment or more importantly, the perception of the environment plays a significant role in whether we acquire a disease or stay healthy. 
Special Messages for dear friends with whom you have not been on good terms recently
There is always a friend of our's with whom we have not been on great terms due to some or the other reason. But in the need of hour, when you friend is going through the pain and suffering of disease, it is humane to let go of all the conflicts between the two of you and wish him a sincere get well soon message. In this section, we are presenting such messages.
Behold is the divine who has given me such a lovely friend,
I hope everything between us amends!
We may not have kept each other in our thoughts,
But my heart desires for your Get Well thoughts!
"Anybody can become angry – that is easy, but to be angry with the right person and to the right degree and at the right time and for the right purpose, and in the right way – that is not within everybody's power and is not easy."

Quote by Aristotle
Hey Buddy! I hope all is well. I know sickness is not the easiest of times but I know that you are strong and very optimistic. You will bounce back strongly. Take proper rest!
We may have had disagreements, and conflicts but nothing matters to me more than seeing you healthy and heart! You are a gem of a person and I hope you recover quickly! Lots of love from me my dear!
Christian Religious Verses from the bible and Almighty Wishes for healing
"The Lord gives sight to the blind, the Lord lifts up those who are bowed down, the Lord loves the righteous."
"So do not fear, for I am with you; do not be dismayed, for I am your God. I will strengthen you and help you; I will uphold you with my righteous right hand."
"'Nevertheless, I will bring health and healing to it; I will heal my people and will let them enjoy abundant peace and security."
"He heals the brokenhearted and binds up their wounds."
Want to Prepare your own message? Use the Thoughts, words and adjectives to prepare them!
Heartening soul; when the going gets tough, the tough get going; wither your illness away; where there is a will, there is a way; the heart of a lion; usual zestfulness; excruciating pain; May your immune system rev up and etc.
Conclusion!
We have come to the end of this post. We hoped you have enjoyed the wishes, images and GIFS of Get Well soon for your friends. We will add more relevant messages, and images from time to time. Feel free to let us know about this post through the comment section.