Brothers have significant places in the world! The feeling of brotherhood or having a brother-sister bond cannot be explained in mere words. Not only are they a knight in shining armor but also bring a whole lot of happiness, tranquility and other joyous moments in our life.
If your brother is suffering from illness; your affection, praises and positive vibes will infuse much-needed energy which will help him in healing. But writing a well-thought-out and heartwarming message for your brother can be difficult which is why we are writing this post.
We have prepared messages here from scratch with a lot more emotions. Plus, you will also find many GIFS, Images and quotes of Get Well Soon, which surely will bring a smile to your ailing or sick brother.

Get well soon Brother Wishes, Rhymes for his recovery
Life seems to stop by without your zestfulness,The world admires and needs your pleasantness!
We may fight and throw some words in anger,
But our brotherhood is the embodiment of happiness!

      Speedy recovery wishes to my Big Bro!
You are the source of my inspiration,
May the Lord caress you with its blessing wand.
You are the embodiment of a charismatic personality,
And I will always be there whenever you want!

         Recover fast Big brother! Get Well Soon!
"The art of medicine consists of amusing the patient while nature cures the disease."

Quote by voltaire
My Big brother is like a father figure,
He may scold me here and there.
I wish he recovers speedier,
Because he is the center of my universe!

Get Well Soon Big boy! Love you!!!
What to include and what to avoid for Get Well Soon Brother messages!
First, we will talk about what to avoid because after that it becomes much easier to know what to include.
Any sentiment which makes your brother feel like the victim of the circumstances should be avoided. Phrases such as "You will become stronger now",  "God only tests the mightiest of people" or even boldly acknowledging that "This sickness is nothing for my brother" usually does not empower the recipient.
Sincere acknowledgment of the disease or ailment is crucial coupled with the belief that the Almighty will help in recuperation. Also, avoid overly mention of the Almighty if your brother does not believe in conventional God.
Now when it comes to what to write in the messages, you should include empathy, and gratitude and his positive emotional traits.
Help your little brother recuperate faster from surgery with these Health recovery wishes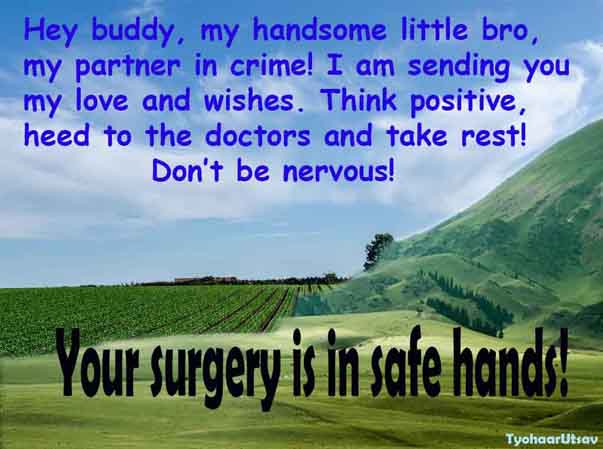 Hey buddy, my handsome little bro, my partner in crime! I am sending you my love and wishes. Think positive, heed to the doctors and take rest! Don't be nervous! Your surgery is in very safe hands!
You have always ate, slept and breathed your work. I admire your passion but your health and well-being should always come first my brother. I am sure your immune response will easily tackle the much-needed surgery by the grace of Almighty. Love you dear brother!
My love and care for you have no limits! You are my little champ who is enjoying his time in the bedrest! I miss my playing sessions without you dear and I hope you regain your health at the earliest after the surgery! Take good rest my little brother!
Funny and warm wishes can certainly do no harm, isn't it, except for bringing a smile to his face after an accident!
Of all the teasing and scolding you have done to me in all the years, the Almighty has finally repaid every bit of it to you in this accident! Hahaa!! Just kidding brother! I hope you recover soon! Take a good rest!
"There is one consolation in being sick, and that is the possibility that you may recover to a better state than you were ever in before."

Quote By Henry David Thoreau
It will be funny to see you dance to the doctor's tune for weeks now! Sometimes small crises like this accident mellows us to listen to someone who cares deeply for us!  Hahaa!! I hope you heed your brother from now on! Make the most of this rest period!
Hey bro! Please allow your broken hand to heal rather than using it to fulfill your needs! Lol! Take good rest! You will be good to do whatever you want after a few weeks!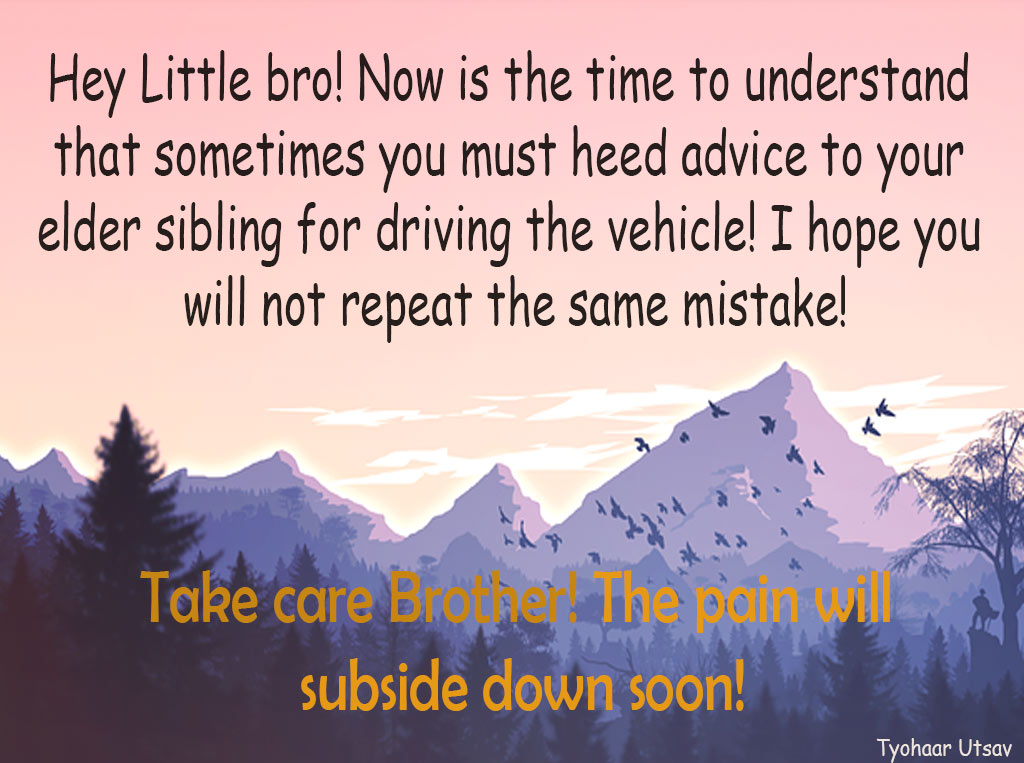 Hey Little bro! Now is the time to understand that sometimes you must heed advice to your elder sibling for driving the vehicle! I hope you will not repeat the same mistake! Take care my dear! The pain will subside down soon!
When the going gets tough, the tough gets going! The tough part wasn't the accident mate but will be staying in your bed for at least a month. Now all I have to do is feed you and clean you while you watch movies and enjoy! Lol! Absolutely kidding! Just come back from the hospital! Love you!
Well, one thing is for sure is that I ain't sitting right behind you from next time! Lol! It is ironic that sometimes we have to endure so much pain in order to get so much rest. I hope you recuperate faster! Take rest and enjoy your movies!
I can only pity the fellow who collided with you! He must have been cursing his fate for bumping into your car yesterday! Lol!
How to write recovery messages to your cousin brother if the things haven't been pleasant between the two of you recently!
Hey brother! I hope you are fine by the grace of Almighty! We may have had a lot of conflicts, egos and ill will towards each other lately, but seeing you in so much pain has made me realize how much I love and care for you! Please get well soon dear! Let me know if you need anything! Lots of love!
"Our greatest glory is not in never failing but in rising up every time we fail."

Quote By Ralph Waldo Emerson
We may have differences of opinions but we surely do not have differences of hearts. My heart, mind and soul is yearning for your speedy recovery. Take rest dear brother and heed to the doctor and nurses advice. God bless you!
You may have contrary views regarding my dreams and aspirations but despite all of that, you have always supported me wholeheartedly! And it's my time now to repay some of it through love and affection. May the Almighty propels you out of this sickness. May the cells of your being recuperate at the earliest! Take care dear brother!
Speedy recovery wishes for Brother who is far away
Hey brother! I hope you are taking care of your health! I may be far away but my love and wishes will traverse through time and space to reach your heart! Take care of yourself and do call me if you feel like talking. God Bless!
My Dear brother! There may be sea, mountains and the oceans between us but our heart will always be connected through the intangible strings of love and respect. I pray to the Almighty for your speedy recovery. Don't stress yourself and enjoy your favourite movies. Take Care!
"Man never made any material as resilient as the human spirit."

Quote By Bernard Williams
Brother not by blood but by heart – Speedy recovery Texts for them
Hey Buddy! Just came to know that you are unwell. I hope the infection is under control. Don't worry about the nitty gritty of lost work and opportunities. You will get plenty of them once you rebound back stronger. May your immune system evoke a befitting response to the virus! Take care bro! Hearty wishes of love and well-being from a brother by heart!
Hey dear! I am so disturbed with this accident news of yours. I hope you and every member of the family is fine, safe and secure. There are only a handful of people that I admire, you are certainly one of them because we may not be brothers by blood but we surely are brothers by heart! I hope you! I wish you and your family a speedy recovery!
Messages after breaking a leg
Hey brother! I hope your leg is fine. Please don't put stress on it and let rest and medicine take proper care of it. May the divine give you endurance to withstand the pain and difficulty. Do know that I am always there for you!
"I told the doctor I broke my leg in two places. He told me to quit going to those places."

Quote by Henny Youngman
After appendix
It is a scary feeling to have such invasive surgery but courageous is my dear brother who successfully underwent the operation. Well done to the doctors too who have done as they really allowed for little to no discomfort! It is now time to deeper rest and let the healing begin!
For cataract surgery
Congrats brother for the successful cataract surgery! I am so happy that you will now enjoy a clear vision which is restricting the quality of your life. My eyes are swelled with tears to know how much you are going to enjoy the vision now. Now rest your eyes dear! God bless our family!
"Few are those who see with their own eyes and feel with their own hearts"

Quote by Albert Einstein
Eyes are the window to our soul! Now you will realize the clarity of vision which you were missing for many years. I am so overjoyed for you with this cataract surgery. Lots of hugs and love to you and to the courageous doctor too!
For Car accident
Dear brother! I thank the Lord that you are alive and breathing! The trauma can be difficult to overcome. But you have all my affection and support to deal with this tough time. We will get the best treatment for you from a reputed doctor. Stay calm dear! Give rest to the wound and eat healthy for some days!
For cancer surgery
Congratulations for the successful surgery! This had to be done sooner than later. My brother is one hell of a champ for sure! Now please eat right, exercise and never ever stress out for anything because your health and well-being is all that matters to me! Take care of yourself brother! Cheers!
"Hardships often prepare ordinary people for an extraordinary destiny."

Quote by C.S. Lewis
After eye surgery
Eyes are heart to our souls and am so happy that your beautiful eyes have got the surgical treatment which they really needed! Please let them rest and don't strain them with television. A few weeks of rest and I am sure you will go for every activity! Take care my brother!
Foot surgery
The pain and deformity was severely affecting my brother's quality of life and I am glad that you opted for this foot surgery. Now you will have unrestricted joy and comfort and I am so happy for you! Giving you my lovely wishes to recover from this foot surgery! Kudos to the surgeon too!
It is always a risk to tinker with things given by the great Almighty but glad I feel that my dearest brother has successfully undergone the foot surgery. I know how much it was bothering you and it is great to feel the relief that you are enjoying now. A couple of months and we will have a great celebration for your foot surgery! As of now, take great care!
After Heart attack
Dear Bro! Sometimes the divine gives us signals to not clutter our heart and mind with unnecessary worries. Money and riches may help us to live comfortably, but having a beating, healthy heart is important and all is needed is unconditional love! May you let go of all the worries that have bothered you for months! Take great care brother!
"The most beautiful things in the world cannot be seen or even touched, they must be felt with the heart."

Quote by Helen Keller
I am so grateful to the Almighty for giving a second chance of life to my dearest brother! I admire your courageous heart to withstood this attack and you have many more decades to live heavenly with us. Eat right, take rest and always smile my dear brother!  Our love and support is always with you.
After heart surgery
The tender beating heart of yours has all my blessings and affection. Do not strain it with negative thoughts my dear brother! It needs the love and support to heal. I am grateful to the doctors for doing this complicated heart surgery meticulously! Take care brother!
I am sure all the ill will, ego and conflicts between us are now removed courtesy of our intensive heart surgery! Hahaa!! Kidding brother! Conflicts or not, my love, support and respect for you will always be there!
After knee surgery or replacement (Funny too!)
Dear brother! You now have a new knee, courtesy of the doctors! I hope this replacement surgery will give you a compelling reason to lose the weight! Take rest and let the almighty do its work for healing!
"Having a normal knee would make life a lot easier."

Quote by Andy Murray
The body is the temple of which we must take care with all our heart! I hope the knee surgery has alleviated the pain which restricted your mobility. Waiting to see you back in action with vibrancy. As of now, take deep rest brother!
After hip operation
Hey buddy! I know how long you have withstood the pain even while sitting or sleeping. Glad that you went for the operation and hopefully everything will be normal. Do remember to follow the doctor's advice and take complete rest!
Text after a fall
Hey brother! I hope you are ok and there is no grievous injury!!! Just came to know about your fall. Please be careful from now on. You were lucky this time because of the intervention of the divine.
Best Movies to watch to lighten up the mood
The Hangover, Trailer
The Departed
One Line Inspiring lines for accident surgery and illness recovery
The doc will repair all the damage through this surgery and the Almighty will restore you back to your usual zestfulness. Keep the faith brother!
I am in awe of your pain threshold. You are a strong man bro and I wish I could be like you too! You will be fine. Do not worry!
Taking a fall is fine once in a while if one is willing to bounce back harder. Sleep tight and rejuvenate brother!
My dear brother, Let go and Let GOD! He knows every way in the world to recover you from this illness! Take plenty of rest!
Where there is a will, there is a way! Do not worry about the work at all! Just focus on completing your convalescence.
Songs that will help to feel good amidst the illness
Anya – Beautiful world (official video)
OMI – Cheerleader (Felix Jaehn Remix) [Official Video]
How to write a message if your brother is suffering from a terminal disease?
Dear, brother! Time and again we have seen how strong and determined you are. In this journey of this disease, we all are with you, my dear! Don't ever count yourself alone in all this! We will get through this together. Keep the faith!
Christian Spiritual Get well soon message for him
Hey brother! As altruistic and tender-hearted you are, I am sure the Lord will bestow all its wishes and blessings onto you for quick recovery. Do not be overburdened thinking about the work. Work will go on but health is the pivotal of happiness. Enjoy this time and heal quickly! My love and wishes to you.
"It is important for those of us who are Christian to remember that our physical lives don't last forever. Our souls will last an eternity, and thus we should place even more emphasis on the health of our souls than the health of our bodies."

Quote By Samuel Butler
Dear Bro! No matter how successful or rich we become, it is the Lord only that grants us health and well-being! I wish the divine for you to get well soon! It has been a long time since you took a great rest. Now is the time to make up for it! Just relax bro and let me know if you need anything!
Want to prepare your own message? Feel free to use the below-mentioned thoughts, phrases and, adjectives!
Where there is a will, there is a way; knight in shining armor; like a father figure; he is the center of my universe; my handsome little bro; yearning for your speedy recovery; supported me wholeheartedly; May the cells of your being recuperate at the earliest;  traverse through time and space; sea, mountains and the oceans between us but our heart; through the intangible strings of love and respect; usual zestfulness; pain threshold; Sleep tight and rejuvenate brother; completing your convalescence; altruistic and tender-hearted; health is the pivotal of happiness and etc.
Conclusion!
We hope that you have enjoyed all sorts of heartwarming recovery wishes for your brother along with quotes, Gifs and Images. There is no limit to meaningful messages that we will add in this post from time to time. Feel free to use the text messages, and images to bring a smile to your brother who needs your love and affection during illness.
We would be really happy if you would leave your appreciation of this post in the comment section. That really helps us to refine our post for the better. Thank you for reading. Cheers! Good Bye