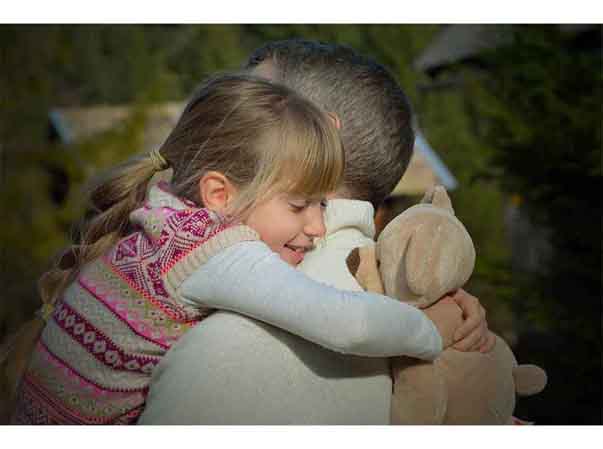 Image by Pezibear from Pixabay 
While your mother takes care of you in the womb and brings you into this planet, it is usually a father (or father figure!) who provides you with all the resources for your comfort and well being.
Needless to say but a father deserves equal respect, if not more, than a mother. And wishing a father New Year wish is although, a simplistic but certainly a meaningful way of acknowledging his hard work to fulfill your needs.
In this post, we will give you some well written happy new year wishes for Dad from Daughter, which will certainly bring a smile to his face. So let us start without wasting any time.
New year wishes for Dad
Hey Dad, A very happy new year to you! You are the pillar of my life. You are the foundation of my success. And I am proud to say that I am your beautiful daughter. Happy New Year daddy! I love you!!
Your vigor and zeal for life have always been contagious. Your sparkling personality always brings life to the party. You are one of your kind Daddy. I wish this New year that the cosmos bless you with infinite decades of healthy and joyous living. Lots of love!!!
I cannot fathom the astounding success that I would have achieved without your support. Your blessings have always propelled me to stupendous success in all spheres of life. May the almighty keep us a father and daughter in every lifetime. Happy New Year Daddy!!
May the divine bestows upon you all the health, exuberance, vitality and goodness of life. You deserve all the best in this world. Happy New Year to you Daddy. Lots of love!!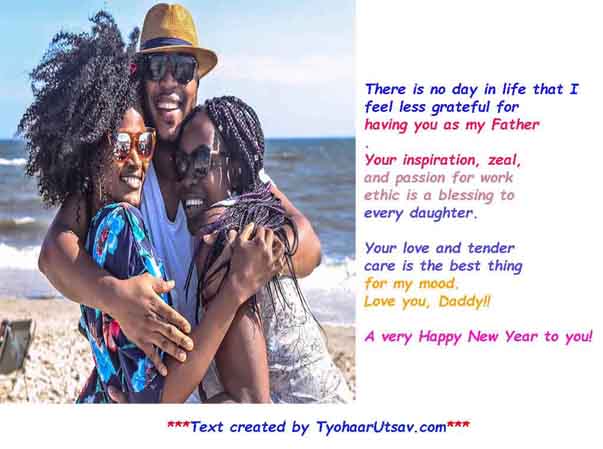 There is no day in life that I feel less grateful for having you as my Father. Your inspiration, zeal, and passion for work ethic is a blessing to every daughter. Your love and tender care is the best thing for my mood. Love you, Daddy!! A very Happy New Year to you!
Your presence induces effervescence. You possess the perfect blend of joy, ebullience and work ethic. You are the perfect dad that any daughter could have. I hope the divine showers its blessings upon for eternity. Lots of new year wishes and love to you daddy! 
If the world has been a paradise to me, it is only because of your relentless hard work and care for me. I couldn't be more happy to be your daughter and I wish to give it all back to you with astounding success. Happy New Year to you!
You are the sunshine of my life. You breathed into me the motivation, perseverance and all the other ingredients of success. You are the best dad in the world and I can't love you enough. Happy New Year my daddy!
Whatever I asked, you fulfilled. Whatever I demanded, you gifted. You transformed a mischievous naughty daughter into a fruitful member of the family. You are the source of my altruism. You are my daddy and I pray to God to always have by my side in all our lifetimes. Happy New Year Daddy!
***You may also want to wish New year blessings for teachers? We have prepared lots of well-crafted messages for it. Click on the underlined link to check that post ***
You are my admiration. You are the causation of my perseverance. Your support has always blessed me in my hard times. And I love you. Happy New Year my handsome dad. You are the epitome of a father.
New Year Wishes for Dad from daughter when she is far away (or when dad is far away)
While we may be far apart, but always know that my heart yearns for your blessings. My mind dwells on our memories and I couldn't wait to be with the family sooner. Happy New Year Daddy!
The seas, oceans, and continents between us do not matter. The intangible strings of our hearts will always get stronger with the passage of time. You are the joy of my life. I wish my future husband will be like you. Happy New Year!
Know that wherever I am, your blessings will always give me the best of life. And I will forever be your lovely child, no matter how much success I acquire. I love you daddy! Lots of new year wishes. Miss you!!
New Year wishes for your dad when you are ill
Your smile invigorates me. Your hug warms me. I couldn't be more thankful to God for being your daughter. You are the man who every woman desires. Happy New Year Daddy!!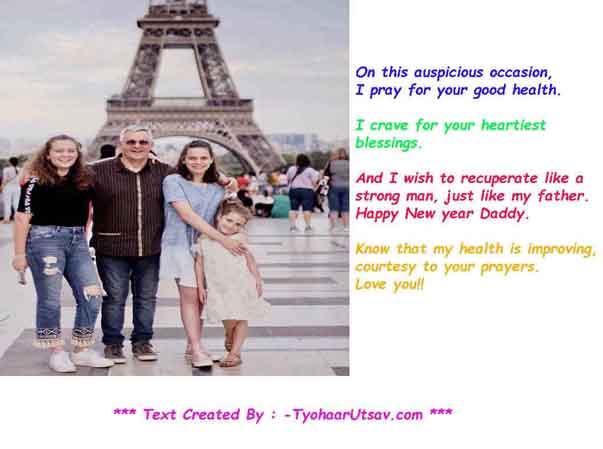 Image Source: – Photo by Dominique ROELLINGER from Pexels
On this auspicious occasion, I pray for your good health. I crave for your heartiest blessings. And I wish to recuperate like a strong man, just like my father. Happy New year Daddy. Know that my health is improving, courtesy to your prayers. Love you!!
Dear Father, I want this New Year to remind you that you are the best father. That I desperately need your blessings. My health is on the way for faster recovery owing to your heartfelt blessings. Your smile is all that my heart craves. Happy New Year Daddy!!
New Year wishes from daughter to Dad when she has recently achieved success like a career promotion
There is no better feeling in the world than to make my daddy proud. And I have done that. I recently got my desired promotion along with benefits too. I thank the almighty for your prayers and blessings. You have been the foundation of my success. Happy New Year Daddy!!
Also, read our New year's wishes lines for everyone. Lots of wishes and messages for everyone.
I can't thank you enough for bearing the tantrums of your naughty daughter. Your stern lessons and harshest criticism has propelled me to this height of success and it's all because of your perseverance for me. Thank you, Daddy and lots of New Year wishes to you.
You have been the spine of my success. My accomplishments totally revolve around your moral values, work ethics, and perseverance which you deliberately instilled into me. I can't thank you enough. Happy New Year's Daddy!!
New Year wishes for your Dad when he is upset or angry with you
Disagreements and verbal fights happen in every family. No sphere of life is immune to it. However, if you and your dad have been involved in silence towards each other for some time, then the occasion of the New Year is perfect to melt the ego and to initiate a healthy conversation between the two of you. Below, we are giving some well-crafted examples of Happy New Year's wishes to Dad from Daughter.
While we may have our fights, ups and down, know that you will always be my savior. Know that you are the first opposite sex in my life who gave love, shelter, and care. Know that the heart always yearns for your warm hug. Happy New Year Daddy! May the New Year and New Decade bring you joys only.
You have always been the hero of my life, no matter how much we quarrel over petty things. While I may disregard some of your perspectives, know that my mind, heart, and soul are always rhythmed with yours. Know that my love will always transcend space and time to reach your heart. Happy New Year Daddy!!
Let ego and arguments do not dilute our purest of love for each other. Let us be in harmony and respect the perspective of each other. Always keep this in your heart, that my prayers and wishes are always there for your exuberance, vitality, and prosperity. May the almighty give you healthy living for eternity. Happy New Year daddy! Lots of love!
Conclusion
I hope you have got some heartfelt new year wishes from daughter to father. I still reiterate that a father deserves equal, if not more respect than a mother, as his hardships often go unnoticed behind his poker face and stern demeanor.
I will be adding more new year wishes for father from daughter in this post from time to time. And yes, for your father, a very happy and bright new year to him from me. May God gives him life for eternity.