For a child, a mother is literally everything! Not only she brings her angel into this world but nourishes them with unconditional love and care, till her last breath. Needless to say, mother will always have a special place in each and every one of us.
When a mother falls sick, it is disheartening to see her discomfort, sufferings and pain. The least a child can do is to comfort her with Get Well soon wishes, images, GIFs and Memes. However, coming up with a very nice recovery message for your mother can be difficult when your heart desires for them.
And this is why we are writing this post. Here you will find plenty of Get Well soon wishes only for your mother. We have also included a ton of quotes, images, memes and few GIFS too. Besides that, we have also suggested some great songs and movies that she will certainly enjoy.
Get Well Soon Mum — Poems, Quotes, and Prayers
You fulfilled all my wishes,
And taught me how to deal with the crisis!I bow to such great mother,
And I wish that in the next lifetimes, we will always be together!
Get Well Soon Mumma! I pray for your quick recovery!
"We are born of love; love is our mother."

Quote by Rumi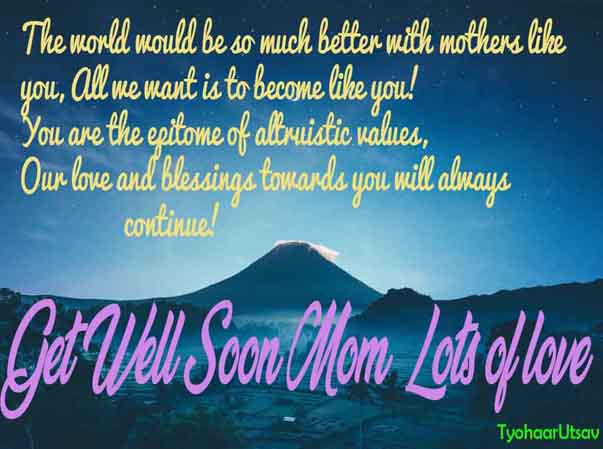 The world would be so much better with mothers like you,
All we want is to become like you!
You are the epitome of altruistic values,
Our love and blessings towards you will always continue!

Get Well Soon Mom! Lots of love
Mother is the name for God in the lips and hearts of little children.

Quote by William Makepeace Thackeray
May the Lord heal away your illness,
Because you are loaded with cuteness!
You love us with all your heart,
And God will never make us apart!

Speedy recovery wishes to Mother!
I love my mother as trees love water and sunshine. She helps me grow, prosper, and reach great heights.

Quote by Terry Guillemets
There is no woman with the amalgamation of love, charisma and empathy like you!
May all your pain and discomfort goes away,
Because you deserve an abundance of love and joy every day!
Speedy recovery wishes for my Sick mummy! Get Well Soon Mumma!
From Daughter — Heartwarming recovery messages for mother from accidents, sickness, and surgeries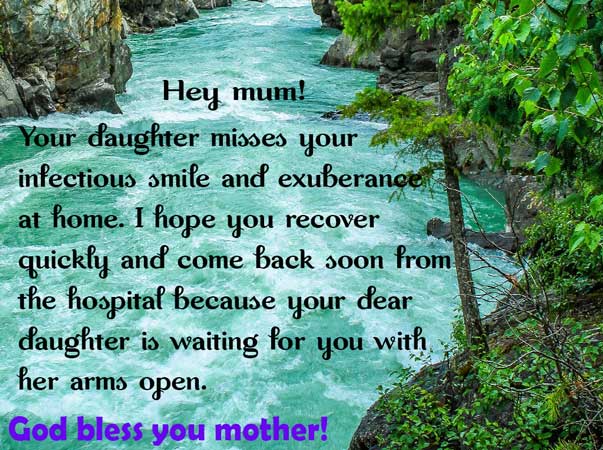 Hey mum! Your daughter misses your infectious smile and exuberance at home. I hope you recover quickly and come back soon from the hospital because your dear daughter is waiting for you with her arms open. God bless you mother!
This accident has made me realize how grateful I am to have a mother like you! I hope you the injuries are not hurting too badly to my precious mom! May the Almighty absorb all your pain and discomfort dear mother! Take all the medicines and have proper rest! Lots of love from your beautiful daughter!
"Life doesn't come with a manual, it comes with a mother."

Quote by Unknown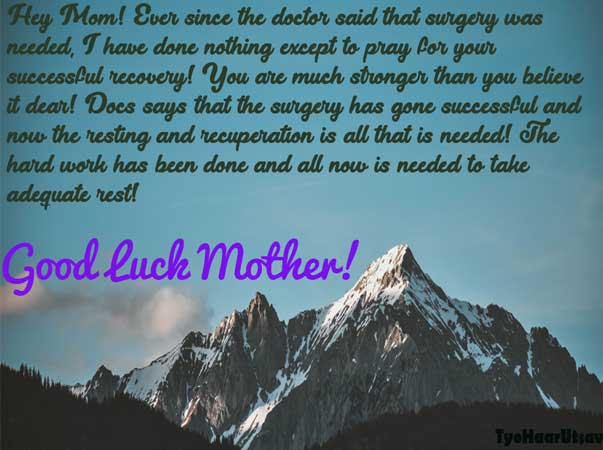 Hey Mom! Ever since this doctor said that surgery was needed, I have done nothing except to pray for your successful recovery! You are much stronger than you believe it dear! Docs say that the surgery has gone successful and now the resting and recuperation is all that is needed! The hard work has been done and all now is needed to take adequate rest! Good Luck!
"When you look into your mother's eyes, you know that is the purest love you can find on this earth."

Quote by Mitch Albom
Dear Mother! Nothing in this world matters to me more than to see you alive and kicking with a shiny smile. You are not only my mother, but my confidant, my saviour and the one who knows every rhythm of my beating heart. Get Well soon from this illness!
If there is anyone who has heavily influenced me for all my success, it is certainly my strong- willed mother. Dear Mumma, the achievements and happiness of your daughter means nothing without your usual zestfulness. It aches my heart to see you unwell like this. Please promise that you will take care of your health from now on. Wishing you quick recovery wishes darling!
From Son — Inspiring healing wishes for your Mumma from sickness, accidents, and surgeries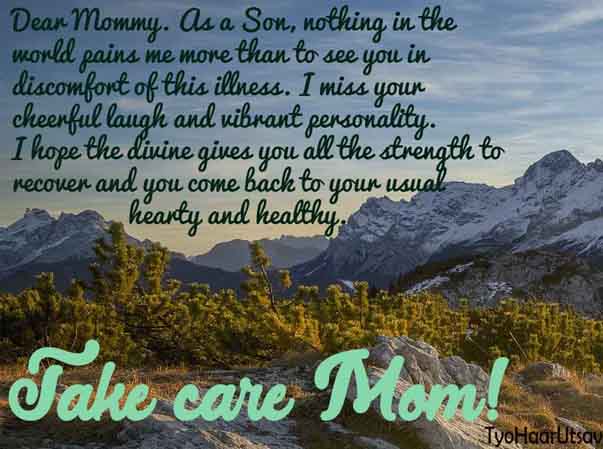 Dear Mommy. As a Son, nothing in the world pains me more than to see you in discomfort of this illness. I miss your cheerful laugh and vibrant personality. I hope the divine gives you all the strength to recover and you come back to your usual hearty and healthy. Take care mom!
I remember my mother's prayers and they have always followed me. They have clung to me all my life.

Quote by Abraham Lincoln
When the going gets tough, the tough gets going! Dear Mummy! You are much stronger than you think you are! Your son resembles you completely so it's natural for you to recover quickly from this illness. Don't panic mother! Everything will be alright!
Sometimes the strength of motherhood is greater than natural laws.

Quote by Barbara Kingsolver
Dear Mother! I hope the wounds from the accidents are not too grievous. May the Lord give you a high threshold to bear the pain. Let the docs and nurses treat you for the injuries and may you rest deeply. Sending you my heartfelt recovery wishes!
Funny healing messages for your sick mother, if she had surgery, or recovering from accident wounds!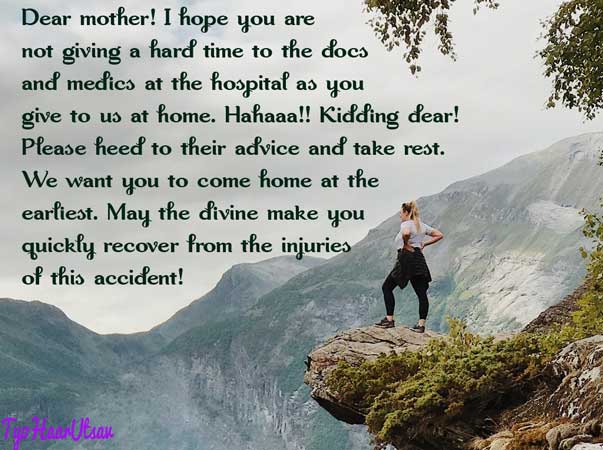 Dear mother! I hope you are not giving a hard time to the docs and medics at the hospital as you give to us at home. Hahaaa!! Kidding dear! Please heed to their advice and take rest. We want you to come home at the earliest. May the divine make you recover from the injuries of this accident!
Men are what their mothers made them.

Quote by Ralph Waldo Emerson
Hey Mom! You had been longing for a mighty challenge from God for so long. Looks like the Almighty really gave it a serious thought to your wish. Hahaa!!! But don't worry because he knows that you will easily surpass this sickness challenge. You will recover quickly mother! Don't panic and take proper rest!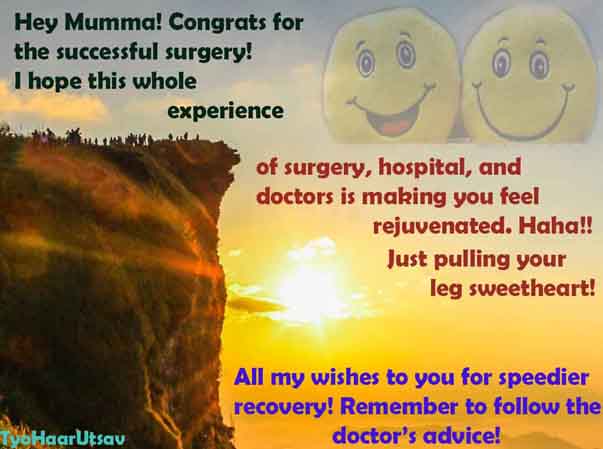 Hey Mumma! Congrats for the successful surgery! I hope this whole experience of surgery, hospital, and doctors is making you feel rejuvenated. Haha!! Just pulling your leg sweetheart! All my wishes to you for speedier recovery! Remember to follow the doctor's advice!
Your immune system was on vacation for so long! It had to be called back to work for the unknown future! Luckily, this small little sickness reved up your immune system! Hehee!! Now you are much stronger Mother! Just trying to make you smile my dear! I know you are recovering well! Take Care!
Love as powerful as your mothers leave its own mark…To have been loved so deeply. Will give us some protection forever.

Quote by J.K. Rowling
Hey mother! This is why you should never scold us without a valid reason. See, the Lord has given you a minor punishment for scolding the naive hearts and I don't want that to happen again! Haha!!! Kidding mother! Please recover fast because I can't wait to hug you tight! Get Well Soon!
Hey mumma! Please don't talk a lot to the doctors and staff or else they will be enchanted by your beauty and personality and will make you stay longer in the hospital. Haha!! The entire family is waiting for you to come home dear! Let your immune system rev up and wipe out this sickness. Cheers!!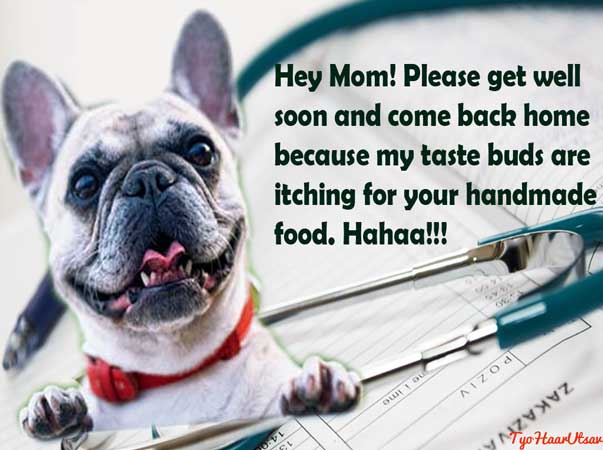 Hey Mom! Please get well soon and come back home because my taste buds are itching for your handmade food. God bless you!
When things are not pleasant between the two of you — How to write then a Get Well Soon Message for Mother?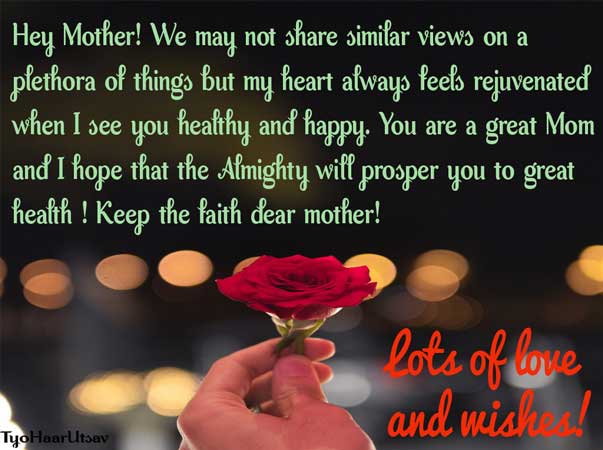 Hey Mother! We may not share similar views on a plethora of things but my heart always feels rejuvenated when I see you healthy and happy. You are a great Mom and I hope that the Almighty will prosper you to great health very soon! Keep the faith dear mother! Lots of love and wishes!
A mother's happiness is like a beacon, lighting up the future but reflected also on the past in the guise of fond memories.

Quote by Honore de Balzac
My gorgeous Mom! Sometimes, we may not find the right words to express our feelings to each other but my heart yearns nothing except for infinite love, exuberance and joy for you! I know that we are not on great terms but let's just keep water under the bridge dear! Take care of yourself and know that I will always be there for you!
Dear Mom! No matter how much we argue and fight for petty things, the concern for you will always remain in my heart! Think positive, let go and let GOD! Please take care of yourself and get back on your feet at the earliest! Lots of love!
For faraway mother  — Healing Wishes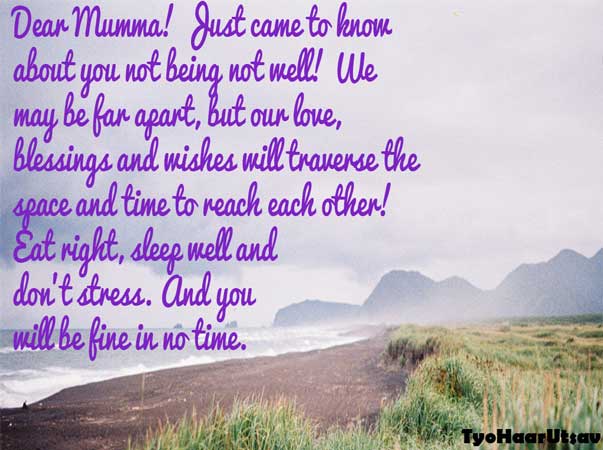 Dear Mumma! Just came to know about you not being not well! We may be far apart, but our love, blessings and wishes will traverse the space and time to reach each other! Eat right, sleep well and don't stress. And you will be fine in no time. Take care mother!
To describe my mother would be to write about a hurricane in its perfect power. Or the climbing, falling colors of a rainbow.

Quote by Maya Angelou
My beautiful mother! There may be seas, mountains and the oceans between us but my love and fondness for you has only grown with distance! I know you are not feeling well dear and that is why I am sending you my heartiest wishes, love and blessings from here! May you recover at the earliest Mom!
Hey Mom! While it is always aching for my heart to be away from you, not being there with you to recuperate from this accident will hurt me for a long time. I am sure you will take care of yourself and I promised to make up for this absence when I arrive there. Eat right and follow the doctor's advice mother! Speedy recovery wishes to you!
I may be a fearless child of an equally fearless mother but from faraway, the heart will never get enough for thinking about her well-being! Mother, I pray to the Almighty to recover you from this surgery! May the Lord give you tons of strength to bear the discomfort!
Best songs and movies to suggest to your mom to watch while recuperating from her illness
Spice Girls – Mama
 The Heat | Official Trailer [HD]
"Don't Forget to Remember Me" by Carrie Underwood
Now And Then
A Bad Mom's Christmas Official Trailer
Prayer for sick elderly mother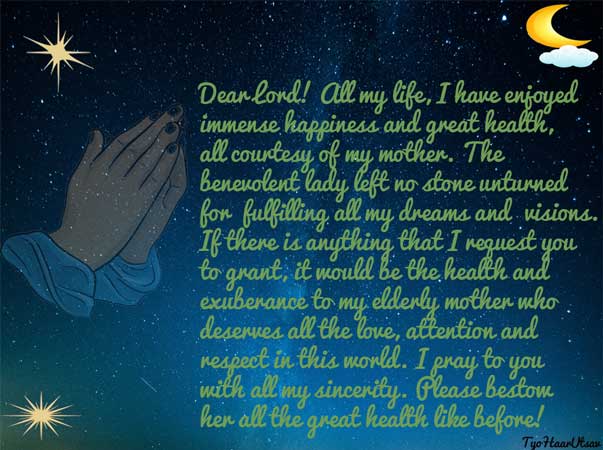 Dear Lord! All my life, I have enjoyed immense happiness and great health, all courtesy of my mother. The benevolent lady left no stone unturned for fulfilling all my dreams and visions. If there is anything that I request you to grant, it would be the health and exuberance of my elderly mother who deserves all the love, attention and respect in this world. I pray to you with all my sincerity. Please bestow her all the great health like before!
Diligence is the mother of good fortune, and idleness, its opposite, never brought a man to the goal of any of his best wishes

Quote by Miguel de Cervantes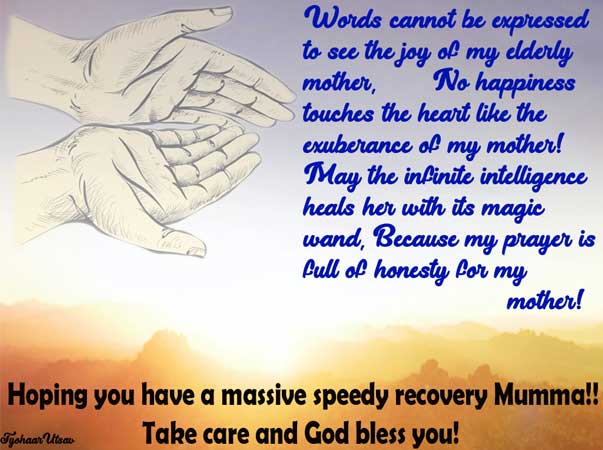 Words cannot be expressed to see the joy of my elderly mother,
No happiness touches the heart like the exuberance of my mother!
May the infinite intelligence heals her with its magic wand,
Because my prayer is full of honesty for my mother!

Hoping you have a massive speedy recovery Mumma!! Take care and God bless you!
For a child, there is no other joy in this world than to see his (or her) mother radiating with great jovialness. My elderly mother may be sick but she is extremely capable of rebounding back. All she needs is a helping hand from you my Lord and everything will be alright! May you bless her with infinite blessings of healing and love. Dear Lord, please accept my prayer for my elderly sick mother.
Facing Terminal disease — How to write a motivating message for her?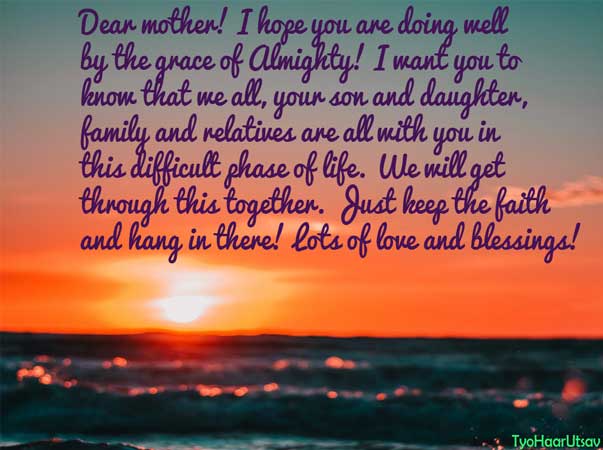 Dear mother! I hope you are doing well by the grace of Almighty! I want you to know that we all, your son and daughter, family and relatives are all with you in this difficult phase of life. We will get through this together. Just keep the faith and hang in there! Lots of love and blessings!
Mothers hold their children's hands for a short while, but their hearts forever.

Quote by Unknown
Dear Mumma! I know it's a cliche but it is really true that there is always a light at the end of the tunnel. May the Lord boost your immune system to fight off this illness. Nothing will happen to you dear because the Lord loves altruistic people like my mother! Take Care sweetheart! Love you!
For a daughter, her best friend will always be her mother! No matter what will happen, I will be with you through thick and thin during this difficult phase. Keep the fight on dear mummy! You will come victorious from it! God bless you!
The best place to cry is on a mother's arms.

Quote by Jodi Picoult
Final thoughts!
We hope that you have enjoyed various Get Well Soon messages for mother along with Images, Memes, GIFS and Quotes. A mother plays a key role in shaping the lives of her children. And needless to say, every child wants his mother to be happy and healthy all the time.