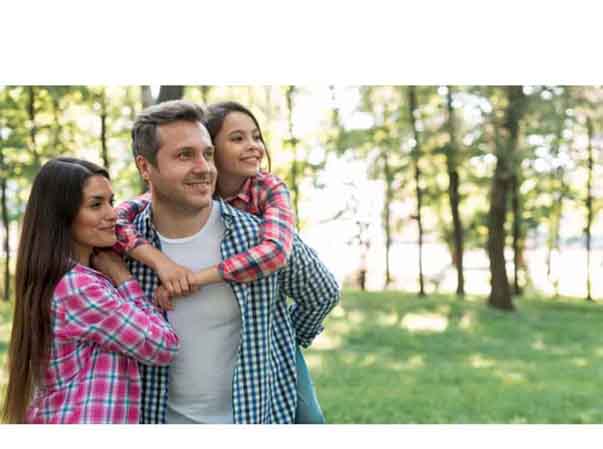 Image Source: – Pattern photo created by freepik – www.freepik.com
When it comes to the children, the father plays a significant part in their upbringing. Traditionally speaking, while the mother provides them love and affection, it is the father who earns the bread and butter to lavish all the materialistic things on to his kids.
Needless to say, but from a father's perspective,  a lot of time, effort and sacrifices are made in order to not only feed the children but to infuse in them the right qualities to become a hard-working, successful and altruistic human being in their life.
Crafting a well-thought-out and heart touching thank you a message to your husband for being a good father is not easy. And this is why we have come up with this post where you will find plenty of heartwarming, appreciative messages to your husband for being a good father.
So without any more time, let us get onto the messages for which you have arrived here
Thank you message to husband for being a good father
Not only you have given me a beautiful son and daughter, but took astounding care of them and taught them great values. They are absolutely the product of your consciousness, your astute perception of life and I can't be more proud of you for giving them the right direction in life. May every child get a doting father like you!
In this world, there is no better umbrella for the children than of their father. A father, who lavishes them with enthusiasm, a father who makes them explore the world at the cost of his own sacrifices, a father who permeates all the altruistic qualities of him into them. Such a great father is my husband, of whom I will be grateful for perpetuity. Thank you for being a devoted father of my children!
Appreciative message to your husband for taking care of the newborn baby and toddler
Somewhere down the future, we will look to rewind our memories of these beautiful moment. Moments of pure joy with our newly born cute little son, those little cries and smiles of our baby girl. It's a moment that I wish to stand still for eternity. And you are leaving no stone unturned to make our children realize in future how grateful they are to have a father like you! I am so proud to have a partner like you my dear!

Gratitude cum thank you messages to the husband for infusing the ethics and morality into your children


It is one thing to bring a child into this world. And to infuse in them the qualities of hard work, work ethic and altruism is altogether a different thing. You have been great at both. Lol! Our children wouldn't have got a better father than you! You are the embodiment of a family man and I am so blessed to have you as my partner! Long live our family!
There is a serious dearth of fatherly figures in the world who really take a keen interest in every minute of their parenthood. But then there are husbands like you, who are amazingly natural with the kids. I must admit that our kids are the carbon copy of your values; hardworking, great work ethic and willing to keep themselves away from the distractions, exactly the type of individuals that bring a change in the world. So lucky to have you and them in my life. Proud of us dear!
Hilarious cum thank you messages to the husband for raising the children successfully
In all these years, your personality has baffled me so much! You are a perfect blend of caring, sensitive and action-oriented man who knows how to never compromise on work – ethics. Our children can poke fun at you and yet they respect you at the same time. I seriously wonder how the children would have turned out if you were their mother, and I was there Father!!!
In all honesty, I really had my doubts about our children imitating your compulsive habits like pulling the leg of their mother, chasing a ton of women in high school and not heeding extra attention to the studies! But your upbringing made all the difference. I admire your painstaking effort for not letting them copy some of your irritating habits! Just kidding my handsome husband! Lots of love and thank you for raising the children so successfully.
Naughty cum thank you messages to Husband for a happy family
It has been a while since I really put down a heartfelt message for you. You are so lucid and eloquent in keeping the whole family together. Our kids adore us and they are truly the best things that happen to us. You put so much time and effort into making us happy that I sometimes feel like reciprocating all of it at our nighttime!!!. I am totally in the mood today and it will be a night that you won't forget too easily.
How to thank your husband for being a good father to your son
When I observe the demeanor of our son, his actions, thought process and facial expressions are reminiscent of your younger version. He has been a really good son and I am so hopeful of his bright future. Needless to say, but you seriously deserve a lot of pat on your back for how our son is turning out to be. Our son adores you, and so do I, sweetheart!
There could be no greater love to a husband from his son than to emulate his father in all areas of life. And that's how profound your impact has been on …………(name of the son)………….Our son loves and cares for you with all his heart. The seeds of success, tranquility and mindfulness that you sowed in him are now bringing in the fruitful results in all endeavors of his life. And I only thank you for the valuable lessons that you taught to him!
Heartfelt thank you messages to husband for raising your daughter really well
Our daughter has really blossomed into a really beautiful woman. While she may have got her looks from the mother, her kind heart, tender love and optimistic view of life surely comes from her father, who himself has always been a charming handsome man! Our daughter is a precious princess of yours and I simply admire your devotion in raising her so well. May all the daughters in the world get a father like you! Love you sweetheart!
Ever since our daughter came into our lives, you took a really keen initiative to offer her the best of life. The best of education, great toys and all the nitty-gritty things young girls yearn for. You pampered her with everything you could have. You taught her the best things in life. In other words, you really gave her the heart and soul. And today, seeing our bright, young, beautiful daughter, I feel that your efforts have really come into fruition. ……(Name of the daughter)…………….has achieved so much success in her life, and the credit absolutely goes to you! Love you sweet heart!
Giving a sweet message to husband on children's day for his devotion to the kids 
While our kids love us dearly with all their heart, they will probably take time to comprehend the level of time, effort and sacrifices that their father has given for them! You have been a champion for them and I cannot imagine how their life would have turned out without you! You have been an inspiration for them, which is why they adorn you so dearly with all their might!
Messages for Making your husband feel appreciated for being a doting father towards the kids especially when you are not able to spend time with the family
My dear hubby! It is no brainer that you always put a staggering effort to take care of our kids. And if there is one thing I absolutely despite about my work, it is not being able to spend quality time with you and kids. However, it would really be an injustice to not appreciate your time and effort through which you have held our entire family, especially the kids. While I do give some quality time to the kids from time to time, it is you who does not let them let them feel the lack of time from their mother! I love you so much!
Letter to praise your husband for being there for the kids when you are ill
I can't fathom the words to convey my helplessness for our kids due to being ill. But luckily, the almighty has given me you; a devoted father for his kids, who goes to any length to ensure their comfort. There is so much love, tenderness and care in every action that you do for our kids. And they are certainly lucky to have a father like you! I pray to God that every woman gets a doting husband and father like you!
There is no grievous misery for a mother than not being able to attend her children due to illness. But luckily, I have an exceptionally remarkable partner who is not only a doting husband but a great father. You have taken great care of them and the kids can only thank the almighty for giving them a father like you!
Heart touching message to your husband for his devotion towards the kids in making them successful in life
There is no parent in the world who doesn't yearn for the success of their children. And so do we! The way they have been brought up by you; it was only inevitable for them to pile up stacks of success like they are doing now! You have been the pillar of foundation for building the right perspective for them in this life. Trust me, our kids will be eternally grateful to God for having a father like you in their life! Well done Sweetheart, I am so proud of you!
Cherishing messages for your husband when your kids land a highly successful job
Dear hubby, after years of study and intense hard work, our son and daughter have landed a very high paying job. Their diligent work ethic is evocative of your struggles from which you created a fortune, and therefore a better life for all of us. May the almighty give them more success, health and fortunes than we enjoyed in our life. May they have you as a father in all their lifetimes. Love you darling!
What to keep in mind while preparing the messages?
We strongly believe that in this day and age, one or even a two-line message or note does not incite enough emotions into the reader. And when it comes to jotting down messages for a special person like Husband, you can't really expect to convey the desired emotions within just a two-line sentence. So, the first emphasis according to us, is to elaborate on the no. of lines (3 -4) so that there is adequate space for writing heart touching messages.
Secondly, in order to appreciate your husband for being a father, you can take the following references into consideration for crafting a message.
Helping your kids when you are ill
Lavishing the kids with lots of gifts
Giving them insights about the world, about the people
Acknowledging his effort on special occasions like children's days, birthdays of your kids.
Conclusion
We hope that you came across a message in this post that will really touch the heart of your husband. Our aim has always been to write from our heart with respect to the perspective. A good father only raises a good son, which in turn becomes a good father later on! And this is why we felt the urge to create a dedicated post for this topic!
We will surely add more messages in the coming days! Feel free to leave your feedback in the comment section. We absolutely believe in constructive criticism. Also kindly request you to disable the ad blocker and other similar extensions which hamper our revenue.