Having a sister is a blessing! Not only she brings vivaciousness and joy in our day to day life but when the need arises, her instincts can be no less than of a mother too.
Needless to say, when a sister meets with an accident or suffers from sickness, the wishes and blessings of a brother really play a big role in her mental and physical recuperation.
And this is why we are creating this post today. We have prepared some really inspiring, funny and heart touching Get well soon recovery messages for your Sister in almost all the scenarios. This post also contains GIFS, Images, and Quotes related to her speedy recovery
Quotes, Poems, and Prayers for Elder Sister's speedy recovery

I feel like the luckiest brother in the world,
Because you give me all the love in this world!
I know you will emerge victorious from this illness,
Because you are a source of zestfulness!

Speedy recovery messages to my gorgeous Elder sister!
"Your body can withstand almost anything; it's your mind you have to convince."

Quote by Unknown
You are more than a sister to me;
Who has given everything to me!
My love, hugs and blessings are always there for you;
Because, in this world,  there is no sister like you!        

Get Well soon my Elder Sister!! Love you!!!
"Throughout history, 'tender loving care' has uniformly been recognized as a valuable element in healing."

Quote by Larry Dossey
Dear Elders sister! We may fight like fire with each other,
But having you in my life is like a treasure!
The accident may be causing you pain,
But I know that you will not complain!

Get Well Soon dear!

Having a sister taught me to love and respect women & having an older brother taught me how to treat them.

Quote by Amy Li
Get Well Soon SMSs for Little Sister after sickness and accidents
This is exactly what happens when you do not heed the advice of your elder brother to not eat from outside. Good that you are sick because now you will pay attention to my advice from next time! Ok! Sorry for being harsh darling! I care for you! Just heed the advice of the doctor's now and take ample rest!
"A sister is a gift to the heart, a friend to the spirit, a golden thread to the meaning of life"

Quote by Isadora James

More often than not, pain is our best teacher because it makes us aware of the dangers from next time! I pray to the Almighty to give you a higher threshold of pain tolerance to recover from this accident. May the divine heal your wounds very quickly. Love you sister!
Little sisters can be a pain, but the big sister heroine worship can't be beat.

Quote by Allison M. Lee

You know you are my lifeline and there is no sickness in the world that can disrupt your healthy immune system. The divine is with you and so are my love and wishes! I urge you to sleep deeply and let go and let GOD do the healing!
Funny Paragraphs for her that will surely bring a smile on her face

This disease is taking all my revenge for all the notorious and teasing things you have done to me since childhood. Lol! Kidding only dear sister! You have the heart of a champion and the Almighty is certainly helping you out to recover. Keep the faith because my blessings are with you!
"Women are going to form a chain, a greater sisterhood than the world has ever known."

Quote by Nellie McClung
You may not be recovering faster than you expected because you are so adorable that even the sickness doesn't want to leave your side! Lol sister. Don't worry! You will recuperate fully in the coming days! Take care!
Don't let the doctors and nurses get spellbound by your gorgeous beauty! They may want to hold you there longer than needed! Haha! That's how stunning you are my sister!
Dear sister! How does it feel to be ill? Good isn't it! Because it allows you to enjoy the attention of all the people, friends, relatives and what not! Haha!! Just pulling your leg sweety! Sending my hugs, kisses and immense blessings for your speedy recovery! Take good rest!
Your immune system was on vacation for so long. It is good to give it a jolt every once in a while so that it doesn't forget its job. Hahaa!! Don't worry sister! You will recover soon from this illness.
Sisters not by blood but by Heart quick recovery wishes
We may not share the same blood but our heart and soul are intertwined just like a real brother and sister. And I know that my healing wishes will propel you to vibrancy and good health. God bless you sweetheart!
Sisters and brothers just happen, we don't get to choose them, but they become one of our most cherished relationships.

Quote by Wes Adamson
You are no less to me than my real sisters and my love knows no limits for you. I admire your ability to deal with the pain and distress that this accident has caused you. You will be alright dear sister! Think good thoughts, eat meds, eat right and know that you have plenty of wishes from my heart to rejuvenate you from this incident! God bless you!
Movies and Songs to recommend to your Sister for a lighter mood and laughter
Life Partners Official Trailer (2014)
Wiz Khalifa – See You Again ft. Charlie Puth
The Parent Trap
FarAway Sister Get Well soon Text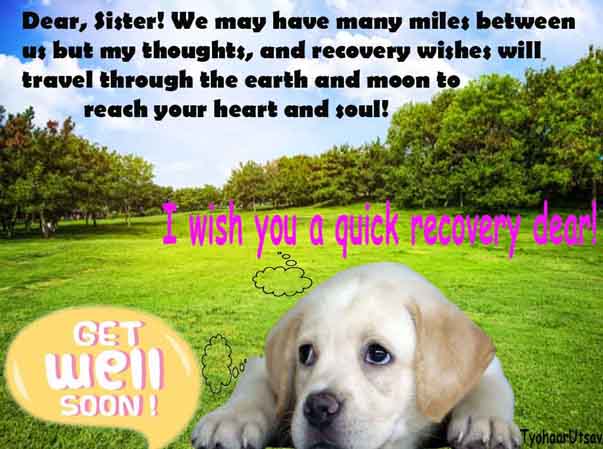 Dear, Sister! We may have many miles between us but my thoughts, and recovery wishes will travel through the earth and moon to reach your heart and soul! I wish you a quick recovery dear!
"Brothers and sisters separated by distance joined by love."

Quote by Chuck Danes
Ever since I have been away, my love and fondness for you has only grown with time. I know this illness is hard on you but you will be rebound back to your usual cheerfulness very soon! Do all the needy and take ample rest my dear sister! Love you!
Things not pleasant between Cousin Sister and you? Use the help of the below recovery wishes
Dear, Sister! We may not share the same opinions and perceptions but when it comes to love, and admiration, you have a special place in my heart! I pray that this sickness withers away as soon as possible. Eat right, take meds and know that I love you from the bottom of my heart! Get Well Soon!
Hey Cousin sister! There may be times when I would tell what to do and what not to do but surely not this time because I want to give you all my love and hugs for your quick healing. I sympathize for the accident you had and the pain you are tolerating. But I know that you will recover just like the phoenix does from its own ashes. God bless you dear!
Hey Sister! We both may not have the habit of lending ears in times of need but I know that you have a tender heart who could never think ill of anyone. In times of this illness, I pray to the divine for your speedy recovery. May your body revive quickly and I get to see your usual smile. God bless you!
Facing terminal disease? Send these Heartfelt Get Well Soon Messages for your sister.
There may never be a difficult moment for us at any other time, but we as family are totally in support of you my lovely sister. We are going to get through this together and I have all the faith in God and doctors who will heal you! Don't lose faith!
"When sisters stand shoulder to shoulder, who stands a chance against us?"

Quote by Pam Brown
It is rightly said that when the going gets tough, the tough gets going! We all are with you my dear sister and will leave no stone unturned to pass through this difficult time! You are the child of a God and the divine adores you because you are an altruistic person. I pray for your speedy recovery.
Want to write down your own message?  Know what to include and what to avoid for writing speedy recovery wishes for your sister!
When it comes to writing such messages for your sister, empathy and gratitude should be the tone! You really don't want to emphasize how many times you asked your sister to be careful about the disease or accident.
Similarly, as a brother or sister, you should not write things like "God only tests the strongest hearts" or "There is good in every situation" and etc. Such messages only do the opposite of what we want for the recipient.
Also, refrain from overemphasizing the mention of Lord christ or Almighty if you think that your sister is an atheist.
Final thoughts!
We hope that you have enjoyed the various Get Well Soon Messages, GIFS, Images and quotes for your sister. We feel incredibly emotional writing down these messages as our sister is incredibly special to us. We will add some really more inspiring messages on this post. Also, if you like this post, please share it with your friends and family and help us to improve by leaving a valuable comment!

Until the next time, goodbye and take care!