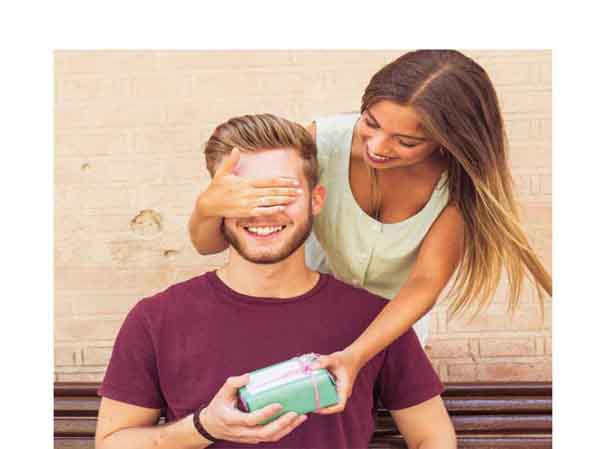 Image Source: – People photo created by freepik – www.freepik.com
There is a lot of excitement in the first year of marriage. But it is also filled with adjustment and adaptation. Needless to say but the first couple of years of marriage can be a roller coaster ride. And this is why the first year anniversary is special.
As a wife, you, of course, want to give the sweetest and romantic anniversary wishes to your Husband on completing the 1st year. But coming up with unique, inspiring and emotional wishes can be difficult at times.
In this post, we have come up with some special first anniversary wishes for the Husband. You will find messages with a tone of romantic, naughty, funny, gratitude for first wedding anniversary wishes which can be sent through SMSes, letters, WhatsApp Status, Facebook, Instagram, and social media.
1st wedding anniversary wishes for Husband
Dear Hubby! It has been an eventful first year of this heavenly made marriage! It was by far, the best year of my life and I can't wait to see what the coming year has in it for us! May our passion and love soar through the roof in the coming years. Let's make this first anniversary memorable unforgettable.
I usually don't admit some sacred feelings but the occasion is special and therefore must say that I really cannot thank my stars for sending you in my life. You have given immense happiness and support this year despite facing difficulties from our respective parents. May love blossom more! Let's celebrate this occasion with vigor so that it remains forever etched in our memories.
Time flies by so quickly. It feels yesterday only when we tied the knot. I am so proud to marry you. The decision was against the will of the parents but you proved them all wrong! You pampered me and showered me with so much love! It feels surreal! Happy first anniversary wishes my dear! I wish more of this in the coming years! God bless us!
Hey hubby! The last year had been tough for both you and me for the reasons you know well. But it was only your support to me during the tough times that we withstood such an enormous crisis. You have been the shoulder which has consoled me during the bad times. And I am confident that our future years are going to be so much easier, owing to our persistence and willingness to stay by each other's side, no matter what life throws upon us! Glad to have you by my side sweetheart! Happy 1st anniversary to you!
Nothing gives my heart the content, the love and the pleasure like your sight, your touch and voice. I admire your effort to sow the seeds of so much love, positivity, and excitement in this first year of our marriage. I can't wait to see our crazy cum adventurous camaraderie in the coming months and years. Enjoy the 1st year anniversary sweetheart!
Romantic First Anniversary wishes for Husband
Hey Hubby! It has been a serious roller-coaster ride in the first year of our marriage! I always looked forward to getting up in the morning to see your beautiful handsome face each day! The first 365 days of our marriage has been so phenomenal and I can only thank you! But the excitement I hope is far from over! The upcoming years are surely going to be crazy. Happy 1st year anniversary my handsome!
Dear Husband! It was exactly a year ago that we vowed to enjoy the rest of our lives together! It is a dream of every woman to be swept by a handsome charming young man, and you are the epitome of it. The heart is brimmed with so much content, love, and tranquility. I don't want to sound cliche and say thank you! I pray to the Almighty to glue our relationship with more love, trust, and effervescence.
It is such a delight to have a hubby, a partner in crime, who is on a parallel wavelength of your sex drive. The Almighty brought two bunnies together and we truly rock in the sacks. The year has been phenomenal and I just wish us to have a rocking sex-drive for the rest of our lives. Your orgasms make my eye roll and I am so addicted to them. Looking forward to more pleasure and moans. Lots of 1st-anniversary wishes kiss to you, darling!
Funny messages of 1st anniversary to Husband
I can't believe that I have tolerated you for the last year! Lol! My hands sometimes itch to strangle for your non-compliance to my outings and gifts but again, I love you too much! All jokes apart! This first year definitely took a lot out of us but luckily we smile at each other's faces. Happy 1st year anniversary wishes my hubby! Love you!
It takes an authoritative husband to handle a dynamite like your wife. But I must say that you have done fairly well in our first year of marriage. My tantrums and behavior can be challenging at times, but being a man that you are, you handled everything with poise, dignity and so much assertiveness. But don't expect any change from my side though! Always be a man like this and you will reap great rewards at night! Lol! Lots of 1st anniversary wishes my hubby! Love you!
They say that God balances out everything! We had a ton of fights in the first year, so I think the good times are pending now this year. Let us hope to revive our crazy relationship with vigor, passion, and lust too! Happy 1st anniversary wishes my darling!
Perfect wedding anniversary wish of first year to your introverted husband
You may have a hard time dealing with an introverted Husband, especially if you are too extroverted! In this section, we have prepared some quality messages for your introverted husband.
My dear handsome guy!
It has taken me quite a while to get used to your introverted nature. While you may not utter words which my ears yearn, you make up quite well with your actions and demeanor. This first year did witness some ups and downs but lucky am I, that I have you by my side. As a wife, I do wish though that you become slightly more expressive at times. Let us see how the second year goes by! Happy 1st anniversary to you!
There is no better joy in this world than to see your handsome quiet guy working hard to transform his dream into reality. Although we didn't spend as much time I wanted this first year, I am glad that you have been able to accomplish quite a heck. Your glances speak volumes about your love and commitment to me and I now adore your introverted nature as your actions make me feel safe and desirable. Cheers to the first anniversary my dear! May God bless us with more happiness and joy!
1st anniversary WhatsApp status for your husband
God really works in mysterious ways. He brought two beautiful souls together from different corners of life. You are my lifeline now and I can't wait for the coming years to unravel the joy and happiness in our family. Enjoy the 1st-anniversary dear husband. God bless you!
It gives my heart so much content when I see ourselves in the pictures looking all fresh, vibrant and extremely happy. This is truly a marriage made in heaven. And you are the reason for all my happiness.
Naughty Flirtatious wishes to your husband on the first anniversary
Before marriage, I never expected to have a husband like you! Smart, funny, handsome as hell! Your sight moistens my thighs and your touch sends shivers to my spine. It has been such a pleasurable first year of our marriage beyond my expectations! Happy 1st anniversary my love! I am gonna rock your world tonight! Love you!
In our first year, whether it is creativity required in a day or in our late-night sessions, your contribution in it is phenomenal. Your aura has a profound magnetism and I can't get enough of you every night! The pleasure may have been unbearable at the time but I absolutely relish it. This year, we are going to spice up everything! God bless us on this 1st year anniversary!
This first year has been all about our sex marathons. God, I feel like we are going to need at least 5 years to know each other because, with you, all I can think about is humping. It's a year that I will greatly rewind in my head for the rest of my life. Let's hope that this crazy sex addiction between us stay alive for many many years. Enjoy the 1st year anniversary Darling!
Reply message to your husband for his message of 1st anniversary
Hey hubby! Thanks for those sexy and heartwarming 1st-anniversary wishes. Every day with you has compelled me to be grateful for the Almighty! I admire your action-oriented demeanor which has brought us so much wealth and success in the last year! Let us vow to be there for each other till perpetuity! Happy 1st anniversary to you too! Love you to the moon and back!
Thanks for those sweet messages to my sexy hubby! Every message of yours brings a surge of love and passion. You have been my pillar of strength for this year in both personal and professional endeavor. All the success and great moments I enjoyed, I owe it to you. And I can't wait to reciprocate all of that with my love to you. Happy 1st anniversary to you too!
Examples of sentimental messages to your long-distance husband on 1st marriage anniversary
There is no one in this world that understands the core of my being better than you! You may be far away but my heart always feels your proximity. I feel as if our hearts are intertwined with each other. This has been a near-perfect first year of our marriage and I pray to God to give us more guidance, blessings for success and loads of fortune! Hoping to witness our dreams coming to fruition by next year's anniversary! Happy 1st anniversary my lovely!
No distance can be too much to diminish our love for each other. You may be thousands of miles apart, but my love and blessings will always reach you. The last year has been enormously difficult owing to your long distance. But it is the will of the heart combined with the blessings of the divine that has bonded our love even more for each other. You may not be with me right now, but we can surely raise a toast to our 1st anniversary! Love you with all my heart sweetheart!
Card Message to your husband on the first anniversary of love marriage
Dear Hubby!
Must say that our first year of marriage has been strenuous but lively too! I was really apprehensive in the initial months about our relationship but gladly everything came on track! In this one year, I have come to know many things about you. Although at times I strongly yearn for your equal participation for quality time, you eventually make it up for it every time. Our honeymoon, the exotic locations and those frolicking sessions will always remain etched in my heart! I pray to the divine to bless us this year with health, happiness, and a baby. Yes, I seriously now want to have a family and need your passionate participation for it! Love you sweetheart and happy 1st anniversary to you!
Your loving wife
What to keep in mind while preparing such a message?
You need to include sentiments of gratitude, romance, funny depending on the emotions that you shared in the first marriage. Special moments can be included where your husband went out of the way to make you special.
Final thoughts
We hope that you have enjoyed the various messages, wishes for the 1st-anniversary wishes for your husband. We included different sentiments of romantic, funny, naughty, sentimental, gratitude for different scenarios in order to give you variety. We will include a lot more messages in this post later on. Do let us know your feedback through the comment section. Until next time, goodbye and take care!