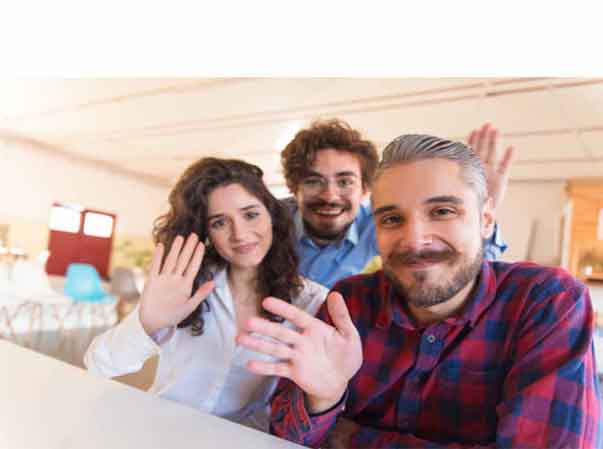 Image Source: – People photo created by pch.vector – www.freepik.com
Work doesn't feel work when you have a nice colleague around you. The importance of having an excellent co-worker and colleague is often underrated by people! Productivity at the workplace is highly desirable and a good colleague really helps in keeping the environment light and fun-filled.
Therefore, when it comes to greeting the best messages to your colleague, you should take the opportunity of every occasion. And no occasion could be better to wish your colleague than his/ her happy birthday.
In this post, we have come up with really cool, funny and even sarcastic happy birthday wishes for your colleagues. These messages are great to be sent through SMS, social media, and greeting cards.
Happy birthday Colleague
You have been a ray of sunshine for us. Every time you arrive, my heart feels a sigh of joy and relief. May you achieve all your dreams dear. Happy Birthday!
I have found a warm, friendly person in you. Work feels pleasurable when I am with you. I wish we always get to work together! Happy Birthday, dear! God bless you.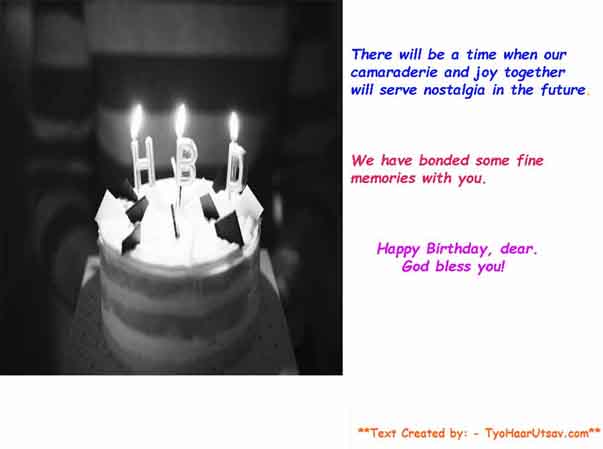 Image Source: – Food photo created by rawpixel.com – www.freepik.com
There will be a time when our camaraderie and joy together will serve nostalgia in the future. We have bonded some fine memories with you. Happy Birthday, dear. God bless you!
A professional who keeps sentiments and emotions far away from logic, which is why we have seen your career took an exponential growth. You are worth emulating and I am so glad to be working alongside you. Happy Birthday!
If there is someone here in this place who knows how to max out his talent, skills, and abilities, it is absolutely you! You have been the perfect embodiment of a great employee for the company. May all your career dreams come true! Happy Birthday, mate!
Funny Messages of Birthday for your male co-worker
The office politics seems tolerable when we have people like you with us. I wish you would stay with this organization as long as I am working here. Lol! Happy Birthday, dear.
Today is the day when I am certainly going to settle the pending parties of your promotion. Come to the office with a heavy pocket! Happy Birthday, mate!
You are someone who can get away even for pulling the legs of our bosses. I admire such talent as yours. I wish I could do that too! No wonder that people gravitate towards your personality. Happy Birthday, dear!
There are few days in the calendar year where I completely forget about your annoying habits and pranks of the entire year. Today is one such day. Happy Birthday, dear!
Hilarious and Sarcastic Birthday messages for Colleague and Co-worker
There are a gazillion things I don't like about this place, including you also (sometimes). But I guess things would be pretty worse if you weren't here. Happy birthday!
You can ruin all the hard work with a couple of your silliest mistakes but we still love you. Well, there is nothing else we can do either isn't it! Happy Birthday, dear!
If there is someone who is giving me such a hard competition for the promotion, it is you. But I admire that. Of course, I am gonna outwork your work by mine. But the healthy competition is what I thrive on! Many many happy returns of the day dear!
There are days when all I want to do is strangle you till exhaustion for you pulling my leg all year. Luckily, today is not that day. Happy Birthday by the way!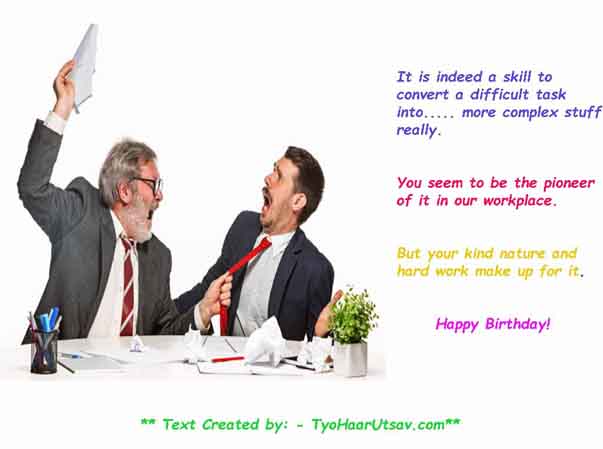 Image source: – Business photo created by master1305 – www.freepik.com
It is indeed a skill to convert a difficult task into more complex stuff really. You seem to be the pioneer of it in our workplace. But your kind nature and hard work make up for it. Happy Birthday!
Funny and Inspiring Birthday wishes for your women colleague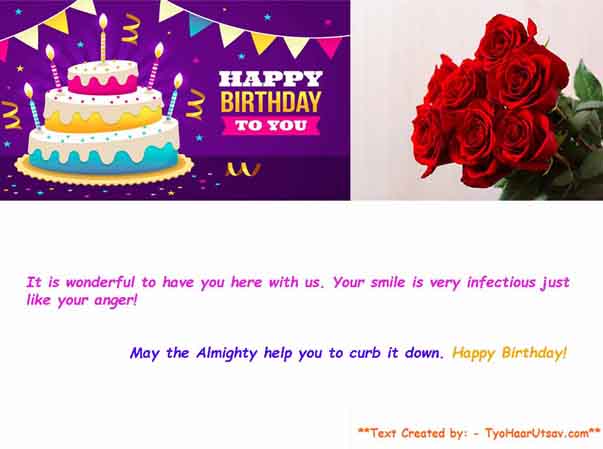 Image Source: – Link 1 and Link 2
It is wonderful to have you here with us. Your smile is very infectious just like your anger! May the Almighty help you to curb it down. Happy Birthday!
You are one of the reasons why guys are always enthusiastic about their workday no matter how strenuous it is. Luckily, you are not single, otherwise, you would have been bombarded with so many proposals and whatnot. Lol! Happy Birthday beautiful. God bless you!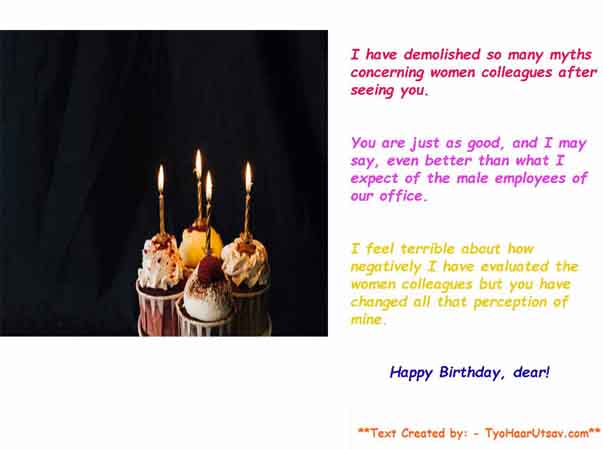 Image Source: – Business photo created by yanalya – www.freepik.com
I have demolished so many myths concerning women colleagues after seeing you. You are just as good, and I may say, even better than what I expect the male employees of our office. I feel terrible about how negative I have evaluated the women colleagues but you have changed all that perception of mine. Happy Birthday, dear!
I admire your courage to get the work done through your infectious smile and warm personality. Your work ethic is admirable. Happy Birthday to you!
You are the embodiment of not only for women but for men too. The way you conduct yourselves in every aspect of work and management is absolutely phenomenal. Enjoy the birthday dear. May God Bless you!
Funny And happy belated birthday wishes to your co-worker
If you have forgotten to send happy birthday wishes to your colleague then this section will help. We have prepared lots of funny and happy belated birthday wishes which will make up for forgetting their birthday wishes.
Hey mate! Extremely sorry for the late birthday wishes. Too much work stress I guess. But I heard you are throwing down a grand party, isn't it! So don't forget to invite me. Lol! Happy belated Birthday, dear!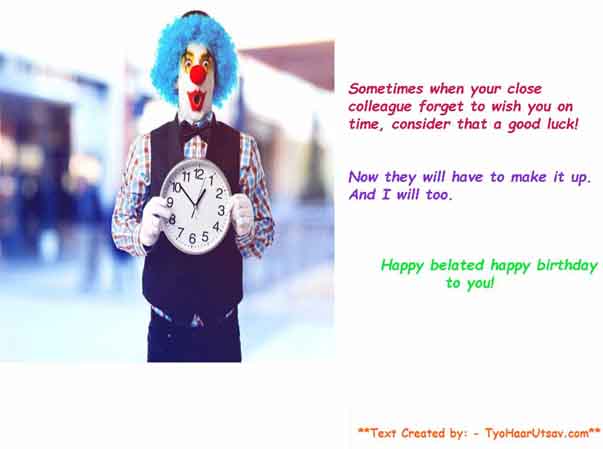 Image Source: – Birthday photo created by asierromero – www.freepik.com
Sometimes when your close colleagues forget to wish you on time, consider that good luck! Now they will have to make it up. And I will too. Happy belated happy birthday to you!
Respectful birthday wishes for a coworker who is old in age ( 50 – 60s )
Happy Birthday Dear ……(Name of the old co-worker)………It feels good to see the joy and effervescence on your face even at this age. You have been a great asset to this organization to this place and we are happy to have someone older, wiser like you with us. Happy Birthday, dear!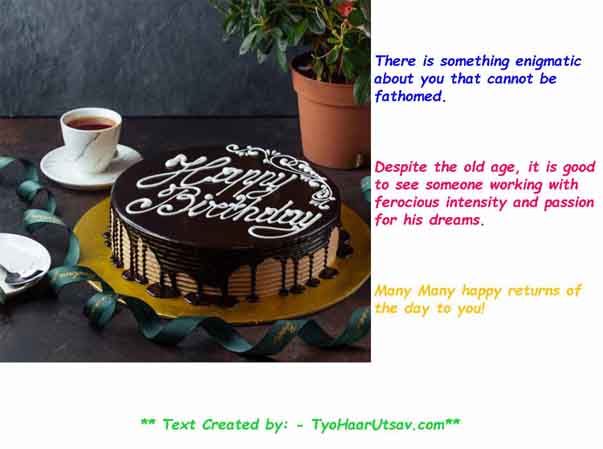 Image Source: – Food photo created by KamranAydinov – www.freepik.com
There is something enigmatic about you that cannot be fathomed. Despite the old age, it is good to see someone working with ferocious intensity and passion throughout life. Many Many happy returns of the day to you!
Your aura is truly magnetic. Your work seems to work like a Fountain of Youth. I hope that I will have the same zest with my work when I will be of your age. Happy Birthday, dear. You are an inspiration to all of us!
What to write in birthday wishes for seniors or superiors?
Hey. A very Happy Birthday to you. Working alongside has given me so many valuable insights regarding this work. No one could have taught me things the way you did. Happy Birthday, dear!
When the going gets tough, the tough get going! And this is what I have admired about you. Your ability to give 100% on a consistent basis is overwhelmingly inspirational. Glad to have a senior like you. Happy Birthday, Sir / Mam!
No one could have made me work harder with a calm head than you did. You taught me the nitty-gritty stuff of this work without ever being harsh upon me and I couldn't be more thankful to you than that.
Happy birthday wishes to Younger workmate
Hey Dear! I admire your young blood and tenacity to work harder and with more productivity. You have a bright future ahead of you. Do not let your talent go wasted. Happy Birthday!
Working alongside you pumps me with adrenaline and is nostalgic for my younger days. I see a glimpse of mine in your work ethic and altruism. I wish the Almighty propels you to great heights of success in the coming years. Happy Birthday!
You are light years ahead of where I was at your age. I would highly recommend you to up the ante and leverage your skills to the maximum. Enjoy the Birthday dear! God bless you.
Of all the young people I see today, you are evidently far ahead of them by miles. Your foundation of success is magnificently built and to me, it is only a matter of a few years where you will achieve a staggering success in your business. Happy Birthday, mate!
You are a breath of fresh air and your energy and aura are highly contagious. Our workforce needs more people like you who can step on their A-Game just like a blink of an eye. I hope the Almighty blesses you with many joyous moments, effervescence and vitality. Happy Birthday!
Birthday wishes for New Co-worker
It has been a pleasure to witness fresh blood in our workgroup. We wish for great times to lie ahead of us in this organization. All the best for your professional career. Happy Birthday!
It is always a delight to have a to and fro exchange of energy with young blood. We are on a serious mission to accomplish our goals and visions and we hope that your addition will contribute much towards it. A very happy Birthday to you!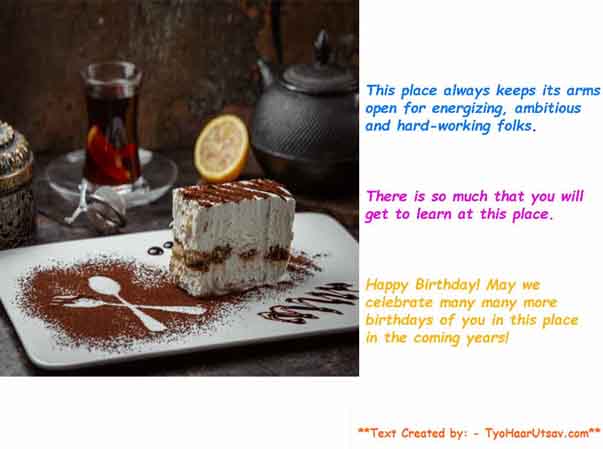 Image Source: – Wedding photo created by KamranAydinov – www.freepik.com
This place always keeps its arms open for energizing, ambitious and hard-working folks. There is so much that you will get to learn at this place. Happy Birthday! May we celebrate many many more birthdays of you in this place in the coming years!
Prayers and Paragraph for a special co-worker
Hey ………(name of the colleague)………..I admit that we indeed had a rocky start to our professional relationship. But in the passage of time, you have proven why you are a special person.
I learned a lot about you in all these years. You are not only transparent in your personal life but also in your professional life. We fought and laughed hard in all our challenging milestones. The camaraderie that we have built will be nostalgic for many many years.
On your ……(age)………..birthday, my prayers to the Almighty are for your happiness, longevity and our bond which is certainly more than the colleagues of each other. May all your desires come to fruition. Happy Birthday dear soul!
From
….Your name…..
Religious Christian Birthday wishes for your close colleague
May Lord Christ propels you to more and more success in not only your professional but personal endeavors too. May the work continue to ignite the passion inside you forever! Happy Birthday!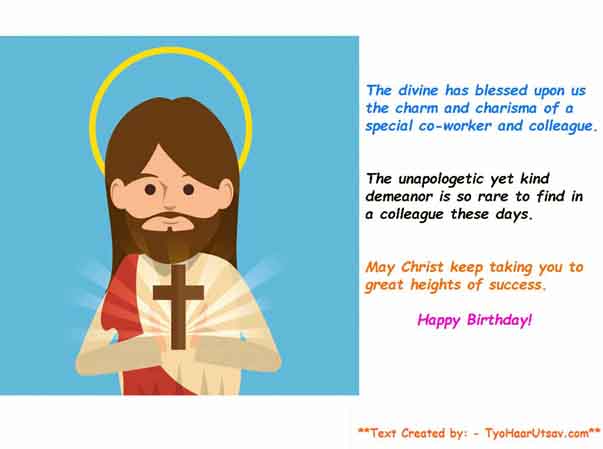 Image source: – Character vector created by studiogstock – www.freepik.com
The divine has blessed upon us the charm and charisma of a special co-worker and colleague. The unapologetic yet kind demeanor is so rare to find in a colleague these days. May Christ keep taking you to great heights of success. Happy Birthday!
Short Birthday wishes for both Male and Female Co-workers and colleagues
When one door closes, the almighty opens a dozen others. Keep working to refine your skills. Success is not too far. Happy Birthday, dear!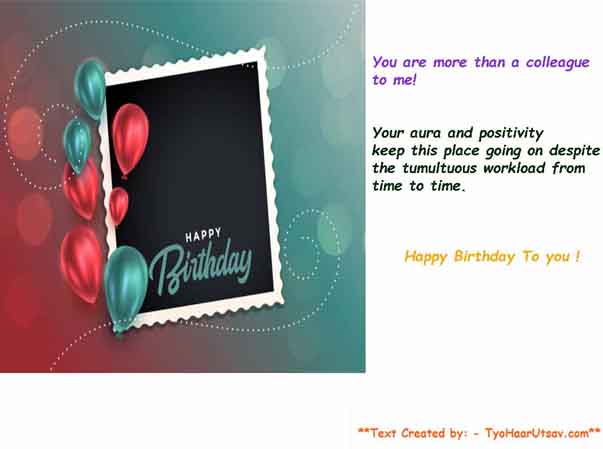 Image Source: – Frame vector created by starline – www.freepik.com
You are more than a colleague to me! Your aura and positivity keep this place going on despite the tumultuous workload from time to time. Happy Birthday!
The workplace becomes heaven when we have a colleague like you. Brilliantly smart, always encouraging others and no jealousy at all. You are one in a million. Happy Birthday, dear!
There is no one more responsible for honing my skills than you. Your pep talks and action-oriented mindset has ignited a passion within me for achieving perfection. I am so glad that I have you to learn from. Happy Birthday, dear!
May God bestow its avalanche of blessings and guidance upon you and your family. Happy Birthday, mate! May all your dreams transform into reality.
What to keep in mind while preparing such messages?
The aim of your messages should always be centered around forming a greater bond than just a colleague. You can include emotional traits such as jovial nature, hard work, work ethic, discipline. At the same time, you can praise them for their personality and altruistic qualities which you have observed from them outside the work hours.
An important thing about sarcastic messages. While they are fine, there is a very thin line between sarcasm and insult. Make sure to not go over the line in the hindsight of happy birthday wish to him/her.
It is also a rare thing to not have a colleague with whom you do not get along. In such cases, we recommend keeping the birthday wishes formal. However, not wishing them creates animosity which hampers the work-environment.
Conclusion
We hope that you have liked the various birthday messages for your colleague. A great colleague makes a lot of difference to your workplace. They are the ones who make your office life certainly less stressful. Enjoy them!
Feel free to leave your feedback in the comment section. We will include more interesting messages in this post from time to time. Take care until the next time!