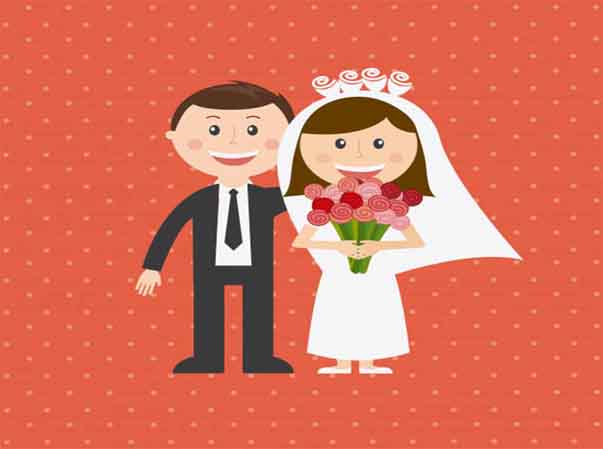 Image Source: – Flower vector created by gstudioimagen – www.freepik.com
A wedding anniversary is an important event in everyone's life. And no event could be better to give your Boss sincerest wishes than his or her wedding anniversary. This post is all about the beautiful wedding anniversary messages to your Boss.
Marriage anniversary wishes to Boss
I pray to the Almighty to keep your soul intertwined with your better half for perpetuity. You have been a force to reckon within our industry and despite the hectic schedule, your marital life is the epitome of a happily married couple. Stay blessed forever. Happy anniversary!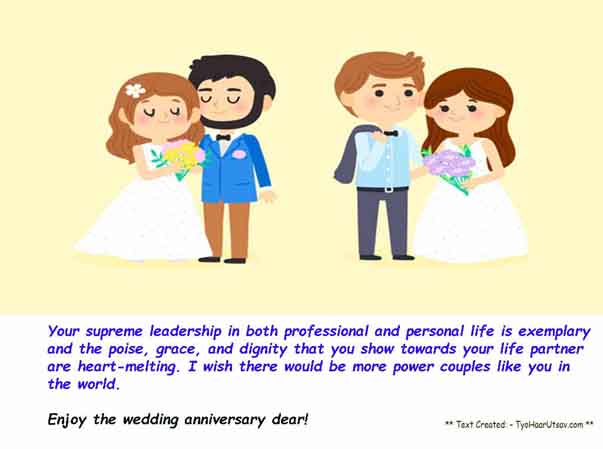 Image Source: – Wedding vector created by freepik – www.freepik.com
Your supreme leadership in both professional and personal life is exemplary and the poise, grace, and dignity that you show towards your life partner are heart-melting. I wish there would be more power couples like you in the world. Enjoy the wedding anniversary dear!
Having known your partner, I can now truly decipher the source of your vigor and penchant for success. You have raked in colossal success not only for the organization but also in your personal life. And for an employee, nothing can be more satisfying than that. Happy wedding anniversary Sir / Mam.
There is unlikely any professional success if there is not the harmony in personal life. You have achieved paramount success throughout your life and I can only hope that every man gets a spouse like your better half who has been so kind, supportive and enthusiastic in all your professional career. A very happy wedding anniversary to our lovely boss.
There can be no better occasion for me to wish you all the luck and wishes than your wedding anniversary. You are the epitome of a perfect boss, a perfect husband (or wife). The way you juggle both your personal and professional aspects are remarkable. I can be assured that your partner is very lucky to have you. Happy wedding anniversary.
The tiniest interactions with your make my heart tranquil. Such is your positive and magnetic aura that can bring a smile to anyone's face. I can only think how grateful your partner must be for having you. It seems near perfect. Happy anniversary Sir! God bless you!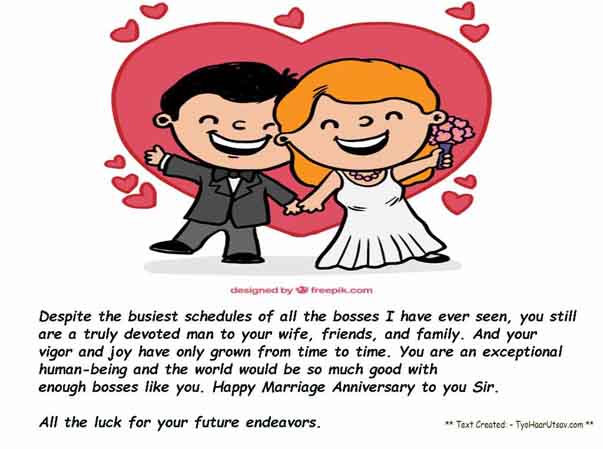 Image Source: – Wedding vector created by freepik – www.freepik.com
Despite the busiest schedules of all the bosses I have ever seen, you still are a truly devoted man to your wife, friends, and family. And your vigor and joy have only grown from time to time. You are an exceptional human-being and the world would be so much good with enough bosses like you. Happy Marriage Anniversary to you Sir. All the luck for your future endeavors.
It is glad that power couples of different personalities can have such a harmonious relationship with each other. Just goes to make sure that no matter how much one can resemble his/her partner, compromises and adaptability are often needed in a successful relationship. Here is our toast to our boss's wedding anniversary. Many Congratulations.
Knowing you on a personal level, I can assure you that you guys are the embodiment of a perfect couple. You two sure know how to manage things through thick and thin. God bless you! Happy Anniversary.
There is something enigmatic and yet so simple about this relationship that everyone can learn from it. Your marriage is more than a fairytale. It is a perfect dream that anyone can live. May the Almighty bless you for infinity! Happy anniversary to my lovely boss and his dear wife.
There are many power couples in this world that may have the world by their feet but do not have tranquility, love, and sincerity from their spouses. I am so glad you two have the best gift in your life; the gift of sincere love and loyalty towards each other. Happy marriage anniversary to both of you!
Sentimental wedding anniversary wishes to boss and wife
It is so heartwarming to see the contribution of your wife in your success. She has been a pillar for you in all these years. You may not believe but you guys are my favorite couple. There is so much that we can learn from your relationship. Happy anniversary to you Boss and your wife!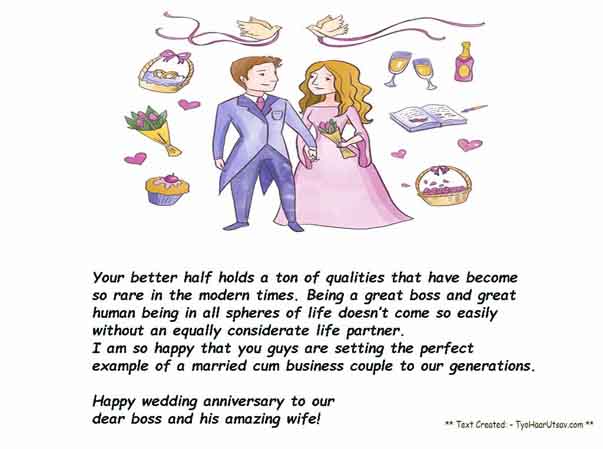 Image Source: – Wedding vector created by freepik – www.freepik.com
Your better half holds a ton of qualities that have become so rare in modern times. Being a great boss and great human being in all spheres of life doesn't come so easily without an equally considerate life partner. I am so happy that you guys are setting the perfect example of a married cum business couple to our generations. Happy wedding anniversary to our dear boss and his amazing wife!
Disagreements and arguments are a part and parcel of every relation. But when you look back on it many years from now, they will surely serve as nostalgic memories. Let faith not waiver in such a sacred relationship. Happy wedding Anniversary to you dear!
Owing to work-ethic, principles and moralities, you have not only earned the loyalty of not only your spouse but also of employees like us! You are the best boss that anyone would desire. May the Almighty keep you and your spouse happy forever. Happy anniversary wishes to you Sir / Mam.
It is amazing to see the rocking spiritual foundation of your relationship considering the fact that you enjoy all the riches in the world. Happy wedding anniversary to both of you! May God bless you.
Christian wishes of Wedding anniversary to Lady boss and Husband
May the Almighty bestow all the luck, prosperity and vivacity on you guys. It is awe-inspiring to see both you guys managing your professional and personal lives with so much harmony. All the wishes for your wedding anniversary.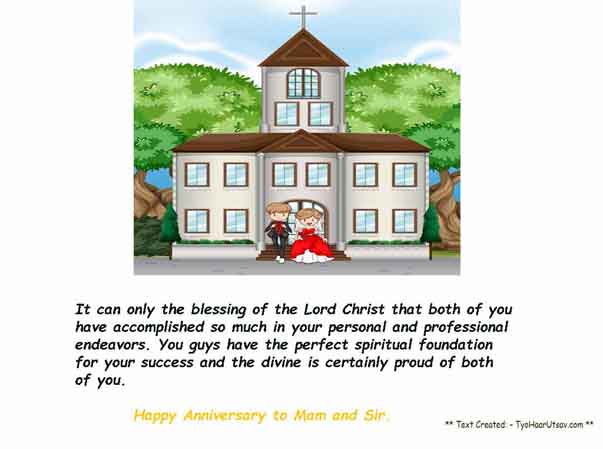 Image Source: – Wedding vector created by brgfx – www.freepik.com
It can only the blessing of the Lord Christ that both of you have accomplished so much in your personal and professional endeavors. You guys have the perfect spiritual foundation for your success and the divine is certainly proud of both of you. Happy Anniversary to Mam and Sir.
While you guys may not consciously follow the teachings of the Lord Christ, I can see that you are indeed doing what he has always preached. Your support, loyalty, and altruism are the core threads of this sacred relationship. May the relationship only become more exciting and fun-filled with the passage of time. Happy wedding anniversary!
There is no better gift from the Almighty than to find your partner that clicks with you perfectly on emotional, physical and spiritual levels. It astounds me to see you guys so perfectly gelled with each other on so many things. May you continue to rock forever! Happy anniversary to our Lady boss and her dear husband!
1st wedding anniversary wishes for boss
Ever since your better half has arrived in your life, there seems to be a strong brake on the gossip and politics of the company. While you may be the head honcho but I certainly feel the drive and motivation are trickling down from somewhere else. Happy 1st wedding anniversary wishes to you and your better half.
The 1st year can be difficult for some individuals, but not for our Boss who may be a juggernaut in his professional but is equally humble, caring and understanding in his personal life. May your marital life give you deep content, satisfaction, and fulfillment. Happy Anniversary Boss.
Congratulations dear for the 1st wedding anniversary. It seems only yesterday that you two got married isn't it! May you guys vow to each other on this occasion to see through the thick and thin with equal encouragement, vivacity, and effort. All the luck and blessings on this anniversary to you!
Funny anniversary wishes for boss
It has been a year since you promised me a raise. Now is the perfect time to coax you for it I guess! My heartfelt blessings will always be upon you. Happy anniversary dear!
It's a whole different challenge altogether when you have an equally hot-tempered (good-hearted though) spouse to whom you cannot say no like you say it to us. Lol! But knowing you, I know you will adjust to the new challenges in a few more years. Happy 1st wedding anniversary Boss!
It amazes me how an introverted boss becomes extroverted when he reaches home! I admire your dual personality which you have to maintain in order to manage employees like us. Happy anniversary by the way! God bless
You may have been a great Boss for so many years, but it would be selfish to take all the credit yourself. Your wife deserves a plethora of commendation for infusing you with a ton of leadership qualities. Happy anniversary to both of you.
If there is one savior who has always stood by me during the tough times at the workplace, it is not you, but your better half. She clearly understands my pros and cons much better than you do. It is because of her only that I am still under your payroll. I wish her nothing but extreme thankfulness and gratitude. Happy wedding anniversary to both of you.
Seeing your changed demeanor at the workplace, I can accurately credit your partner for it. The 1st year in itself has brought so much calmness and clarity to the workplace. I am so excited about the more positive changes that will come in a few months. Happy 1st wedding anniversary to our Boss!
You can all shout and scream at us when distressed! It will be funny how you apply the same tactics to your wife in similar scenarios! Lol! Happy wedding anniversary Boss.
I am sure that before the marriage, you had preconceived notions about the ease in handling your partner. We all have! Only to be turned upside down within a year only. Happy wedding anniversary mate! It only gets worse from here. Lol! Kidding only
Silver Jubilee Wedding Anniversary Card Messages to Boss
In today's world when people don't want to compromise and adapt to their partner, couples like you deserve tremendous appreciation. You and Mam are perfect on so many things. The reflection of the love and harmony of your marital life is quite evident in the environment of the workplace. Happy 25 years of anniversary Boss!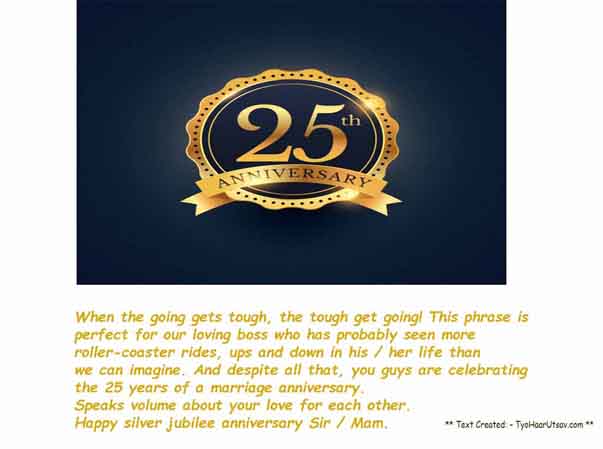 Image Source: – Wedding vector created by starline – www.freepik.com
When the going gets tough, the tough get going! This phrase is perfect for our loving boss who has probably seen more roller-coaster rides, ups and down in his / her life than we can imagine. And despite all that, you guys are celebrating the 25 years of a marriage anniversary. Speaks volume about your love for each other. Happy silver jubilee anniversary Sir / Mam.
Wisdom comes not only from knowledge but also from going through the success and failures of life. And you two are classic examples of it. Your love and passion for each other have only grown with every passing year. May it continue to grow forever. All the love and wishes for your silver jubilee wedding anniversary.
Every relationship requires time, attention and nourishment through the course of time. But the rewards of it are extremely sweet. Not too many times I encounter such people, especially a Boss like this. Needless to say, I feel amazing to have a Boss like you. All the wishes for your 25 years of wedding anniversary Sir!
Success was always inevitable in your professional life. After all, you have such a loving and caring partner who stands by your side in every challenging endeavor. It's amazing to see you complete 25 years of anniversary. May the partnership continues well beyond the 50th anniversary; till infinity I wish. Happy silver jubilee anniversary Boss!
It warms my heart to see the intense sparkle in both of your eyes when you look at each other; that benevolent child-like smile and the fervent desire to do well not only personally but professionally too. You two are the rare gems in this world that personify a marriage. Happy 25 years of marital life. Keep rocking!
While your hairs may have turned grey, but your charm, charisma, and aura are as refreshing as a youthful man. You have been an excellent mentor to many raw talents like me. Merely sitting in your proximity infuses my mind with altruism and positivity. Grateful for such Bosses! Happy anniversary to you!
Golden Jubilee anniversary wishes to Boss
In all my professional career, I have never wished for a Boss for the 50th anniversary. Despite being a mogul, and having so much wealth and fortune, you are exemplary to all the young generations. May you and your wife enjoy longevity and immense joy forever. Happy golden jubilee anniversary Sir.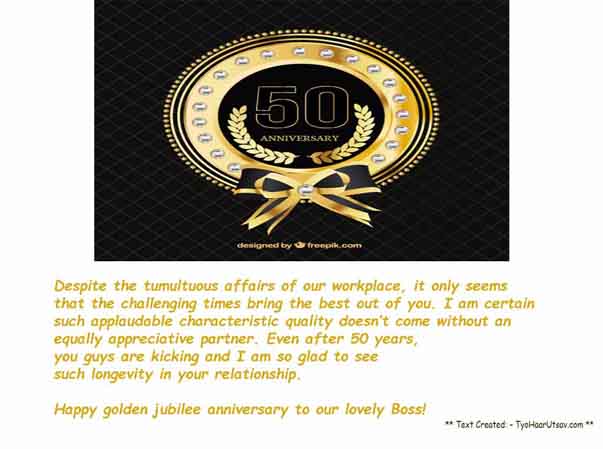 Image Source: – Wedding vector created by freepik – www.freepik.com
Despite the tumultuous affairs of our workplace, it only seems that the challenging times bring the best out of you. I am certain such applaudable characteristic quality doesn't come without an equally appreciative partner. Even after 50 years, you guys are kicking and I am so glad to see such longevity in your relationship. Happy golden jubilee anniversary to our lovely Boss!
The emotional intelligence, hard work and the noblest of intentions that you have shown for the last 50 years is a direct result of your faith in altruism, morality and selfless concern for the juniors. You are the quintessential Boss under whom everyone thrives and blossoms. Happy golden jubilee wedding anniversary to you.
No fact can be any more prideful for an organization that its founders are enjoying 50 years of blissful marriage. It speaks volumes about your determination, adaptability and the ability to have faith through the thick and thin. Your personal life is truly admirable Boss. Happy 50 years of a marriage anniversary. I hope it goes well beyond the 100 marks!
Belated wedding anniversary wishes to boss
There can be no excuse for wishing you late but I am afraid that I forgot about it at the very last moment. But the intent and wishes in my heart have always been there for you mate! Happy belated wedding anniversary to my wonderful Boss!
Sometimes, being a tad bit late for sending the wedding anniversary wishes makes the recipient feel more grateful for it. Lol! But that's not all. I am gonna make up for it with an extra amount of hard work and sincerity for our organization. Happy belated Boss! May the Almighty keep you young and healthy like always.
What adjectives and phrases can be used to prepare such messages for Your Boss?
For preparing such messages, you can use adjectives and phrases such as the awe-inspiring, vivacity, ebullience, intertwined, perpetuity, colossal, quintessential, plethora, wisdom, emotional intelligence, knowledge, hard work, altruism, noblest of intentions, demeanor and no-nonsense attitude, tenacity, stupendous, right mentor and etc.
Conclusion
I hope that you have enjoyed the wedding anniversary wishes for your boss that we have curated in this post. Writing a sentimental and funny message for your boss can be a bit challenging but that's what we enjoy the most and such messages to your Boss will only stand out from the others.
Just like with every other post, we will, of course, keep on adding more and more messages and wishes on this topic. Take care until the next time!