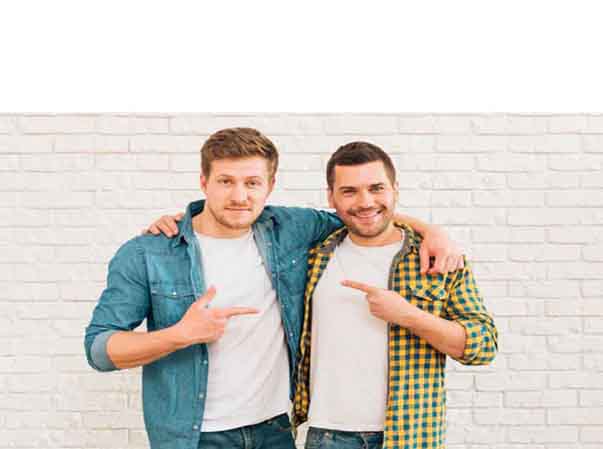 Image Source: – People photo created by freepik – www.freepik.com
When it comes to your best friend, every rule of your book goes off for him! They are the ones who add joyous moments to your life; the one who adds color and effervesce to your life. They are your shining armor and the one who knows almost everything about you!
While we certainly have many friends in our lives, the level of trust, thought-wavelength, and camaraderie is altogether different from your best friend. Needless to say, but when your best friend's birthday arrives, you could pay them an expensive lavish gift of their choice, but kind, appreciative and funny wishes are what makes the bond become stronger between the two of you.
And this is what this post is all about. We have come up with several short birthday wishes for your best friend. These messages are certainly short but heartwarming, thoughtful and interesting to read.
Short Birthday wishes for best friend
The favorite day of every year has arrived! May the love and blessings of the Almighty keep you healthy, full of vigor and joyous forever. Kudos to our friendship bond! Happy Birthday my best buddy!
Your personality and charm have infused in me the qualities of altruism, work ethic and what not! On this birthday, I pray to the Lord to bestow all the glory in all of your professional and personal endeavors that you undertake. Happy Birthday, Dear!
The almighty has a weird knack of bringing us onto the right track. He sent you in my life to do that and needless to say, I will forever be grateful to him (and of you of course!) Happy birthday dear! Love you to the core!
Lucky are those who have an empathetic, easy-going, and cheerful best friend and confidant like you! The memories with you are so nostalgic my buddy! You are always a breath of fresh air! I wish lots of joy, jubilation and wealth in your life. Happy birthday my best buddy!
Leave all your sorrows behind, focus on your future sunshine! Let the chirps of the birds tranquil your mind, let this birthday make you more determined! Happy Birthday to my bestie! Love you!
Let this birthday pave the way for a roller coaster ride. May the Almighty illuminate your life with tranquility, self-esteem, and abundance. Happy Birthday to my best mate!
Very short and cute Lines of birthday wishes for your best male and female friend
You are my euphoric, exultation and brave friend! May success be yours, may wealth be yours! Happy Birthday, mate! Enjoy it!
You are cutest, adorable and sweet loving cutie-munchy pie. Happy Birthday my babe! Nothing like you in this universe!
On this birthday my heart yearns to give you warm teddy bear hugs! You are beautiful, smart and super talented! Blessings to you. Happy Birthday, sweety!
My adventure and adrenaline revolve around you; the reasons for my smile are dependent on you. May the Almighty prolong our life beyond centenarian. Happy Birthday my best buddy!
Inspirational, emotional and unique short and sweet wishes of birthday for your best friend Boy and Girl
Keep your chin high and widen your shoulders! You are maxing your potential! The results will come for sure! Happy Birthday buddy! Keep going strong!
The magnificence of our friendship cannot be put down into words. We have been through thick and thin. But I have never been tired of your humor, sarcasm, vigor, and valiant demeanor. Happy birthday, dear. May you stay like this for eternity!
There are times when you need an extra jolt of urgency and motivation. Today is that day! March fearlessly towards your goal and let the Almighty take care of the rest. Happy Birthday my buddy!
When the going gets tough, the tough get going! Enliven your vision each day! You probably are closer to success than you realize buddy! Don't give up now! Happy Birthday!
When God wants to sculpt handsome, smart and altruistic men, then he uses your template! I adore your simplicity of life and no hassle demeanor. Happy Birthday buddy!
The Almighty took careful considerations for making you! May your aesthetics, personality and charm keep increasing with the passage of time. Happy Birthday, sweety! God loves you!
Time for contemplation has gone; the dawn for taking massive action is looming upon; greatness comes to those who strive for perfection; winners in life keep moving on! Happy Birthday to my beloved mate!
You have deep reservoirs of talent and ability. May you utilize each and every ounce of it in your personal and professional endeavors. Happy Birthday, sweety! God Bless you!
How to write funny short birthday wishes to your best friend?
May this Birthday instills in your thick head the desire to be responsible and hardworking! Remember that your success will be my success too! Lol! Happy Birthday, mate!
You are emphatic, empathetic, eclectic and Easygoing. And this is why you deserve to be my best friend! Haha!! Happy Birthday, dear! Let's have a blast today!
There is no greater joy than in giving the very best to your favorite person, and that's what I like about myself! Lol. You have been a wonderful recipient of my best behavior. Kidding! Whatever I iterated, just reverse the person! Happy Birthday, mate! God bless you!
The day when your mother shot your irritating ass out in this world is here! You have been prosperous, intelligent and no drama queen in all these years, but you still have to learn more from me! Happy Birthday, dear!
Funny and Sarcastic short wishes for your close friend who is elder to you
Never had I imagined that I would be best friends with an old bastard like you! You have loads of wisdom and knowledge which help me. Happy Birthday you oldy. Live longer!
There may be better or irritating friends than you but never will there be another one like you! Even though you are in your 50's, you still are the embodiment of crazy, weird and adrenaline oldy, with a good heart though! Happy Birthday, dear! Stay healthy!
I have never seen someone who is so tolerable of his best friend; who knows how to flow with the ebbs and flows of life. Yes, I am talking about me! Lol! We have been through everything over the years and I am proud to say I have you by my side! Happy birthday, mate! Keep rocking!
Lucky you who has great confidant at your age in the form of me! Very happy birthday to you! Do not worry about your growing stupidity year after year. You have me to take care of you. Lol!
I used to think that you were a gone case! But with late age, wisdom definitely arrives. Nevertheless, something of it is better (even at your age) than nothing. Lol! Happy Birthday, mate! God bless you!
Advanced Birthday wishes in short for your best friend
My favorite day of the year is arriving! And so are your treats and party! Let us make this birthday unforgettable! Happy Birthday in advance to my best buddy!
The thought of you surges my energy; the proximity of you elevates my amiableness. You have been my rock and pillar for years! You are my best buddy! Many many advanced wishes of Birthday mate! We are gonna have a blast this time!
How to write a belated happy birthday in short for your best friend?
There is no greater sin to commit than to say forget the birthday of your best friend! Now, not only you have to say sorry but also have to make up for the belated birthday wish. In this section, we will give some samples of such belated birthday messages.
So sorry buddy!! I know I was a tad overwhelmed with too much work but it's unacceptable! But hey! I have an awesome way of making it up for it. Today we will head to ………(name of your favorite place, restaurant, cinema etc.)… Belated Happy birthday mate!
I cannot fathom how your birthday went out of my mind seriously! It was circulating my thoughts till that very day! Good thing though is that you will remember this birthday wish after the chaos has subsided from the birthday messages, wishes from all people. Belated happy birthday sweety! Sorry again!
Rare are the times where I would have to ask for apologies. On this unexplainable forgetting of your birthday, I want to remind you how dear this friendship is to me! I am gonna make up for this but first, let me congratulate you on this belated happy birthday! May your goals and visions of this year be fulfilled!
If there was ever a time machine, I certainly would have used it to wish on time for your birthday! Feel bad to miss out but hey being a close friend, I deserve forgiveness isn't so! Happy belated birthday dear! May all your dreams transform into reality.
Small Christian, religious and Spiritual birthday wishes for your best male and a female friend
May the almighty bless you with infinite vigor and desire to live for hundreds of years! You are a great servant of the Lord and I admire your benevolent and philanthropic values! A very joyous happy birthday to you!
The Lord Christ has devoted so much talent and ability to you! You ought to make the most of it! After all, we may only get one bite of this life! Happy Birthday to you!
May Jesus Christ eliminate all the thorns and other obstacles between you and your dreams! You have been an excellent disciple of Christ's practice. I wish you the very best for you! Happy Birthday, dear!
On this Birthday, I wish the divine to illuminate your life with happiness, peace, and love. You deserve all the blessings of the Lord Christ! Keep working hard and the Lord will propel you to the behemoth of success. Happy Birthday!
Simple cute short birthday wishes for your long-distance best male and a female friend
No matter how many miles, oceans and continents are between us, my blessings and good wishes will always reach your heart! Happy Birthday my mate! Come back soon!
It feels to me that with more distance, our longing and appreciation for each other has only gone up. Our wishes traverse through the air and resonate with each other. Feeling happy on your birthday today! Happy Birthday, dear!
It's been ages since we have met, and yet our friendship remains so eternal, lively and full of admiration for each other. Today is a special day and even though we are so far, my heart is swelled with so much love, gratitude and effervescent, all because of you. I wish you all good luck, prosperity and astonishing success. Happy Birthday!
We could be on the other side of the planet, and yet the strings of our hearts will always vibrate together. I admire your tenacity, your tender-heartedness and the devotion into our friendship. Happy Birthday my dear! God Bless you!
Our sea-saw battle in friendship has always brought the best out of us. You may be far away, but my heart feels intertwined with yours. May this birthday remind you of how grateful I am to have you as my best buddy! Happy Birthday!
An example of a Short birthday letter for your best friend boy and girl
Sample Letter 1
Hey ……(name of the best friend boy or girl)………. It has been an amazing friendship that we have enjoyed for so many years. The occasion is special of course, so I will jot down the things that I adore about you before I become chatty about the birthday wishes.
So here we go! You have a voracious appetite for good deeds, compassion and magnanimity. It amazes me how you juggle all the aspects of your life with such a calm head! The Almighty has truly bestowed you with many skills and talents!
Of course, I know that we are going through a difficult phase, however, on this birthday I want you to be nostalgic about our previous accomplishments, comradeship, and all the fun and adventure! Keep grinding buddy and trust me that you will succeed by leaps and bounds! On this birthday, I am reminding you of your worth. You surely are not less than anybody mate! Keep pushing yourself to the limits! A very happy and cheerful Birthday to you!
………(Your name)……..
Sample Letter 2
Hey ……(name of the best friend boy or girl).A very happy Birthday to you! It amazes me how time has flown by and the bond of our friendship has become deeper and stronger over the years. You are the personification of a great friend who has time and again come to my rescue when everyone turned their back onto me and I will never ever forget those times.
While there are many things that I adore about you, the ones that truly stand out are your simplicity and non-judgemental aura. Your proximity emanates so much joy, wisdom and liveliness. You are a precious gem who has subtly refined the personalities of so many people in your life, including me.
Needless to say, but all I care for you is to achieve staggering success in every sphere of your life. I pray to the divine to keep you vibrant, cheerful forever. We may have been together for many years but I still thank my lucky stars for sending you in my life. God has been great to me for sure! Let us make this birthday highly memorable today! We are gonna have a blast today. Happy Birthday, dear! God bless you!
………(Your name)……..
Sample Letter 3
I cannot believe how much we have evolved each other throughout the years! We have recuperated each other from the dooms of failures, lent our help despite the difficult circumstances and have always propelled each other for success.
Back in those days, we contemplated so much to achieve, and today I can proudly say that we are living the life of our dreams. Today is a special day and it means so much to me! You are one of your kind and I am so glad to have you in my life. 
On this birthday, I pray to the Almighty to give loads of success, enlightenment, tranquility to you and your family. We have been through thick and thin over the years and it has only solidified our bonding for eternity. God bless you dear! Happy birthday once again!
……(Your name)……..
Small Birthday wishes for your best buddy who is in the army (For both gender)
Nothing gives me more adrenaline and pride than to have my best buddy serving the nation! You are a role model for today's generation! I wish you a very happy birthday! May you get to shoot down all the pricks who fight against this great nation.
You are the personification of lion heartedness; a fearless and proud individual who has kind-hearted under that strict demeanor. You are a proud son of this motherland. On this birthday, I pray that the divine blesses you with tons of energy, health, and joy. Happy birthday!
There is an enigma that will always surround you, dear! You have been a valiant soldier for this country! I feel so grateful to be a part of your life! I wish the Almighty grant you years of longevity, happiness, and peace.
Samples of small birthday wishes for your childhood best friend
They say that the memories of the first childhood friend will always be etched in your heart, and they are right! So many activities of mine are reminiscent of our old good times! I am so grateful for the Almighty that our friendship is still rocking. Happy Birthday my buddy! Lots of love!
While I may have made many friends throughout the years, the nostalgia of our time spent together always enliven the core of my being. On this joyous occasion of your birthday, let us raise a toast for our childhood friendship. May we live well beyond 100! Happy Birthday!
I credit my success to our roller-coaster and soul-touching friendship from toddlers. On this birthday, I pray to the Almighty for your eternal and lively health. May he bestow you with lots of peace and tranquility!
While I may have worked hard over the years, the one constant shoulder responsible for my success is you; my childhood best buddy! I pray that we both live well beyond 100 years with joy and prosperity.
Your enigmatic presence always elevates my mood from the sorrow and failures. I hope that everyone gets to have a friend like you (and me of course!) Happy Birthday dear!
Adjectives (phrases) that you can use for preparing such type of short messages for your best friend boy or girl
Funny, effervescent, bright sunshine, breath of fresh air,  vivacious, animated, zestful, ebullient, happy go lucky, scintillating, over the years, nostalgic, aura, charm, charisma, template, beautiful, stunning, gorgeous, altruism, benevolence, humanitarianism, thoughtfulness, contemplate, well-thought-out, resonate with each other and etc.
What to keep in mind while preparing such messages?
It is always a challenge to write short and meaningful messages and for any occasion. In order to keep it short, you can take the help of the power words instead of the phrases. However, it is our belief that long messages often induce a lot of more emotions and authenticity in the reader and this is why we prefer them mostly.
Final thoughts!
In today's world where people are having a harder time connecting with each other, having a best friend is like a boon. You should leave no stone unturned in order to make your best buddy or bestie appreciable for all their sincerity, time and effort into the friendship. And sending a heartfelt, short birthday wishes is just one way of doing it!
We hope that you enjoyed this post. Feel free to leave your feedback and we will keep on adding more new messages, wishes in this post. Until next time, goodbye and take care!