If there is anyone who deserves the best of you, the truest of you, it is absolutely you! Your self-happiness is very important! And what occasion could be better to remind yourself of your worth than your Birthday?
Your birthday is probably the most important day of your life. It is the day when you came from your mother's womb, the day when you witness the first sight of this beautiful planet, the day when all your family and relatives celebrated with joy because you were born.
Self-love may sound conceited but it is probably the best thing you can shower yourself with! This post is all about the birthday wishes to you. We have prepared long, short, funny, emotional, sad, inspiring birthday wishes, messages, letters and prayers for yourself.
Heartfelt Birthday wishes for me
With every passing year, I am acquiring more wisdom and knowledge. Last year taught me so much! May the upcoming year neutralize all the bad experiences of the last one. Happy Birthday to me!
The Almighty has infused in me with so much love, self-esteem and fervent desire to succeed. Time now to appreciate his hard work by maxing out my full potential! Thank god for another year's happy birthday for me!
Never in history has been a better time to be alive than now! I am so grateful to the divine for sending me on this planet in this era. May I become a centenarian! Happy Birthday to my dear self!
Life has always swiveled me amongst the circumstances of polar opposites. The learning from it has been phenomenal. Hopefully, this year will be less challenging though! Happy Birthday to me!
Lucky are those on whom the Almighty has bestowed so much luck, talent, and beauty! I may be turning a year older but I am living my life with full joy, effervescent, vigor, and vitality. So grateful for being alive! Happy Birthday to myself!
There is every reason to forgive me for all my past mistakes. I may be the fiercest enemy of mine but I am also my best friend. Let us make the best of my life! Happy Birthday to me
I am a unique child of the Almighty! There is and will never be anyone like me. Glad to be a part of the divine. Thank god for this birthday to me!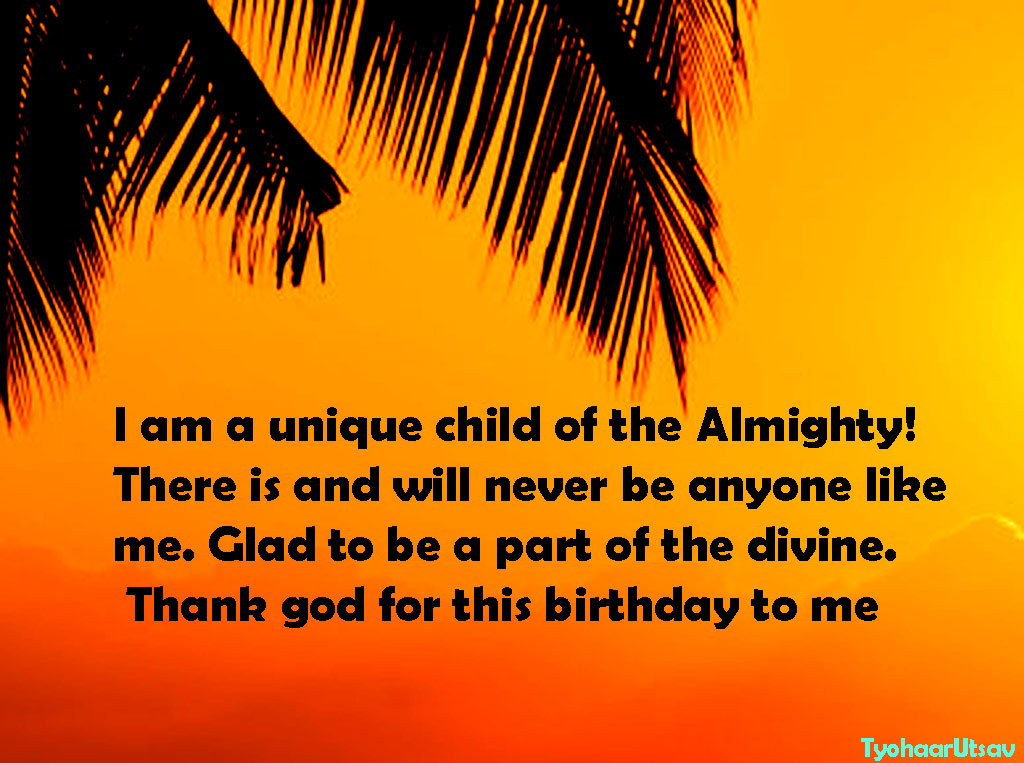 Friends and well-wishers will come and go but the evolving version of myself will be the evergreen gift to me! Grateful to be alive! Happy birthday to dear me!
May the blessings of Christ will always be upon me! To the noble and kind soul, may I always march towards my goals fearlessly! Happy birthday to myself
When the going gets tough, the tough get going! On this birthday, I vow to never let circumstances control my beliefs and perception! Happy birthday to myself!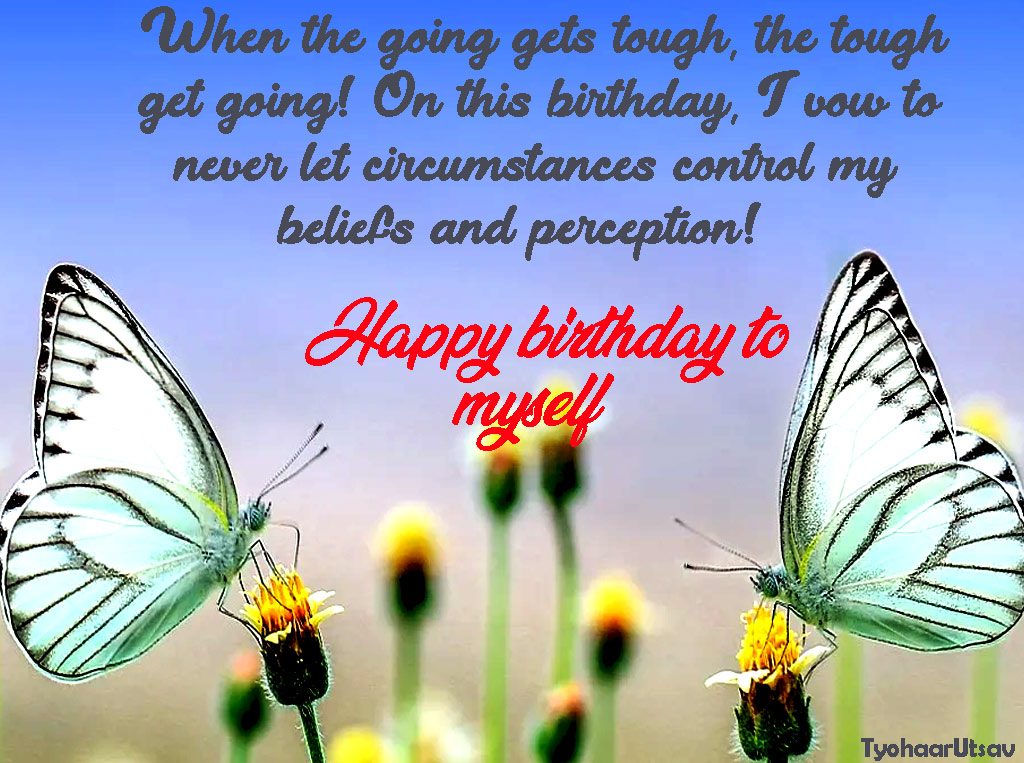 Despite all the roller-coasters in my life, I have enjoyed and have always looked forward to pushing my comfort one. The Lord has been kind to me. I can't thank you enough for giving me such a wonderful life. Happy Birthday to myself!
Inspirational Self Birthday wishes for Myself as a Girl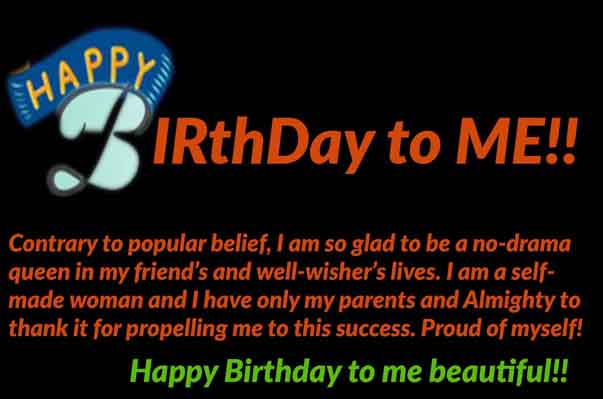 Contrary to popular belief, I am so glad to be a no-drama queen in my friend's and well-wisher's lives. I am a self-made woman and I have only my parents and Almighty to thank it for propelling me to this success. Proud of myself! Happy Birthday to me!
Perseverance is to success as Carbon is to steel. I am so proud of myself for persevering in circumstances which are unfathomable to most humans! No one is like me! Thank god for another year's happy birthday to me!
It doesn't matter how many times this girl will fail, she has an uncanny knack of bouncing back every time! Thanks to the resilience given by the Almighty! On this birthday, I wish him to bestow me with more energy and courage! Happy Birthday to me!
With an insatiable appetite for success, I have achieved what most women could only dream of! I achieved the insurmountable. I follow what I preach! On this birthday, I vow to even better myself! Happy Birthday to my dear self!
I may not have the most vulnerable heart but I certainly have the biggest one. My achievement speaks volume about my talent and success. God believed in me when no one did! Thank you almighty! Happy birthday to my beautiful self!
Long Birthday wishes for myself thanking mom
While it is true that I have acquired tons of success on my own, it would be an understatement to say that you only helped me! You have certainly permeated all your blessings, altruism, desire to succeed, and beauty to me! Thank you Lord for giving me a Mom like you! Happy Birthday to me!
My Dear Mom! On this Birthday, I can only consider myself lucky for having you who brought me into this wonderful world. You have been my greatest savior in my most difficult circumstances. You are the mom and I am the best child!
There is no substitute for Mother's love. She not only has brought me into this world but has also raised with ethics, morality, and responsibility. She built the foundation of my emotional intelligence and I owe her for my success. Happy Birthday to me and I thank the Almighty for giving me a mother like her!
My childhood has been phenomenal, courtesy to the sacrifice of Mother. I am successful today, all because of my mother. The outside world may not be kind, but my mother surely is and will always be! Thank you, Mom, for all you do. Happy Birthday to dear me!
Funny, crazy and Sarcastic Self Birthday messages and Prayers
Oh Lord! Yet another year has gone by! It only feels yesterday that I celebrated my previous birthday! Time really flies by when one is doing nothing in life! Lol! Looking to accelerate my actions this year! Let's do it! Happy Birthday to my lazy self!
Credit must be given to the God for designing a masterful piece, with a colorful personality! Few credit to the friends and family also for bearing this overpowering personality! Happy Birthday to myself!
Can there be a perfect blend of weird, funny, smart and foolish man? Yes, that's me. And I am grateful to the Almighty for making me that way. Or maybe not! Happy Birthday to my crazy self!
Year after year, my sex drive is increasing rather than declining! Does God want me to relive my younger days? Seems so! Happy Birthday to dear me! Year for making lots of babies!
Slowly and steadily, I am making myself permanently dependable on my dear friends and family people! But who can deny the love and support of such people in our lives! Let us enjoy this year like this too! Thank God for another birthday!
There can only be one version of me! Hopelessly single, and aging but obviously like a fine wine! I hope to see some action this year! Happy Birthday to me!
Inspiring Birthday Poems for me, myself, and I
I came, I saw and I need to conquer
Let the power of the Lord make me stronger.
Haters may call me names and whatnot
But I need not burn myself with anger.
Worthy things in life are hard to achieve,
That's why need to rev up our beliefs.
Exercise and nutrition is an outside job,
but being happy will always be an inside job.

Sweet and meaningful messages of Thank god for another year happy birthday to me
Another year of my long life (hopefully so! ) has gone by and it has been extremely fruitful in both professional and personal endeavors. Needless to remind me, but the Almighty has been really kind to me! I thank god for another year happy birthday for me!
There are infinite materialistic achievements to conquer in this world but I am content for whatever the Lord has blessed me so far in my life. Money will come and go but more important is the joy, effervescence and loyalty of our family and close friends. Really Thank god for another year happy birthday to me.
When God designed you, he didn't make any references. He wanted an absolute original, a true masterclass. That's how blessed you are. Happy birthday to yourself! Enjoy life!
Cute, Short and attitude birthday wishes to write for yourself on Facebook and WhatsApp Status
It is my birthday and I am notching up the hallmarks of my personality such as becoming naughtier, more mischievous, and demanding this year! Happy Birthday to wonderful me!
Today is my birthday and I am willing to be taken out for a great outing! A rare opportunity for my friends and well-wishers as I do not give second chances to impress me!
There is no scientific instrument that can measure our uniqueness in this universe. We all are the shining bright stars in our own way! Happy Birthday to handsome me!
The birthdate of the future legend is today! Haters and critics beware! You will be dealt accordingly in future! Happy Birthday to the upcoming legend
When the Almighty wants to create handsome, smart and altruistic man, he simply uses my template! Happy Birthday to myself!
My frequency is unique in this universe. My aura is enigmatic. I do shine like a bright star but I also bite like a freaking shark! Happy Birthday to my crazy self!
If there is anyone who has my eternal trust, it is me. If there is someone in this universe who deserves infinite love from me, it is absolutely me. I am my biggest enemy and also my greatest friend! Happy Birthday to lovely me!
Appreciation birthday wishes for self to write on the card
Your productivity, enthusiasm has notched up extensively since the last birthday and the results are your success! Keep up the good work and continue to grind. Happy Birthday to dear me!
Very few are there who are able to conduct themselves with integrity, honesty, and dignity. I can always walk with my head held high. Thank you God for always showing me a light at the end of the tunnel. Happy Birthday to myself. Feeling blessed!
There has always been an inner voice and the shadow of the divine that has always guided me towards the right path. God lends its hand to us in mysterious ways! Thank god for keeping an eye on me during the hard times. Happy Birthday to myself! 
Feeling proud of me to have committed good deeds throughout life. This birthday, I vow to do more of it! I know it sounds conceited, but I love myself! Happy Birthday to dear me. You rock!
Rugged happy birthday wishes, prayers for myself
There is no better weapon for revenge than monumental success. It's like a hard slap to haters who always wanted to pull you from achieving success. So glad to see my success speaks volumes! Happy Birthday to my dear self! May the Almighty keep the hunger alive for success!
They say that legends are born on ……(your date of birthday)………..The amalgamation of purity of heart, benevolence, and success is a unique breed! Thanks to the almighty that I belong to it! Happy Birthday to myself
Failures have always befriended me in every sphere of life! And Success has always required me to coax it. It may be difficult chasing it, but the rewards of it are 1000 times greater than what one contemplates it to be. Keep rocking my dear self! Happy birthday to me!
It takes an insane desire and ferociousness to pursue your heart's dreams. Glad that I belong to the top 3% of people worldwide! The Almighty will surely reward me by leaps and bounds! Happy birthday to my crazy self! I hope this year, all my dreams come true!
Few examples of Sad Birthday wishes for yourself
There are some things in life which, when acknowledged with an open heart, go away ironically! Sadness is one of them! Sad birthday wishes for yourself are not something that devalues you as long as the intent is not to feel like the victim of the circumstances. In this section, we are jotting down some sad cum motivating birthday wishes for yourself.
Why do people have to be cruel to the most vulnerable and kind hearts? Maybe because God intended them to bear the vent out of frustrated individuals. May the Almighty make me stronger yet kind-hearted! Happy Birthday to myself
I have lost count when people stabbed me behind my back! But the Almighty sees and knows how to neutralize everything! On this birthday, I forgive everyone who hurt me intentionally or unintentionally! Happy Birthday to my strong self!
It is only the almighty which has resurrected my faith into the altruism of life. I may have suffered a lot but there are far more people on this Earth who possess a jovial smile despite suffering worse scenarios. On this birthday, I promise myself to always look at the brighter side! Happy Birthday to me!
I may have acquired success and wealth but certainly at the cost of a lot of leisure and time, which I could have spent with my friends and close people. I pray to the Almighty, to make my friends understand my difficult journey of success. Happy Birthday to me! May everything become like previous before!
Advance thank you god wishes for my birthday
The day I was born is arriving! The excitement is already rushing! The flood of the endorphins is soaking my cells and the anticipation of my birthday is rising! Thank you, God for everything. Happy advanced birthday to me.
The heart is swelling with joy and ecstasy! The date when my consciousness arrived in this body is coming! Life may not have been generous to me but victory will always be at my side! Thank god for whatever you have blessed upon me. Happy advanced birthday to my kind and noble soul!
This birthday will be grander than all my previous ones. Every moment from it will be a meaningful one. Time has now come to make every second count, I thank God for whatever he has bestowed! Happy Advanced grand birthday to me!
Inspirational birthday letter, story to yourself for "thanking god for my birthday"?
To my dear self,
It has been a phenomenal journey of ups and downs, ebbs and flows, troughs and crests. You have been a diligent student of life and despite the circumstances that you faced, you have achieved inspiring success! There is not a single thing that you should regret!
I am a unique star of this universe and I am glad that the Almighty made me that way. Why would I ever want to look like someone else, or the other person to look like me? I may have flaws but there is literally no one in this world who is the symbol of perfection. While I may think they are perfect, those people certainly want more from the Almighty.
Life is all about the journey.  Don't beat yourself for things that you have not achieved. While you may have certainly not achieved yet what you desperately want, here is a caveat; once you have achieved the things that you have always wanted, a new galaxy of desires will open up for you and this will always be a never-ending process. You may ask why? Because that is a fundamental aspect of the existence of the Universe. It thrives on new limits, new accomplishments, and that quality is ingrained in our DNA as we are a part of this ever-expanding Universe.
This also leads to the fact that no matter how adorable, beautiful, or handsome you are, or how much money you have in your bank,  you will always wish for more. You may ask why? Because of the same trait of consciousness which is always yearning for more in every aspect of life. Therefore, you will never reach a tipping point from where your desires will start to limit. Of course, a certain amount of material wealth will suffice all your needs but you will always be wanting more of life. So sit back and enjoy this ride because the consciousness of all of us is only going to get better, life is going to be livelier.
For the people who have hurt me, I should forgive them and move on because they are insecure and not ready to be vulnerable. My heart and mind are evolved and therefore, I know that sooner than later they will regret what they have done to me in the past. But I need not hate them, in fact hating them will burn and ache my heart only. There is a certain sense of liberalness we feel when we forgive people and move on. I wish them all the best in their life and may the Almighty put them on the path of Enlightenment.
As for what should be my aim for life? It is simple i.e. to earn sufficient by providing valuable services to the people who need it. My materialistic desires are surely limited but my quench of curiosity, deep mysteries of life, and altruism will only increase with the passage of time.
Lastly, on this cute birthday story for myself,  I want to say to myself that life is more than fair to you. The Almighty gave you an able body, hard-working hands, and a functional brain. God gave you more talent and ability that you will ever utilize in this lifetime. Your gift to him is to make the most of your talent and ability in this lifetime.
As for the things that you deeply want and haven't achieved yet, things certainly are on improvement and you will reap the rewards of your success because Legends and ancient scriptures have rightly said that the joy is always in the journey and never on staying at the destination. Have faith and keep grinding. Thank the Almighty for your birthday!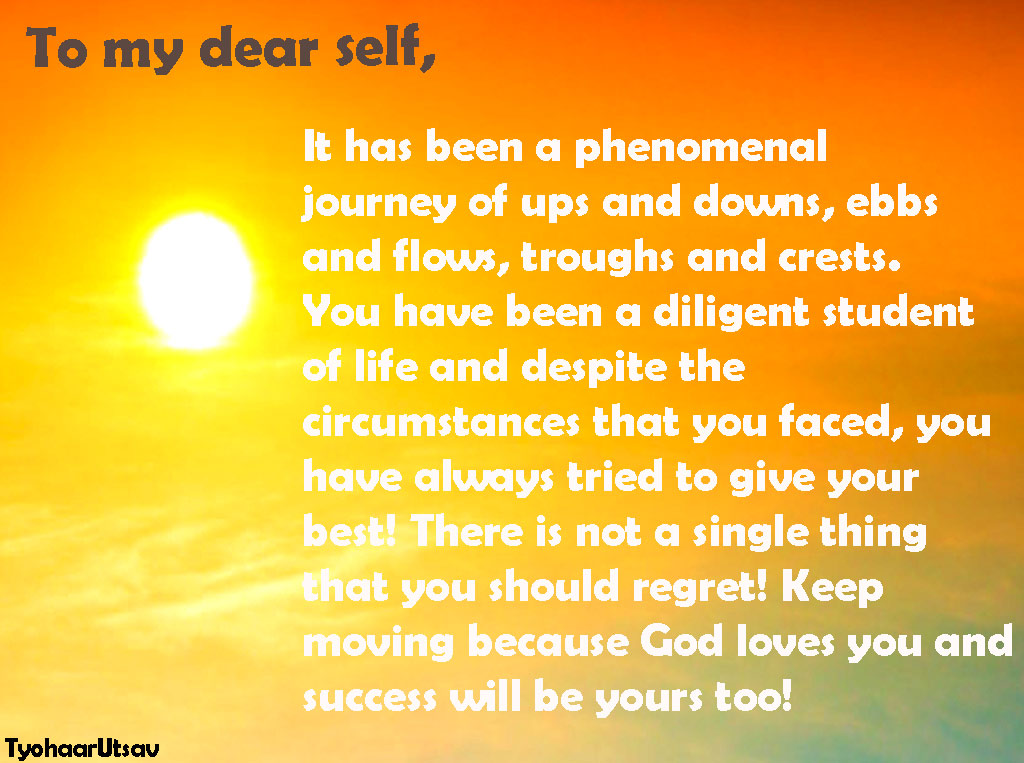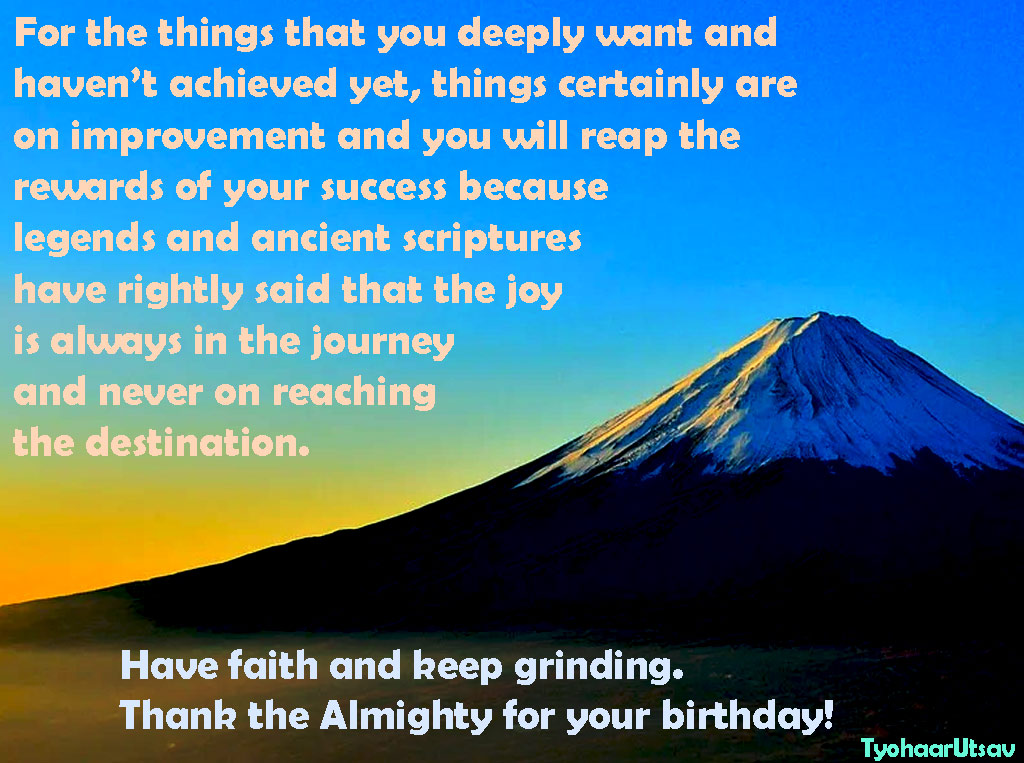 Sample Letter 2
To my dear self,
It would be an understatement to say that Life has taught me so much! It is certainly a gift from the divine and as far as I know, we may only get one shot at it! Being a student of life has earned my invaluable wisdom about our nature
I have probably seen the worst of life and yet here I stand as a fully able man with enough opportunities! Goes to show that Life is merciful to us if we are willing to put in the work! Hoping that every year of my life will now be ever joyful and full of friends and well-wishers. Cheers to me on my ………(number of your birthday)………..
*** If you like this post, you would also love to read the Self- birthday Quotes ***
Christian religious and spiritual self birthday wishes
I thank the Lord for giving me resilience, toughness and persistence during the low phases of my life. The Almighty has been merciful to me for my unintentional mistakes. I wish to do all the good deeds just like his disciple. Happy Birthday to myself! Feeling blessed!
Every time the heart got hurt, it not only healed but became more strong, tranquil and vulnerable. Lord Christ takes care of all his children! And I am certainly one of his beloved! Happy Birthday to my dear self!
Whatever my future will be, I trust the divine with all my heart. He will guide me with his intuition. Happy Birthday to dear me! Grateful for being alive.
The Almighty is ever so merciful to grant us a new beginning at every moment of life! It makes me wonder where my life was heading a couple of years back. Thanks to the Lord, I am on the right track now. Happy birthday to me!
Life has thrown many turbulences at every now and then and the divine has always lent a helping hand to me! Feels as if under the umbrella of Lord Christ! May he always keep his blessings! Happy Birthday to my dear self!
Every phase of life is beautiful! While I may have acquired the grey hairs, yet my passion and fervent desire has only increased as I acquire more wisdom and knowledge over the years! Glad to have survived the tough years of my life. I can't wait to experience the best years now! Happy Birthday to me!
Adjectives and phrases which you can use in the message?
You can use adjectives and phrases such as kind-hearted, altruistic values, insatiable appetite for success, noblest of intent, efficacious, fervent desire, a behemoth of success, ladders of success, jovial nature, calm-assertive energy and etc.
What to keep in mind while preparing such wishes and prayers for yourself?
Remember that when you talk about yourself, you can talk all day in superlatives. When you talk about birthday wishes for yourself, you should write sincerely about yourself and not gloat on success (and failures) no matter what the circumstances are. Birthdays are a great occasion to leave the sorrows and failures behind and to focus on a new beginning.
Conclusion
In today's world, we are witnessing so many instances of suicide, depression and what not! The problem is surely a lack of self-love and a lack of the right people in our lives. Birthday wishes for yourself may seem weird to some people but is an excellent way of appreciating ourselves. 
I hope that you have enjoyed this post. I will keep on adding more messages from time to time. Feel free to leave your feedback in the comment section. Until the next time, take care and a very happy birthday to you!