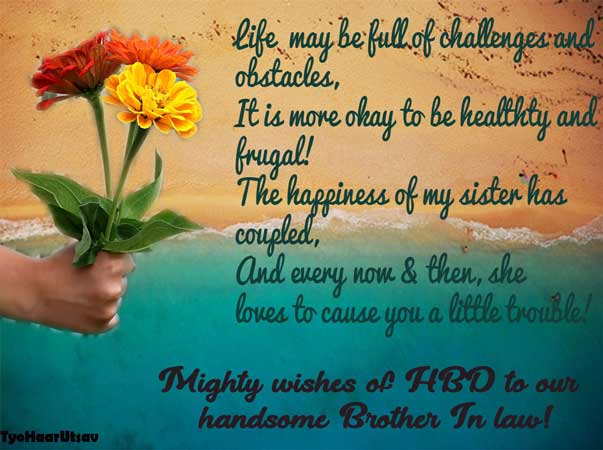 It takes time, and patience to nurture a healthy relationship with your brother in law. And when it comes to his birthday, you may have a hard time coming up with a nice Happy Birthday wish for your brother in law!
There is a distinct relation which we possess with our BIL. No matter whether you are a brother, sister or a wife, a younger or elder brother in law is just like a family member.
And this is why we have prepared this comprehensive post. Here you will find the following: –
Quotes related to HBD for both Elder and Younger Brother in Law
Plenty of messages of Birthday for your Brother in law 
Rhymes, Short Poems and Prayers of HBD for him
Funny Images of birthday wishes for him
Animated GIFs of Happy Birthday BIL
Happy Birthday Quotes for Brother in Law with Images
"They say that a woman is behind every man's success. But I must say that a man like you is always the reason for his wife's happiness. Mighty wishes of Happy Birthday dear brother in law"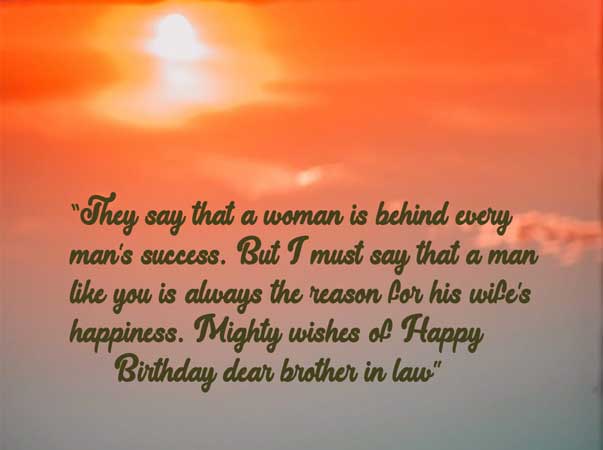 "Dear BIL! I have learnt from you that wisdom can only be acquired with ups and downs, trials and errors and not merely with age. Lots of HBD blessings to you!"
"I never thought a man, who doesn't share my blood, can infuse so much joy, laughter and optimism in my life, until I met you my BIL. Happy Birthday"
"There may not be any heroic connotation for a great brother in law but his importance to the family is just like carbon is to the steel. HBD dear!"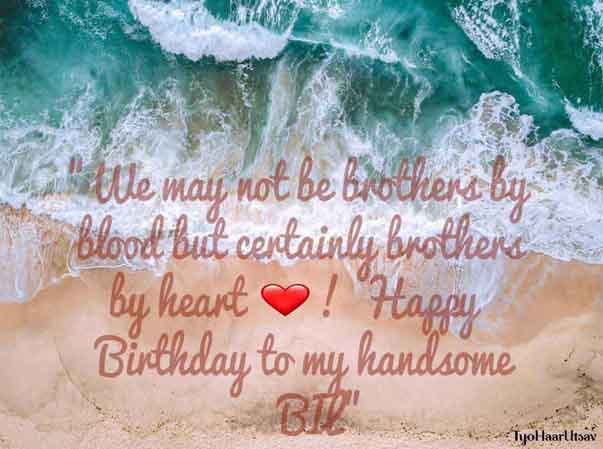 "We may not be brothers by blood but certainly brothers by heart! Happy Birthday to my handsome BIL"
"It is funny how women have such strong intuition. My sister was damn right that you will achieve the pinnacle of success. Lots of HBD to you Brother in law "
"If a man can be a good brother in law, then he is already way ahead than most of the other guys on the planet. HBD Dear!"
Wishes of HBD to BIL (Sister's Husband and Husband's Brother)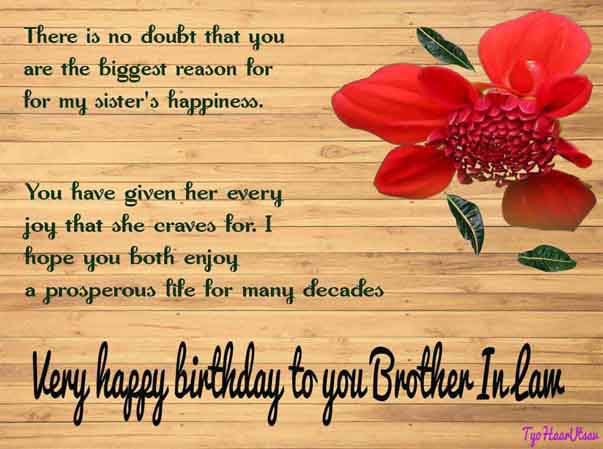 There is no doubt that you are the biggest reason for my sister's happiness. You have given her every joy that she craves for. I hope you both enjoy a prosperous life for many decades. Very happy birthday to you.
Hey, dear Brother in Law! Many Many happy returns of the day to you! You have brought along infinite joy and exuberance in our lives and I wish that the Almighty bestows you hundreds of years of great health. Happy Birthday once again.
You have given more reasons for being envious of our relatives. My parents are super happy and proud because of a son-in-law like you! You are the perfect embodiment of a great husband, a great son-in-law, and a terrific human being. Happy Birthday to our handsome BIL
You have become an integral part of our family and my sister is very lucky to have you. We couldn't have had a more altruistic brother in law like you. Happy Birthday, dear. May the two of you enjoy your partnership for many more years to come.
Elder, Younger brother in law Rhymes, Short poems, Prayers of Birthday
Dear Younger Brother in Law!
We may not have the same daddy,
But we are definitely like the close buddies!
May the Almighty fulfills all your wish,
And my sister is definitely lucky!

Many Many happy returns of the day to you! God Bless!
Hey Elder brother in Law!

Life has never been the same after you came in our lives,
You achieved success because you worked hard in your life!
Benevolence and altruism often doesn't resides in surrounding people these days,
And yet, you surmounted the unimaginable in your life!

So proud to have you as my brother in Law. Happy birthday and lots of good wishes!
Life may be full of challenges and obstacles,
It is more okay to be healthy and frugal!
The happiness of my sister has coupled,
And every now & then, she loves to cause you a little trouble!

Mighty wishes of HBD to our handsome Brother in law!
Having a hard time getting along with the BIL? Here is our guide on how to tackle such a situation and wish him a very Happy Birthday!
Relations can be complicated! And because of the difference of opinions, there can be times when we take things personally! However, we also know how important it is to maintain the relation on good terms, especially if it involves an important person like your brother in law! And when the occasion is his birthday, then you can take this moment to come forward and break the ice by wishing him a birthday. Below we are adding a couple of short rhymes, which are perfect for such situations. Feel free to send them to him!
Hey Mate! There is no joy like my sister pulling your leg,
We know how much you admire her sleeping peacefully on the bed!
Opinions about issues may cause differences between us,
But let's promise that our hearts will gel along for the best!

Mighty Birthday wishes to you! Stay Strong, stay happy!
We have always prayed for the best for you,
And My sister says that very few husbands are like you!
We both may not have been convalescent about our previous issues,
But let us forge a new understanding between me and you!

Have a nice birthday brother in law! All the love and wishes!
Nothing is immune to a world of disagreements,
One should be wary of people always in agreement!
Our likings and dislikings may not gel sometimes,
But there is nothing about our thoughts and opinions that is concealment!

All my love and wishes to you dear brother in law! HBD!!!
Funny Images, quotes and sarcastic (Ouch!!) messages for the Brother in Law's birthday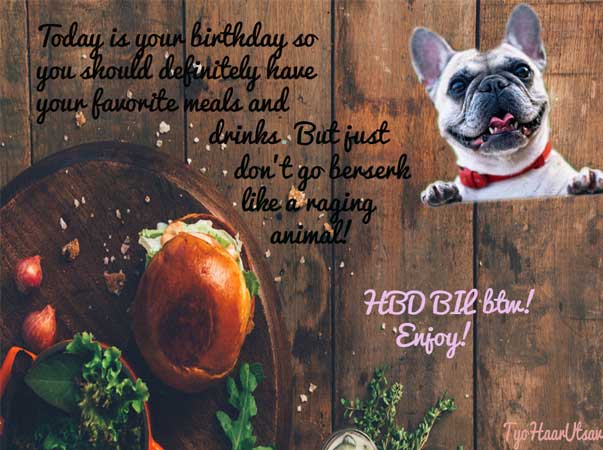 Today is your birthday so you should definitely have your favorite meals and drinks. But just don't go berserk like a raging animal! Enjoy the Birthday!
When I think about you and my sister, the first picture that comes to mind is you working hard day and night like a mad man while my sister is spending all your hard-earned money in the spa. I wish you go easy on yourself. Happy Birthday, BIL.
I don't know what my sister saw in you before marrying. You obviously saw a lot in her before marrying for sure. Hahaaa!! HBD BIL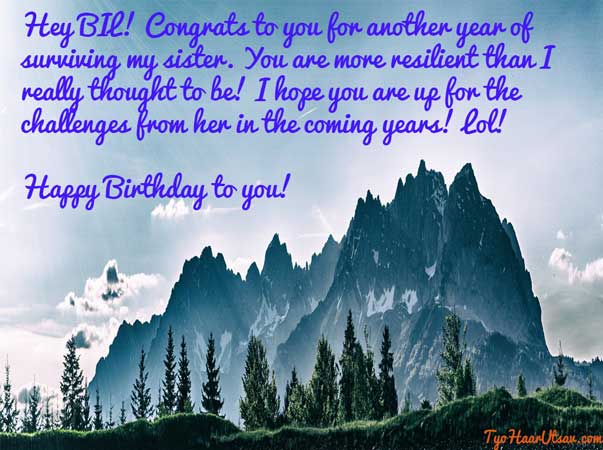 Hey BIL! Congrats to you for another year of surviving my sister. You are more resilient than I really thought to be! I hope you are up for the challenges from her in the coming years! Lol! Happy Birthday to you!
Today is your lucky day so ask for any gift. Of course, be ready to reciprocate in a double manner when my birthday comes. Hahaa!! Happy Birthday, dear!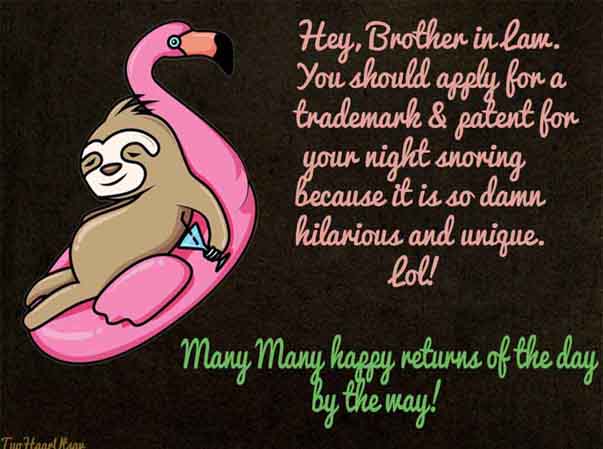 Hey, Brother in Law. You should apply for a trademark or patent for your night snoring because it is so damn hilarious and unique. Lol! Many Many happy returns of the day by the way!
My sister is lucky to have a pillar-like you,
She may be energy-draining but lively, which no doubt is true!
God forbid that you don't listen to her and she will make you pay,
But I know that you will never do that because you will surely get screwed! Hehe!!

Happy Birthday to you BIL. Lots of love!
It is so amazing to see how much my sister has refined your personality over the years.  I can honestly say that you really married the right woman! Hehe! Kidding dear. You are already good. Happy Birthday to the best brother in law ever!
I don't know which has expanded more in the last year, your wealth or your tummy! A very Happy Birthday to you by the way!
Every man is a king, only to be converted into a slave by his wife!
You have worked hard for living larger than life!
May the Almighty propels you to more health and success,
And it is my wish that God makes you more energized!

HBD dear brother in law! May you live long!
Life can be so unfair at times because today I really felt like kicking your behind for our previous night outings but unfortunately, today is your birthday! So Happy Birthday to you!
Bible Verses and Prayers for BIL Birthday
"One who has unreliable friends soon comes to ruin, but there is a friend who sticks closer than a brother." Proverbs 18:24
"Love one another with brotherly affection. Outdo one another in showing honor." Romans 12:10
"Bear with each other and forgive one another if any of you has a grievance against someone. Forgive as the Lord forgave you." Colossians 3:13
May the Lord gives you all the health and wellness,
Because you are selfless and full of zestfulness!
Nothing in the world matters to divine,
Nothing in the world matters to divine,
Except to lavish the ones who spread happiness!

May you enjoy great health well beyond your 100 years! Happy Birthday Brother in Law!
Best Movie and songs to suggest BIL on his birthday
The Hangover (2009)
The Bank Job
OMI – Cheerleader (Felix Jaehn Remix)
Inspirational wishes for him
Hey Dear! When the going gets tough, the tough get going! May the Almighty catapult you both from this phase of life at the earliest. Stay strong, stay calm. Happy Birthday, BIL!
There is a deep sense of gratification in rising from the difficulties of life. What good life is if there is no growth and incentive! I am sure you will find headways for your problems. Mighty birthday wishes to my brother in law!
For Brother in law to be
Hey!! Lots of mighty birthday wishes to you! We all are eagerly awaiting for your arrival in our family circle dear! Needless to say, my sister talks about you day and night! I am so thrilled because we are going to have a blast on the wedding day!
I hope that you are prepared to survive my sister for the rest of your life! Hehe!! She is lovely, challenging and only a man like you can handle her. Lol! Happy Birthday for the soon to be brother in law!
From sister in law, happy Birthday to you!
Hey dear! Enjoy your birthday today! I hope the Almighty bestows plenty of blessings, luck and success on your whole family. Say my good wishes to your beautiful wife also! God bless!
My dear brother in Law! You are a pure reminiscence of my handsome husband. You both have tender hearts and are willing to go any extent to bring smiles to individuals of our family. A very happy birthday to you!
For BIL in heaven, emotional texts of Birthday
Hey Dear! I know you are up there watching us from the heavens. You did leave us pretty early but I am glad that you had a great time with us till you were here. I am sure you are having a blast in the heavens. I wish you to be my brother in law in my next lifetime. HBD to our late Brother in Law.Lots of love dear!
You may have left us but your memories will always reside in our hearts. We miss your warm smile and demeanor and I am sure that you even have reincarnated by now into a happier place, because you deserve it. Happy Birthday to my late BIL!
Final Thoughts!
We have come to the conclusion of this article. We hope that you liked the messages, quotes, wishes, animated Gifs for the Brother in law birthday. We really loved writing this post because we all enjoy the distinct relationship with our brother in law, no matter if he is young or elder to us.
We request you to leave your feedback and let us know about the constructive criticism. Be assured that we will add in more relevant messages in this post from time to time. Until the next time, goodbye and lots of birthday wishes for your BIL from our team of TyohaarUtsav. Cheers 🙂