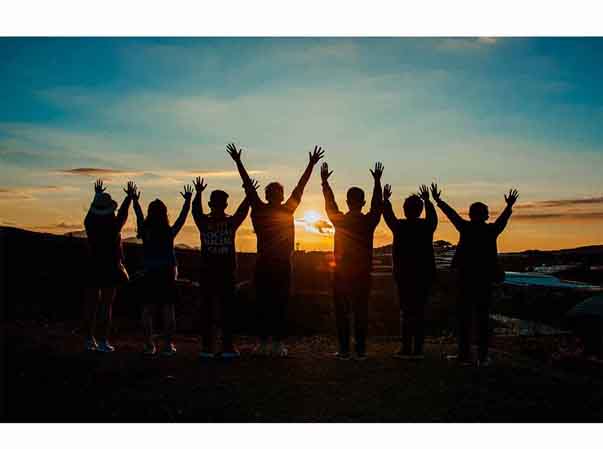 While there is an immense joy and pleasure that comes from wishing your friends a new year on the appropriate day, i.e. on the 1st January, sometimes we forget to send in the wishes to certain friends, unintentionally.
And this is where sending a belated New Year wishes becomes more challenging because now you not only have to send in the wishes but also have to make up their mood for sending it late.
And that's exactly what we are going to help with this post. We have prepared some really well-crafted and unique belated Happy new year wishes that will certainly help your friends to feel less bad about receiving your new year wishes late. So let's get started.
Funny belated New Year wishes for friends
I don't arrive late unintentionally, I wish late so that your mind remembers my heartfelt belated new year wishes for all of you. Being late is being sexy. Haha!!
They say that the king always wishes his subordinates at the last. And therefore, he is now giving you the belated Hny wishes! May you all work hard and achieve behemoth success this New year.
After going through all the received hny messages, I am now crafting my own unique exuberant, vibrant, with the "belated" keyword alongside it. May this New year adds levity, buoyancy and ebullience to your lives this year and decade. Appreciate me later for the vocab. Belated HNY!!
Sometimes I feel like kicking your a**** for the galore of stupidities, but then I thought a belated HNY would be more appropriate! May you achieve some belated success (in this New Year of course!). 
Let your mind absorbs mediocre HNY messages, while I take time to carve out an Oscar-winning belated one. Yeah, go and f*** yourselves all of you for your stupidest pranks last year. Belated HNY by the way!!!
My rationale for belated HNY messages will make you forgive me, as my words need to reflect my deep love and respect. More words, hence more time. Belated HNY to all of you.
I am confident of getting forgiveness for sending belated HNY. So why the experiment? Because science tells us that latecomers are more believers. Just google it. Oops, a very belated HNY by the way. I might believe more next year and therefore, more late HNY message next year. Kidding guys!!
Time does fly by while jotting down the heartfelt new year's wishes. I may have come late to the party, but special people in our life will always need special words. Belated HNY to everyone.
If my smartphone had to witness a problem, the time couldn't have been worse than this auspicious occasion. May the aura of the new decade and a new year bring a surge of health, happiness, and prosperity to all my friends and family. Please accept my sincere apologies for my late wishes.
Allow my late HNY greetings to let all my friends know that they will always be a visceral part of my life. Wishing all my friends to achieve a resounding success in their personal and professional endeavors this year and a new decade.
This belated HNY wish is a reminder to all you guys not to prank me like you did this Christmas. For advanced and on time HNY wishes, gift me 100 dollars from next time. Belated new year guys!!
Words cannot express the gratitude of all my friends over these years. My belated HNY wishes to you and to your family. May the almighty grants all your heartfelt wishes this year.
May the divine bestows my friends with exuberance, vitality and youthful energy this New Year. Happy belated New Year to all of you. May this New decade pumps you guys up for a strong work ethic and astounding success. My sincere apologies for the late HNY.
May the cosmos lavishes my friends this new year with the pearls of accomplishments in their respective fields. I hope that the almighty lavishes them and their families with all sorts of wealth and happiness. Sorry for the belated HNY wishes as my smartphone had to undergo repair.
I wish this New Year and New decade showers garlands of wisdom, effervescence and spiritual blessings on all my friends. May my late HNY wishes be accepted as I was unable to wish on time due to health reasons.
You guys are truly the epitome of friendship. My life has witnessed tremendous joy and happiness due to your proximity. May your heart be brimmed with love; may the sense of achievement sparkle your wonderful eyes, and may the smile on your lips forgive me for the belated HNY wishes.
2020 Belated new year wishes for best friend
Let time stand still so that I can wish my best friend a belated Happy New Year. Your support and motivation have always been behind my back. May this New Year, you forgive me for this belated wish as I was unwell for the last couple of days. Know that my life centers around you. Belated HNY to you buddy!!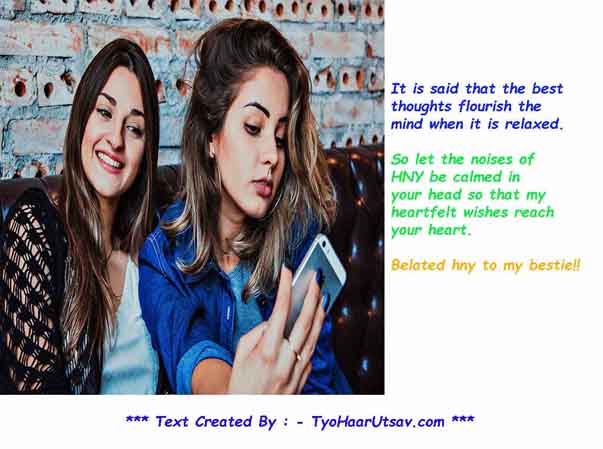 It is said that the best thoughts flourish the mind when it is relaxed. So let the noises of HNY be calmed in your head so that my heartfelt wishes reach your heart. Belated hny buddy!!
There is no better source of joy than your proximity. There is no better stimulus than your constant backing of me. May this New Year glues our friendship for the eternity. And forgive me for my belated Happy New Year Wishes as I was under the hospitality of the hospitals. A very belated HNY again mate!!
Just like it takes time to polish the diamond, crafting a special HNY wish to your best mate can certainly take a few days. I always love to stand out, hence I come late. Haha. Happy belated HNY buddy!!
Conclusion
I hope you enjoyed the belated new year's wishes to your friends. I will keep on adding more and more such messages from time to time. Till then goodbye and belated HNY from me too.