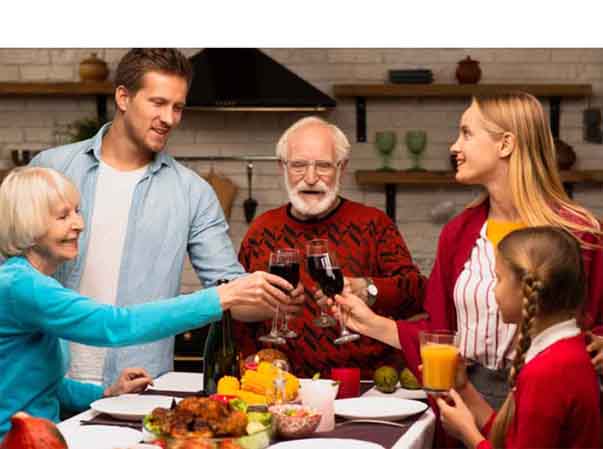 Image Source: – Food photo created by freepik – www.freepik.com
This post is all about thank you messages to your husband for his commitment, loyalty and for everything he does for you. His painstaking effort definitely deserves a thank you from time to time and this is why we have created so many messages for you to send to your husband. But why did we feel a strong urge to create this post? You will find out in the below paragraphs
A great husband lavishes his wife with not only the material aspects of life, but also lend support to her on occasions where she may not verbally ask for it, but yearns for it deeply. And blessed are those wives who have such great partners by their side!
But just like everyone, your husband also loves to be appreciated for small little things for which he puts in a lot of effort for you. He may not ask for it, but that doesn't mean you should thank him only on some special occasion!
However, crafting a well-thought-out message for anyone is far from easy and when it needs to be prepared for your life partner, you need to put in a lot of creativity and emotions into the words which resonate with him and are not generic.
So let us get onto the messages for which you have arrived on this post.
Gratitude filled message of Thank you husband for all you do
You have been the pillar of strength for me. I admire your action-oriented demeanor and your ability to provide well for our family. Your effervescence, charm and humor is contagious that easily makes up my day. Needless to say but you are the man that every woman desires and I can't thank the Almighty enough for blessing me with you. Lots of love sweetheart for all you do for us!
Various situations to thank your husband for what he does
Any relationship between two people will always require constant rejuvenation and appreciation from time to time. The relationship of Husband and wife is no different. There are numerous instances in your daily life where you can thank your husband for what he does for you. Some of them are:-
Helping you with the household chores especially during your pregnancy

Taking care of the kids, dropping and picking them to and from school respectively

Lavishing you with surprise gifts from time to time

Sending you money from far across

Taking you and kids out for the dinner, lunch and holiday and etc.
Heartwarming thank you message to your dear husband for taking care of you when you are ill
I really don't know how I would have coped up with this illness without your constant support! I now realize that more than the medications, it was your tender love and care that really brought my health from further deterioration. I am so blessed by God that I had you by my side! I wish that the divine forges our relationship with more trust, loyalty and commitment!
How to give a genuine thank you note to your husband for all he does to uplift your mood
Dear hubby, I absolutely acknowledge your effort to bear the tantrums and unpleasant talk at certain times. But a perfect doting husband that you are, you are always there to uplift my mood with your enthusiasm. Your smile and personality are vivacious, contagious and infuse a lot of positivity in me. I wish the divine to forever keep our relationship blessed with tranquility and clarity.
Want to say thank you to your husband for his support during your depression? Here is how you do it
There is little to no doubt that I wouldn't have been able to bounce back from the depression without your support. Your thought-process and perspective immensely helped me to halt the negative and vicious thought cycle. In all honesty, while I always knew your value in my life, I did not pay heed to much gratitude for having you in my life. I do now realize how lucky I am to have you by my side!
If there is anything a depressed wife needs, it is the sincere ears to hear off my insecurities and problems. At times, I felt this depression to be an unsurpassable mountain, which I would never be able to overcome on my own, but your constant support, endurance and optimism always showed me the path. Your wisdom is profound and your presence has been nothing short of soothing to me. Saying a thank you to you would be an understatement! You are the god's gift to me!
Want to Thank your husband for supporting you during an argument with other's? Here is how you do it!
I very well know that while you are upset with the whole debate and argument with our friends! I did not wish for anything of that sort. However, when I was not able to defend myself, you really came to my rescue and highlighted my issue with calm and maturity. I surely did not verbally ask for the help, but deep inside, I was yearning for it from you! And you helped me more than I expected! I cannot fathom how to thank you for supporting me in this intense argument! Lots of love!!
Hey sweetheart! I understand how taxing it must have been for you to defend me at times. I am so relieved to have you by my side who understands the agony of such debates and arguments. There is no doubt that there that I can certainly give them a taste of their own medicine, I do relish your support to me in those verbal confrontations! You have always been a solid cushion for your wife in such unpleasant circumstances.
Funny cum thank you message to your husband for all his hard work over the years
I can't thank my stars for having a husband like you who is smart, funny, handsome, seductive and leaves no stone unturned to lavish his family with happiness, gifts, and quality time. Your hard work has really paid off and our family is enjoying the fruitful reward of it. Lol! Just said that in a funny note! May the almighty always keep us together for the next lifetimes!
Plenty of thank my husband message for taking care of the kids
You are not only a caring husband but a doting father too. I get to catch my breath from the kids, simply because I have a life partner like you, who leaves no stone unturned to ensure my comfort throughout the day. The kids adore you and more importantly, respect you! This is exactly what I envisaged about my life and husband when we were going through the courtship period. Glad to have you by my side dear!
It is rightly said that where there is a will, there is always a way! I adore your commitment towards kids to devout quality time with them when the need arises. At times I really feel that you certainly handle them way better than me! And I am glad that the kids have got such a cool, calm, handsome dad with calm and collective demeanor. So glad to be the mother of your kids sweetheart!!
Genuine heartwarming thanks message to husband for sending you money from far away
Never even my wildest dreams I imagined having such a lovely husband cum friendly personality who will come to my aid at the unexpected hours! We may be far off from each other but your help still reaches me despite so many obstacles. Thanks for the urgent money! Can't wait for us to get together!
No matter how far we are, our hearts will always be connected to each other. Our breath is synced up and our thoughts are always aligned to think for each other. So glad that I received the money on time, owing to you! Would really have been in trouble if you were not there! Come back soon here sweetheart! Can't wait to shower my love onto you!
The right thank you messages for your husband to make him feel appreciated for all the household work he does
In my years of experience in marriage, rarely I have seen husbands of my acquaintances to take a serious interest in doing the household chores whereas, you not only love to throw some around help but sometimes gets more work done beyond the expectation. You may not realize how much your assistance in the household chores allow me to have a sigh of relief. You are the embodiment of a perfect husband!
Goodnight thank you message to your husband for his support to you when he is far away
There may not be any heroic connotation for a husband like you, and yet you are the epitome of a gentleman who radiates my life with his vivacious and optimistic personality. You are the perfect balance of happy-go-lucky and action-oriented individual according to the circumstances and I can't thank the divine enough for sending you in my life. May our trust, loyalty and commitment continue till perpetuity. Goodnight my sweetheart! Lots of love to you!
A perfect thank you letter to husband for support in order to make him feel appreciated
Dear (Name of the husband)
You may be surprised by this sudden letter of mine but worry not, everything is fine! I was rewinding our good memories of the recent events and just couldn't restrain the gratitude deep inside my heart for you!

I try my best to convey my emotions to you through my actions and intent, but today I feel as If the divine is compelling me to shower my love onto you through appreciative words! It's very rare to see guys like you who are not only super handsome, but caring, sensitive and very focused at the same time!
This is the first time I am openly admitting in words that your proximity is invigorating and that your sight gets me wet, and your touch electrifies the core of me. I can easily recall numerous occasions where your aid came to me without me ever asking for it, although I was yearning for it.
In short, I would like to say that you are more than what I expected my life partner to be. I pray to the Almighty that may our souls remain tranquil and intertwined for eternity. Every time you feel anger towards me, I urge you to read this letter to understand my gravity of love for you!!

Goodnight Sweetheart!
Your gorgeous wife!
Things you should definitely avoid while preparing such messages?
One of the important things which govern every sphere of life is balance. Too much of anything and too little of anything will always deviate from the intended result. And the same goes for the messages to your husband.
There is always an ideal way of messaging your husband at a particular frequency. What that ideal for your husband is, can only be deciphered by you! In our experience, too frequent thank you messages dilute their efficacy, while too few of them do not yield the desired emotions. Consistency in appreciation and mindfulness (for his small little work) is the key!
We highly recommend not to use generic one or two-line sentences like "Thank you Dear, thanks a lot darling" etc. Not only have they been overly-used for centuries, but they usually feel hollow too.
Conclusion
We hope that you have enjoyed the messages in this post. We always try our level best to create messages for all sorts of situations to give thanks to your husband. Our intent is always to help you with our vocabulary, and creativity which also helps you to craft your own message.
We will keep on adding more and more relevant messages to this post from time to time. Feel free to send in your valuable feedback through the comment section. Also, a kind requests to you to disable the AdBlocker and similar extensions as they are the only way for us to manage the expenses of this website.