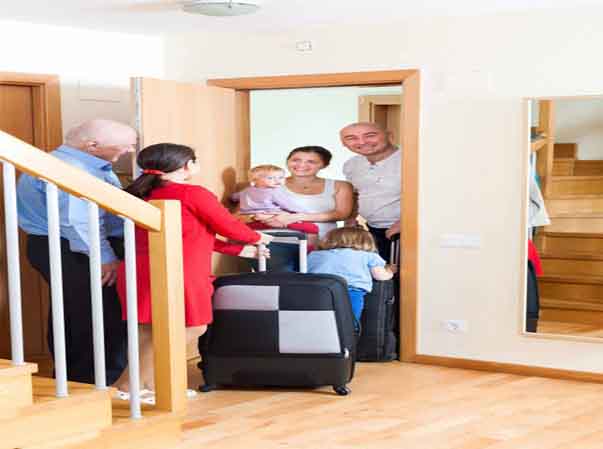 Image Source: – People photo created by bearfotos – www.freepik.com
I truly feel that hospitality can only be done by an individual whose heart is filled with love and compassion for his friend. And therefore to me, a fine hospitality gesture is the most extroverted action of genuine friendship and respect.
You may ask why is it so? Because doing hospitality requires a person to be vulnerable. And doing so doesn't guarantee that the recipient will reciprocate the favor with equal enthusiasm later on.
Needless to say but a sincere thank you message to your friend for the warm hospitality is a must. And in this post, we have covered different thank you messages for both male and female friends, for their hospitality.
So without wasting any more time, let us give you well written and well-thought-out thank you messages for your friends and acquaintances for their hospitality.
Thank you message (note) to a friend (male to male) for his hospitality at the house
We had so much fun really. It was unbelievable. We relived all the great moments of our life. Thanks a ton, buddy! Your hospitality was awesome and we felt so much more comfortable. Looking forward to reciprocating this kind of gesture. The onus is on you now to come to my house.
Oh my God! What a night it was! Phew! Your house is an envious mate! Honestly speaking, your hospitality surpassed my expectations. The camaraderie was truly unbelievable. Gosh, time flew so quickly. Thanks a ton seriously! Felt really good after a long time!
Funny thank you note for his hospitality at home
Wowww! What a stupendous hospitality that was of yours. Couldn't get enough of it. I am now planning for a stayover at your home for at least a week!! The level of hospitality must be even higher this time. Simply kidding mate! I will be coming when you are free. Please feel free to come over to my house so that I can reciprocate this hospitality gesture.
I don't really know what it is that you cannot do mate! You make so much money and blessed with good looks. But with all those superficial qualities, it is worth praising for your kind hospitality filled with so much genuineness and compassion. Feels like dying because of the envy from you. Lol Just kidding bro! You are inspiring!! Stay like this!
Your reputation for hospitality is fast becoming a legend. After the stay at your home, I now realize why our friends speak so highly of your hospitality. Your place is damn perfect mate! Thinking of bringing some colleagues for the party! What do you say? Relax dude! Just kidding! Looking to catch up with you soon!
I have been to the homes of many of my friends. And I can honestly admit that this was by far the best experience I have ever got from someone's hospitality. The ambiance, the vibe, the food and our joyous moments were simply awesome. You were amazing as a host. Why not ponder of doing this stuff professionally? Just kidding (or maybe not!)
You really gave me the hospitality that I deserved. Everything seemed good however please know that there is always room for improvement!! Absolutely joking !! I am humbled by that hospitality which honestly I wasn't expecting for me. You really made sure that I felt absolutely like in my own home.
Send a perfect Thank you note to a friend (Female to male) for the hospitality at his house
Wow! I never imagined such a funny and relaxed side of your personality. All our friends had an exorbitantly great time. Kudos to you! Maybe you should do this more often? It would be so amazing. Isn't it? Hehe! Looking forward to doing the same in a few month's time and you are gladly welcomed!
Your jovial and ebullient nature speaks volumes about your soul. But staying at your house is totally different experience and I must say that it totally blew my mind. We friends had such a reverberance of friendship. Our camaraderie was through the roof and your hospitality too. Thanks for such awesome moments.
You are not only handsome but really kind and warm too. Very few people in this world are like you and I must admit that you are truly one of the most authentic human beings with a heart as clear as the crystal water. Willing to reciprocate with even the finest of hospitality to all our friends including you.
I can't really tell how much I enjoyed the stayover. Rekindled the memories of our friendship. It was such a great idea of yours. This experience was truly one of its kind. It must have been a painstaking effort for you to do all this for us. Thank you dear for this amazing stayover!
The stay was wonderful and your hospitality, needless to say, was vivacious and gladsome. The atmosphere was full of exuberance and vitality. This type of get-together should happen from time to time. And the hospitality was as usual, stunning, full of warmth and kindness.
Thank you for your hospitality quotes (All genders)
You are not only incredibly kind but genuinely receptive to others also. You clearly demonstrated that it's the heart to heart connection that really matters the most and not the material aspects. I am so humbled that I was invited and got to receive your amazing hospitality. Thank you from the depth of my heart!
You lavished us with so much generosity, warmth, and kindness that I was totally not expecting it. And I am glad that we came to the event despite our busy schedules. Your hospitality has truly made the event unforgettable. It would be an understatement to say that I felt like a King/ Queen honestly. Sincere thank you from the core of my being!
While I always refrain from overly complimenting anyone, your hospitality has touched my heart! I have never seen such a humble and kind hospitality from anyone. May the almighty lavish you with all the success and wealth of your desire.
Funny thank you note for her hospitality (male to a female)
Not only you are gorgeous but a great chef too. And someone who really knows how to do the hospitality of her friends. I am thinking of permanently shifting to your house. What you say?? Oh, don't take me seriously. I am only joking (or maybe not!). Feel free to come over to my place and I will give a detailed exploration of my own hospitality!
I must have committed some really good deeds in this life to have received a king like hospitality at your home. Do note that the almighty will reward you handsomely for this kind of appreciative hospitality. For even more blessings, you can continue to serve me like this on a regular basis!! Just kidding dear! Glad to have received such gracious and royal hospitality from you. Thanks a lot!
I have a feeling that you were born with hospitality skills in the womb of your mother. Goodness, gracious! You should be the hospitality manager of famous five-star hotels and restaurants! Kidding! But that's how genuine and warm your hospitality was, at least for me! Looking forward to catching up with you up again! Take Care and thank you once again!
That was one hell of a stayover seriously! You literally made me feel so much more comfortable that for a moment I thought that I am at my place only. Maybe I should now start to come for a stay regularly? That would be awesome. Isn't it? Well, relax. Am just pulling your leg. However, you are free to bring your stuff here for few days and I will do the best hospitality for you.
Writing a genuine thank you note (message) to a friend (male to a female) for her hospitality at the house
Your house is wonderful. And so you are. Your generosity and hospitality really touched my heart and am grateful that I have friends like you in my life. Feel free to come here for a stayover whenever your heart desires.
After seeing the warmth of your heart and hospitality, it's no wonder that any man would fall in love with you in an instant. The Almighty has blessed you with not only physical beauty also with compassion and respect for others. Stay like this forever and thanks for all that stupendous hospitality! Appreciate it!
You truly are a breath of fresh air. And your heart is clear as the divine water. I absolutely acknowledge your sincere efforts in hospitality. And I have only gratefulness for that. I would love to reciprocate the favor whenever you desire!
Examples of Thank you note for her Hospitality (Female to Female)
Wow!! What a night it was. You were amazing as a host. And hospitality was one of the finest I have ever witnessed. Great things like this should happen from time to time. Feel free to come over to my place. I would be glad!
I am so incredibly amazed by your kind hospitality. The home, the food, and your warm demeanor was truly rejuvenating. I am truly blessed to have you in my life. It was also refreshing to get to know a lot about you on a personal level.
Frankly speaking, I was never expecting a royal experience from your end. Your soul is so warming and allows for a deeper conversation. It would be an understatement to say that our whole experience was blissful, courtesy to your insanely gratifying hospitality.
Thank you for your hospitality phrases during the visit
I and my family feel so blissful to have enjoyed your extraordinary hospitality and companionship. The food was truly delectable, and I can say that you looked after us very well. A sincere thank you from the bottom of my heart. I and my wife are waiting to welcome you with immense hospitality at our house.
It is rightly said the places don't really matter, it's the companionship that is more important in a journey. And luckily for us, we had your home for recuperating from the tiring journey. I cannot express how grateful I am to you for allowing us to stay at your home. My wife and children thoroughly enjoyed the stay. Please feel free to come to our place without any hesitation.
Thank you message for hospitality and generosity
Your generosity and hospitality have no limits. I was really touched by such a kind gesture. My gratitude to you for inviting me to your home. I am really humbled by the amount of love and hospitality that you bestowed upon me. Thanks for everything!
There will come a time for me too when I will be able to reciprocate your hospitality in the same way as yours. You practically lavished us with all sorts of snacks, food, and other offerings. Saying a thank you for your wonderful hospitality would be an understatement. A big hug to you my friend!
Thank you for hospitality for dinner
This was by far the delicious meal I have had in recent times. Thank you for the amazing dinner at your beautiful home. We absolutely loved every morsel of food and our reunion refreshed so many of our past memories. Glad this happened. Feel free to come to our house for dinner any day!
Thank you message for her wedding hospitality
My Goodness! Yours was one hell of a wedding. And despite so many friends and guests, you took out a few moments to greet us and left no stone unturned in our hospitality. Stay blessed for the rest of your life and enjoy the bliss of marriage.
Thank you message for his wedding hospitality
With so much chaos and clutter, you still managed to give us excellent hospitality at your wedding. It feels really privileged that we possess such a cordial relationship. The wedding was truly fantastic and I wish the very best of luck for your marital life. Lots of love and wishes from me and my family and sincere thank you for the gracious hospitality.
Conclusion
We hope that you have enjoyed the various thank you messages for receiving the hospitality from your friends. I will keep on adding more messages and notes from time to time. Until the next time, goodbye and take care!