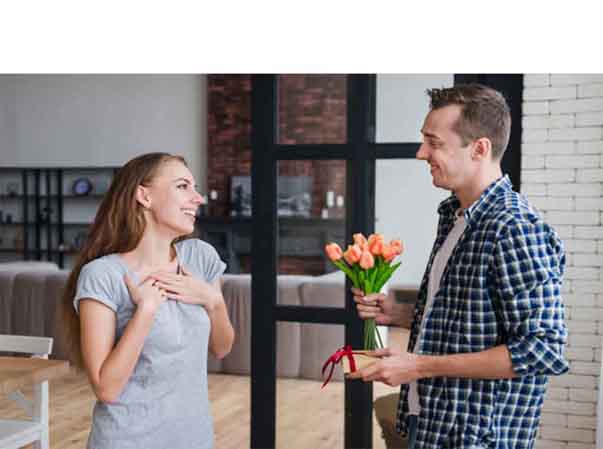 Image Source: – Flowers photo created by freepik – www.freepik.com
If you are reading this post, then we would say congratulations on completing 10 years of marriage with your wife. It is true that the initial years of marriage can be troublesome for both husband and wife, however, if you have surpassed ten years, then you two are likely to end up being together for the rest of your lives; something which feels so good to your heart!
On the ten year anniversary, your wife certainly deserves a special message from you. She has seen the highs and lows of your, the best and worst of you and have committed herself to be with you through thick and thin. All this effort certainly deserves a special message on the 10 year wedding anniversary.
And this is why we are writing this post. Here you will find meaningful, well-thought-out, heartfelt, funny (Sarcastic too!) messages for your wife on your decade-old marriage!
Happy 10th wedding anniversary to my wife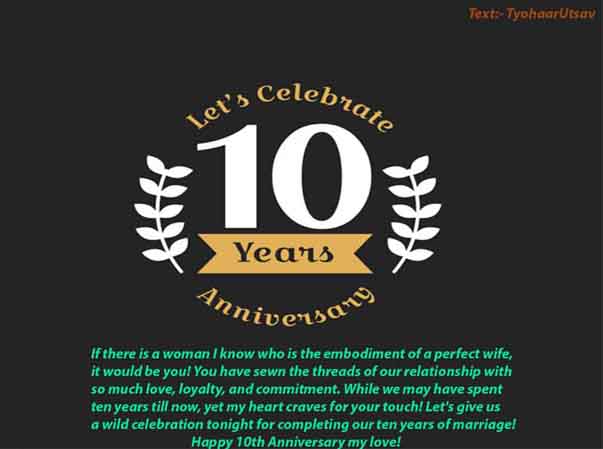 Image Source: – Background vector created by rawpixel.com – www.freepik.com
If there is a woman I know who is the embodiment of a perfect wife, it would be you! You have sewn the threads of our relationship with so much love, loyalty, and commitment. While we may have spent ten years till now, yet my heart craves for your touch! Let's give us a wild celebration tonight for completing our ten years of marriage! Happy Anniversary my love!
Dear wife! It has been quite a decade-old journey ever since we met with each other. You have seen the ins and out of me; my highs and lows and my all my insecurities. But never did you ponder to leave away our relation, which shows how committed you are to me and to our family. I wonder whether I have reciprocated all of your hard work in all these years! I certainly would do that! Happy 10 year anniversary my dear! God bless us!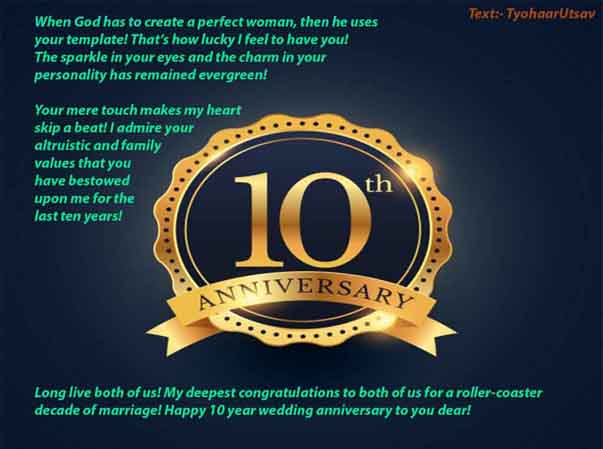 Image Source: – Wedding vector created by starline – www.freepik.com
When God has to create a perfect woman, then he uses your template! That's how lucky I feel to have you! The sparkle in your eyes and the charm in your personality has remained evergreen! Your mere touch makes my heart skip a beat! I admire your altruistic and family values that you have bestowed upon me for the last ten years! Long live both of us! My deepest congratulations to both of us for a roller-coaster decade of marriage! Happy 10 year wedding anniversary to you dear!
Romantic 10 year wedding anniversary Card message wishes to wife
They say that the fire of love, lust declines with the passage of time in marriage. However, ours has been the opposite! I still get in awe of your sight just like I got it when I first met you. Your charm and exuberance has enlivened the core of my being so deeply. And your breath still turns me on so much! I never knew time flies so fast when you are in love! Lets give each other a toast tonight for completing the ten years of our marriage! Lots of love!
It only feels like yesterday when the two of us plunged into our marriage. What followed really went past my expectations! You are a ray of sunshine, the bringer of exuberance and vitality. No day has gone by when my heart didn't yearn for you! The sight of your cute little smile still does me! The touch of your fingertips still sends shivers into my spine. You are a woman that I want for each and every lifetime. Thank you for these wonderful 10 years, darling. I can't wait to explore more in the upcoming years with you.
Funny 10-year anniversary Wishes, message, Memes, Sayings for Wife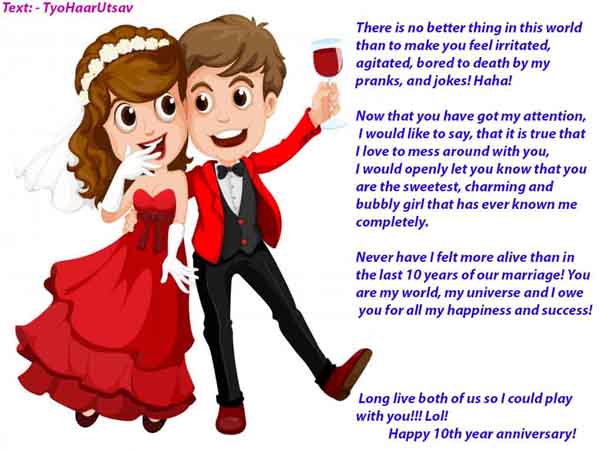 Image Source: – People vector created by brgfx – www.freepik.com
There is no better thing in this world than to make you feel irritated, agitated, bored to death by my pranks, and jokes! Haha! Now that you have got my attention, I would like to say, that it is true that I love to mess around with you, I would openly let you know that you are the sweetest, charming and bubbly girl that has ever known me completely. Never have I felt more alive than in the last 10 years of our marriage! You are my world, my universe and I owe you for all my happiness and success! Long live both of us so I could play with you!!! Lol! Happy 10th year anniversary!
It is so strange how we have managed to live and not strangle each other to death in these 10 years! Kudos to you that you have mellowed me down for your antics and irritating habits throughout the years! If you accomplish that, I certainly feel that you can achieve anything, my sweetheart! Enjoy the 10-year anniversary dear! Lots of love!
I wish there was an instrument to measure the anger of a husband. Because if there would have been, in all these years, it would have burst out several times on my testing. And you do know who is the culprit right? Lol! But regardless of your nitty-gritty micromanagement of my troubles, I love the honesty of your heart! I adore your love and concern for me! You are a dream wife for every man! Happy ten year anniversary wishes to both of us! May God bless us!
Social Media messages for your wife on completing ten years of marriage
My happiness has only risen up ever since you came into my life. You are the rock, the pillar on which I have rested during phases of sadness and hardships. The heart is brimmed with love, satisfaction, endorphins and what not! And you are the reason for it, and will be forever! Congratulations sweetheart for completing ten years of marriage!
Your sight transpires my mood into ecstasy! Your conversations make my heart tranquil. Lucky I am to have you as my partner in crime! These ten years have given me more than I wished for! Happy 10 year wedding anniversary my love! God bless you!
Back in my childhood, when I envisaged a wife and family, there was no picture, but only the attributes in mind. Years later, I found my soulmate; the one who catapult me from the dark phases of life; the one who carried me during the hardships of life; the one who gave me an adorable son and daughter. These 10 years have been nothing but pure blissful. Thank you, sweetheart! Lots of love for completing the 10 years of our marital life.
When god meant perfection, he meant you! Your exuberance can turn sorrows into joy! Your beautiful voice can melt the heart of a mere mortal! Our relation has been through the troughs and crests of life for ten years, and yet today we stand at each other's side. Couldn't be more proud of us! I thank God for all the love and lots of love to you for the 10 year wedding anniversary!
God gave me so much success, through you! He gave me someone to rest my head in times of distress, it is you! These ten years, you have given me every ounce of your heart and soul. And I couldn't be more thankful to you for bearing my highs and lows. So excited to witness the upcoming days of love, joy and fervent lust! Happy 10 years of togetherness my dear wife! I love you!
Naughty messages wishes for a wife for celebrating ten years of marriage
I am surprised to see that my love, passion, and lust for you has only increased with time. The sight of you turns me on, the aroma of you gives me goosebumps. So glad to have a partner like you who cares for my emotional needs too! I can't wait to see what life has in it for us after these frolicking ten years. Enjoy the 10 year wedding anniversary dear!
Legends have it that wife turn out to be hotter in bed after completing a decade with their partners! If that's the case, I can't wait to experience the future orgasms with my gorgeous wife! I can only thank the Almighty for giving me a woman, one of its kind! Long live both of us and happy ten year marriage anniversary my dear wife!
Every time I see you, my heart beats faster! Every time I touch you, my blood rushes faster! You have brought out the champion in me! And I can't wait to celebrate with you tonight! Let us have a blast on this anniversary of ten years! See you tonight!
Humorous Sarcastic reply to Wife for her 10 year anniversary wish to you
Dear Wife! Many thanks for the 10 year anniversary wishes. I swear to you, no day passes by when I feel so energy drained for putting up with your pranks. Lol! But no worries! After all, I have reciprocated too in a challenging way for the last 10 years. Haha! May our child-like camaraderie and tranquility be there for eternal lifetimes!
How to write a belated ten year anniversary wish to your wife?
We must say that writing a belated ten-year anniversary message, wishes to your wife is far from easy. But sometimes, being lost in the circumstances of life makes us forget the important events. If you have found yourself in such a situation, then the following messages will really help you!
Dear Wife! I cannot fathom how in the blue hell I forgot such an important day of our lives! As sorry as I am for this message, know that my love has no bounds for you! Know that my heart is in rhythm with yours. I know that this message cannot compensate for my late wish which is why I am going to make it up for it with a special event tonight! And yeah, congratulations to both of us for completing ten years of our crazy marriage!
Dear Wifey! You already know what is coming through this message! For days and months I was contemplating about the ten year marriage anniversary celebration, and when the time came, I forgot! Really feel despicable about myself. 
No words to justify! But what I can do is to let you know what I was contemplating all these days and months! I was reminding myself to be so lucky to get you! I was reminding myself to be more appreciative of your hard work and devotion to our family! I was reminding myself to be more grateful for your beauty which the Almighty has only enhanced in these ten years! I am proud of you all these ten years and can't wait for the coming years to give us more joy and happiness. Happy ten years anniversary of togetherness my love! You are my everything!
What to keep in mind while jotting down a 10 year wedding anniversary wish for your wife?
Messages need to induce engagement, feelings from the recipient; your wife in this case. We have never believed in writing a plain, bland wish or message just for the sake of writing. The intent is to convey the intent of your heart. And when it comes to preparing a special message for the 10th anniversary with your wife, you should bend your back.
You need to convey the feelings of the joyous moments that you have enjoyed with her in the last ten years. And in order to praise her, you can take the references from the following scenarios
The way she makes you feel,
Her demeanor,
Her hand-made food,
Her effort in managing the kids, etc. 
We believe in refraining from too much superficial compliment on her looks. By complimenting too much emphasis on her looks reflects the impression that you desire her only for her aesthetics and not for her intent, love, respect, admiration, altruism for you! Also, people usually like to use a sentimental tone such messages, you can always include a funny and sarcastic tone too. And lastly, you can include the gratitude of the divine and pray for the envisaging the happier future of both of you.
Final Thoughts!
We hope that you have liked the messages for 10 year wedding anniversary wishes for your wife. We included a lot of variety and will add some more messages from time to time. Until next time, goodbye and take care!