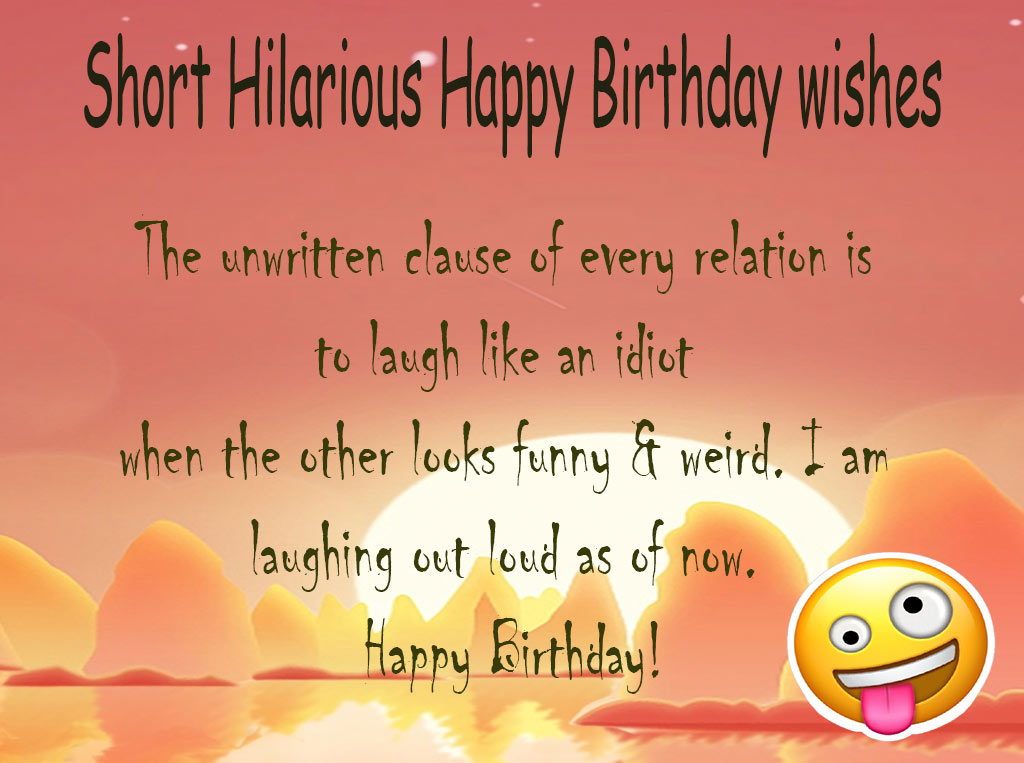 Sometimes, short and funny birthday wishes are very appropriate. They are very easy to read and digest. So if you have been searching for them, then you have come in the right place. We will also give you images here too. So lets get started.
You may feel older but at least you are younger than your next birthday. Happy Birthday!
The unwritten clause of every relation is to laugh like an idiot when the other looks funny & weird. I am laughing out loud as of now. Happy Birthday!
Not only you my dear, but even your fart and snoring is unique.
You may have turned 50 but you only look like 49 and a half years old.
Its an art to be frugal while being rich, something I have learned from you! Thanks for it!
Its a skill to absorb tantrum and crazy behavior. Thank you for doing that for me!
I know a lot about your dirty secrets and fantasies than you know about me. And I hope it stays the same always! 😀 Happy Birthday!
It's lovely to have friends who can spend money on us like you do. May there be more like you. 😀 Happy Birthday dear!
Its not easy to remember other people's birthdays when I can hardly remember my own. But a very happy birthday to you!
Do you know what is the best way for me to feel cheerful ? I look at your funny pics!
You are very lucky to not get a whack on your butt even when you make fun of me.
You have propelled me to push myself out of comfort zone with your criticisms and leg pulling. Thank you for such contribution dear!
Its easy to understand gravity and ageing. I understood by watching you over the years. Hahaha!!
The best way to inspire some people is not with motivation quotes but by a straight kick to their behind. Lol!
Real Short funny wishes of Birthday for Friends
Congrats for accomplishing all your desires, in dreams. 🙂 Now its time to bring them into reality.
I have learnt a lot from you my dear, especially the curses.
When the Almighty was creating you, I think he was high 😀 😀 😀
The best mosquito repellent in the world is your fart! Safe, effective and free of cost too!
For some people, wisdom not only increases but can also spiral down. I hope you stay safe!
God gave an in-built mechanism to women, for staying young forever, by lying through the teeth of course.
People do become attractive with passing year and you are the living example of it. Congratulations
Only a true friend like me can make real effort in searching for the nicest birthday wishes from Google.
Hilarious short wishes for Husband
I never knew snores can be so hilarious, unless I met my darling husband! Happy birthday sweet heart!
Whenever I face difficulty in waking you, I always fart nearby. So when I woke you up next time, do remember how it happened!
Its the day where you can feel and act like a king. I am always the queen though for 365 days of year.
The universal truth of life is that men are like dogs for the first 100 years of life.
I married a man like James Bond who has now turned into a hobbit. Some transformation it is.
Age not only brings along wisdom, but also funny and weird look.
It doesn't matter if you are ageing. As long as you feel like a teenager, you are good, and we too! 😀
For Wife
What my lovely wife lacks in brain, she compensates extremely well for the gorgeous looks. There is definitely some justice in this world after all 😀 Hahaha!
I wish you keep smiling like a nice sunflower, at least till the time you have got all your teeth.
I always felt that it was my vigor, but its actually your behind that motivates me like a bull.
It has always been the love that matters most between the couples, therefore I am not going to buy you any gifts this birthday!
After watching you over the years, I now totally understand how gravity and ageing works.
I have no desire to know how old you have turned, because your answer will be far from reality. Congrats though on your birthday!
Wisdom not only increases with age but can also get reduced to half. I learned that after being with you for so many years.
No matter who does what mistakes, it is the wifey who is always correct for the 100 years of life.
Whether its your birthday or mine, we all know for whom we will do shopping! Happy Birthday by the way!