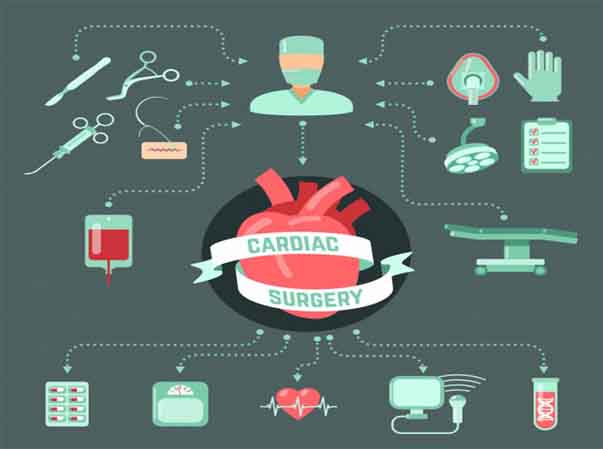 Image Source: – Heart vector created by macrovector – www.freepik.com
I have never in my life heard of a less invasive and minor heart operation. While I am nowhere near an even average individual who knows about the various surgeries related to heart, I do understand that any heart surgery is a major operation for any individual, be it someone who is young, middle or old age.
People are understandably very anxious, especially if their heart is about to be operated. This is why I absolutely believe that giving a very light-hearted and funny get well wishes after heart surgery can work wonders for patient's recovery.
And that's what has prompted me to create this post for you today. So let's provide you with funny get well wishes after heart surgery for various people in your life.
Chucklesome get well soon wishes for the heart surgery of your Husband
My handsome husband! The doctor has informed us about the successful heart surgery of yours. He also says that your heart was tougher to operate since it had toughened up like steel after enduring so much determination and persistence for years!!! Proud to have a life partner like you! Know that your beautiful wife is always with you through thick and thin.
Funny recovery messages for your wife after a major heart operation
Hey, wifey! Hope you are doing fine! With this operation, I am expecting a behavior change of yours!!! Just kidding dear! Tears in my eyes to see you breathing so normally without any discomfort. May our joyous journey continues to ride for eternity. God bless us!
May this heart operation tweak up your love and compassion for me, especially for my mistakes!! Know that you are a ray of sunshine in my life and that I will do anything for you! Looking forward to seeing your discharge soon from the hospital. Lots of love!!
Speedy recovery humorous messages to your son for his heart surgery
Hey, my son! You are a strong guy just like your Dad! Wonderful feat to withstand this heart surgery. Know that the blessings of the almighty are always with you! You will live much much longer by God's grace.
Hysterical and light-hearted speedy recovery messages to your daughter after her heart operation
You are one fine one hell of a fighter my dear daughter, just like your mommy, who keeps on fighting with me all the time!! Just joking! I am so proud of you for this successful operation. You are my champ! Lots of love from daddy!
Amusing recovery wishes to your relatives after a heart surgery
May this heart surgery have cleaned away all the negativity and pessimism from your heart apart from the obvious fat and cholesterol. My sincere wishes to you for a speedy recovery!
Hilarious recovery messages (notes) for your dad after the surgery of their heart
Hey Dad! Congrats on successful heart surgery! You are such a brave person. May your heart is now completely free from the anger for me! Docs told me that you are a great father to a great son! Get well soon Dad! Waiting for you to arrive at home.
Light-hearted funny get well wishes for your mom after a heart surgery
Hey Mom! Glad to see your smiling beautiful face after invasive heart surgery. Know that this surgery will not only make your heart healthier but will also radiate more joy and happiness onto your face. We are desperately waiting to take you home. Lots of love!
Funny Get Well wishes to your friend (male to male) after heart surgery
Wow! Docs have informed me that your heart is now pumping rhythmically and that you will be completely normal within 3 – 4 weeks. I hope that you have discarded the long resentment for me in this major operation. 
How to say Funny and Sarcastic Get Well wishes to your friend (male to Female) after a heart surgery
May this surgery increases compassion and love in your heart towards me! Congratulations on a successful heart operation. You did extremely well my dear. So proud of you!
Funny get well soon notes and messages after heart surgery to your friend (Female to male)
May the almighty grant you more decades to live after this successful heart operation so that I can pull your legs even more! Know how far we may be, our hearts will always be connected with the intangible strings of love, respect and admiration. God bless our friendship for eternity.
Short and sweet funny get well soon writings for your friend (Female to female) after a heart surgery
Hey sweetie! I hope this surgery has allowed you for a change of heart! I hope the remaining bitchiness between us is dissolved now! You are a ray of sunshine and you have all the hugs from my side now! Love you, babe! Get well soon!
Light-hearted and entertaining get well soon messages to your co-worker after a heart surgery
Hey mate! Congrats on the successful heart surgery! I hope the doc has only taken out the fat and cholesterol from the nerves of the heart and not the competitiveness, especially between the two of us. Praying to the almighty for your speedy recovery.
I hope that this heart surgery will compel you to manage your anger which keeps swinging away like a pendulum. Know that tranquility is the basis of longevity and great health. Take a deep rest. You need it. Will catch you soon!
Conclusion
I hope the above messages resonate perfectly with the recipients who have undergone heart surgeries. Please let us know your feedback through the comment section. I will be adding more messages from time to time. Till next time, goodbye!