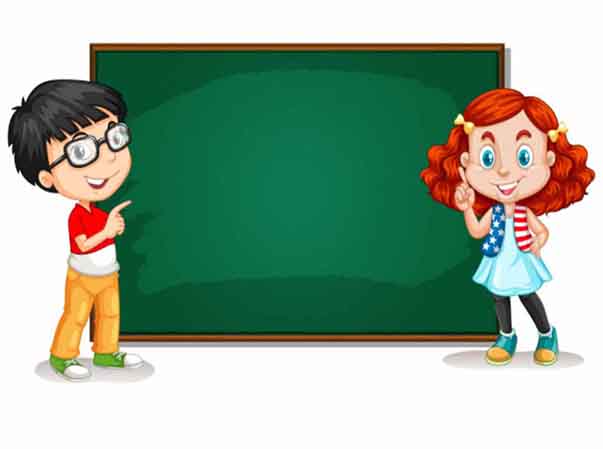 Image Source: – Frame vector created by brgfx – www.freepik.com
Just like between the sisters, the bond between the brothers (and brother and sister) is raw and sacred. Their magical connection does not need words and yet they fully comprehend the thoughts and beliefs running into the other's head. They may fight with each other on petty issues but will come to each other's aid without calling.
A wedding anniversary is an eventful day for any man. While he may not expect the heartiest wishes of anniversary from his friends, aunts, and uncles, he deeply cherishes the ones sent by his brothers and sisters.
And that's what this post is all about. Here you will find a plethora of marriage anniversary wishes for Brother and sister in law. Messages are written in tones like heartfelt, funny, sarcastic and religious.
Marriage anniversary wishes for Brother (from Both brother and sister with Images)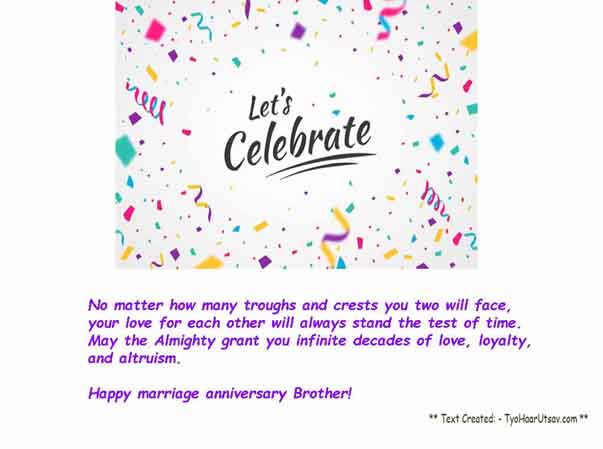 Image Source: – Background vector created by freepik – www.freepik.com
No matter how many troughs and crests you two will face, your love for each other will always stand the test of time. May the Almighty grant you infinite decades of love, loyalty, and altruism. Happy marriage anniversary Brother!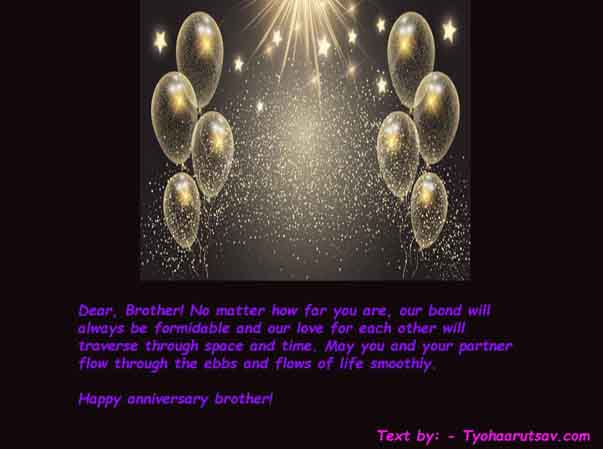 Image source: – Banner vector created by kjpargeter – www.freepik.com
Dear, Brother! No matter how far you are, our bond will always be formidable and our love for each other will traverse through space and time. May you and your partner flow through the ebbs and flows of life smoothly. Happy anniversary buddy!
No one in my life has a profound effect on the way you have! You have brought and pampered me just like your own daughter. You are the best brother in the world with the most gorgeous sister-in-law. Happy anniversary my dear brother! May God bless you!
There is no iota of doubt in my mind that why our beautiful sister-in-law chose you. You are the quintessential handsome guy with all the ideal qualities. Happy anniversary to you!
Your well-being and care have been my foremost concern throughout life. I am so happy that the omnipotent God has sent such a nice wonderful lady to you who understands the core of your being, just like I do. May you two enjoy the jouissance and gratification of each other forever! Happy anniversary dear brother!
Every time you two look at each other, there is an undenying sparkle in both of your eyes. May you two remain like love birds till your last breath. Happy anniversary wishes to my dear brother and sister in law.
Hey buddy! You are not only an amazing brother but also an awe-inspiring husband and father of two beautiful kids. You and your sister-in-law have both been through the roller-coasters of life and the way you conduct yourself in such scenarios is phenomenal. May the Almighty bless you guys with infinite love and vigor. Happy anniversary!
You always had the enigmatic personality to bewilder the opposites and I can clearly see how much our sister-in-law adores you. You are the finest husband, father, and brother that this generation should look up to. Happy anniversary.
Our egos may come and clash but our hearts will always resonate with each other's well-being. You are the life of my pie and I will always be there for you. Happy anniversary dear brother. May all your dreams come true!
Every relationship has its delicacies built on aspects of loyalty, love, and adaptability. You two are the perfect couple that I have ever seen in my life. May you stay like this for perpetuity.
When the going gets tough, the tough get going. You two have very well shown that understanding and clear communication can tackle the most challenging phases of life. Happy anniversary to my handsome brother and his beautiful wife.
The presence of both of you has nourished my life with so much positivity, jubilation, and tranquility. You guys have been a mentor, a visionary and great human being more importantly, with whom I can share my heart out. Thanks for always being there! Happy Anniversary Brother!
Funny (and bit sarcastic) wishes of wedding anniversary for Cousin Brother and Sister-in-law
There are sometimes circumstances where funny and sarcastic wishes where it's difficult to sugarcoat the relationship aspect of a couple even if the occasion is auspicious like that of a wedding anniversary. In this section, we have prepared some well-curated messages of such type.
After all these years, you two are now well acquainted with the likes or dislikes of each other. Time to sulk up your cries about what you don't like and focus on the positives of each other. Happy anniversary!
When there are two powerful minds, at times there could be a clash of them too. This is where wisdom, tranquility, and altruism come into play. I hope that you two realize the sacredness of your relationship. Happy marriage anniversary!
The torment of your beautiful wife on you is evident from the wrinkles and grey hairs! I hope she doesn't give you a hard time this year like she usually does! Happy anniversary!
After all these years, it is commendable of your wife to withstand your dominance and erratic personality. Hope the Almighty passes some sense into your thick head! Enjoy the anniversary!
Congratulations mate for passing another year of torture and dominance. Lol!  You have shown great resilience against your wife just like the previous years. Wishing you all the luck for the future. Kidding brother! Happy anniversary to you and your sister-in-law!
Heartfelt First anniversary card messages for elder brother and Bhabhi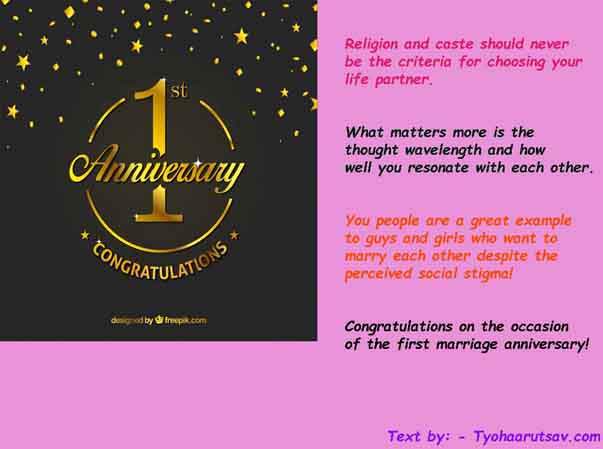 Image Source: – Gold vector created by freepik – www.freepik.com
Religion and caste should never be the criteria for choosing your life partner. What matters more is the thought wavelength and how well you resonate with each other. You people are a great example to guys and girls who want to marry each other despite the perceived social stigma! Congratulations on the occasion of the first marriage anniversary!
Superficial aspects are just one part of a relationship. It is the personality that really hooks the heart and the soul. Your relationship has been a spectacular display of friendship, commitment, and patience. I am so proud to call you guys as my Bhaiya and Bhabhi! Happy first anniversary to both the cuties!
The umbrella of your love and care has always been upon me. The Almighty has blessed our bond for eternity. Your partner is an extended version of your noble personality. May the love and affection between the two of you continue till perpetuity. Happy 1st Anniversary dear brother!
You both have given me immense joy, love, and respect, just like a parent gives to his child. You took care of me just like your own son and daughter. Rare are the brothers who take care of their siblings as you do. If our parents were alive they would have been so proud of you! Happy first anniversary to my dearest elder brother and wonderful bhabhi!
You are the man who may have been roughed up by the strenuous circumstances of life and yet you stand here just like a polished refined gold from the mine. I am certain that all your remaining dreams will come to fruition soon. Happy first anniversary to our dear brother and bhabhi!
Despite the troublesome childhood and harsh conditions, you never acquired a scarcity mindset. You have gone after your dreams and today, owing to you, we have name and respect. I wish that the coming years will be even more exuberant, joyous and vitality for you and our family. Happy first-anniversary brother!
Religious Christian wedding anniversary wishes to brother and his wife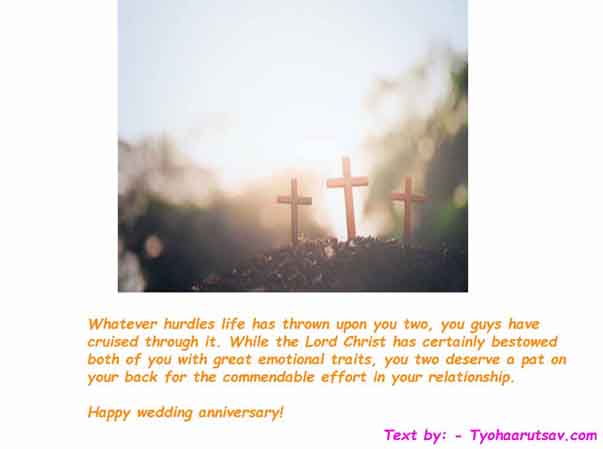 Image source: – Background photo created by ijeab – www.freepik.com
Whatever hurdles life has thrown upon you two, you guys have cruised through it. While the Lord Christ has certainly bestowed both of you with great emotional traits, you two deserve a pat on your back for the commendable effort in your relationship. Happy anniversary!
It is a mark of a great man to be humble, benevolent, and altruistic despite having all the riches in the world. The Almighty has bestowed you with everything and yet your demeanor and actions are so alike of a true disciple of the Lord Christ. May he give you long health and more joyous moments.
The divine must be proud of you! Over the years, you have not only acquired the best for your family but have graciously given back to the community. The Lord Christ has surely locked your birth in heaven. But don't worry. He still needs you on this planet for many more decades. Happy anniversary my brother!
You two are the epitome of the sacredness and purity of marriage. The cosmos prides itself on having people like you on this planet who reflect so much love, respect, and care for their spouse. May the love of you guys stay refreshing and evergreen. Happy wedding anniversary brother and sister in law.
It is no wonder that the Almighty has given you a beautiful wife, lovely kids, fame, and respect. You are a prime example of a loyal, loving husband whose universe revolves around his family. Your hard work and dedication are mind-blowing. May the Almighty continue to propel you towards more success. Happy anniversary wishes!
Special Inspiring Anniversary messages to a brother if his relationship is rocky
No matter how much wealth one acquires, no amount of it can make up for the dilemma, and the lack of communication between a couple except for the egoless and supportive talks. If your brother is having a rocky relationship in his marriage then you should definitely try to wish them a special anniversary message. In this section, we are jotting down such messages.
There are occasions of perplexity in every husband-wife relationship. While clashes of opinions can always happen, the foremost pillars of love and respect should always stand tall for each other. Time always heals everything. Happy Anniversary Dear!
Let bygones be bygones! The words once went off the mouth may not be able to return but we can certainly make up for it through our benevolent and sincere yearning for each other. Happy Anniversary Brother! Hope everything becomes fine again!
Sometimes compromises may seem out of character but they can bridge the gap amidst the differences. On this anniversary occasion, I only wish that you guys resolve the ill-will and start afresh chapter with the reminiscent of the past loving memories.
While Ego can be good for self-esteem, sometimes it causes more harm than good! The after-effects of it maybe not realized immediately! But the damage can sustain forever. Let love heal and prosper! Happy anniversary to both of you!
When things are not straightening out, sometimes it's imperative to remind of the incidences that are reminiscent of the loving memories between you and your partner. It's amazing how different we then feel about our partner. Happy Anniversary Dear brother. I hope you two will sort out the differences very calmly.
You may not believe but these small quarrels will serve as nostalgic times later on in your life. Life might seem distressed at the moment but the Almighty has a knack of testing the strong characters from time to time. May this anniversary occasion paves the way for dissolving the conflicts. Happy anniversary!
10th wedding anniversary wishes to brother and Bhabhi (sister in law)
When I see a couple like you, it really pleases my heart how you two have balanced the harmony between your personal life and professional endeavors. It only feels yesterday that you guys entered into dating and here we are after ten years, with your chubby cheeks. Your love for each other has seen the thick and thin. The foresight of your marriage looks phenomenal. Happy 10 year wedding anniversary wishes to brother and bhabhi.
Dear elder brother! Every phase of life has taught something about you like honesty and affection to your partner. The fire and passion you hold for your partner are unbelievable even after ten years of marriage. May the Almighty keep you the same forever. Happy anniversary!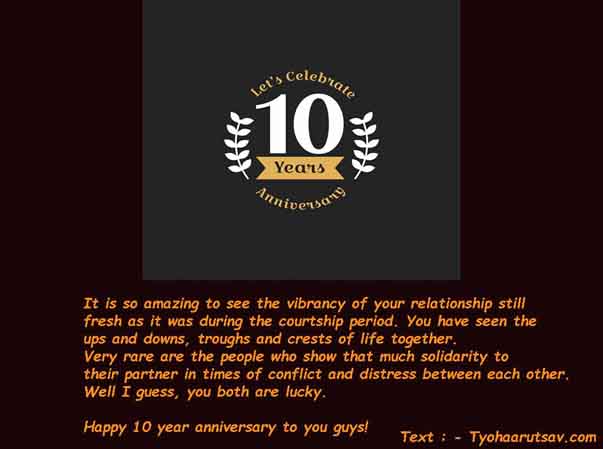 Image Source: – Background vector created by rawpixel.com – www.freepik.com
It is so amazing to see the vibrancy of your relationship still fresh as it was during the courtship period. You have seen the ups and downs, troughs and crests of life together. Very rare are the people who show that much solidarity to their partner in times of conflict and distress between each other. Well I guess, you both are lucky. Happy anniversary to you guys!
The way you guys look into each other's eyes speaks volumes about your respect, love and I might say, lust too! A youngster is bound to feel shame if he witnesses the gaze between the two of you. May this lust and love continue till perpetuity!
If you have surpassed 10 years of your marital life despite the distraction, and difficult scenarios then you indeed are made forever! God bless the noble souls like you. The milestone is certainly to go 25 and beyond. But for now, happy 10 year anniversary!
If there is a secret to the fountain of youth, I would say it is the pure sacred love between the two souls that transcends time and space. You may not believe it but it seems you guys are on reverse aging. These last ten years have given me so much, courtesy of both of you! Happy 10 year wedding anniversary guys!
Silver jubilee anniversary card messages for brother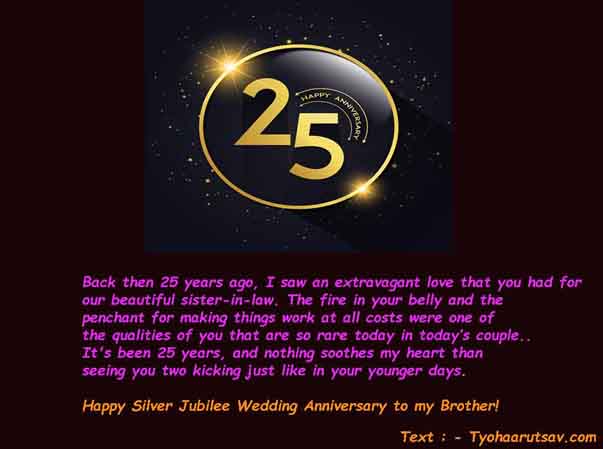 Image Source: – Wedding vector created by Sketchepedia – www.freepik.com
Back 25 years ago, I saw an extravagant love that you had for our beautiful sister-in-law. The fire in your belly and the penchant for making things work at all costs were one of the qualities of you that are so rare today. It's been 25 years, and nothing soothes my heart than seeing you two kicking just like in your younger days. Happy silver jubilee wedding anniversary to my brother!
There is nothing in this world that is insurmountable for the two of you! Your love has stood the test of time. And over the years, you have not only stacked up heaps of success but more altruism too. Every relationship has its quench of love and nurture and you have done that consistently for the last 25 years. Many congratulations for the anniversary and all the very best.
You two have certainly proved your mettle for the last 25 years. The love, sparkle, and chemistry between the two of you is as refreshing as it was during the courtship. It's so amazing to see you emerging victorious from the difficult phases of your life. Happy silver jubilee anniversary dear!
It's a benchmark that is so hard to achieve for the Millenials today. Your diligence, faithfulness has paved the way for this beautiful relation that you are enjoying today with your lovely wife. Now the goal surely is 50 years and definitely beyond it!
Golden jubilee anniversary card wishes for brother
Lucky are the couples in the world who get to live until their golden jubilee. You have been a listener to your wife for 50 years. That is phenomenal (Lol!) I am so proud of you both! Happy Golden Jubilee dear!
While there are absolutely no shortcuts to a loving relationship, the arduous, adaptable and energy-sapping work reaps massive rewards in the long run; the fruits of labor which are sweeter than anything in the world. Yours has been an impressive run. I hope it continues for another 50 years and more! Happy 50 years of wedding anniversary!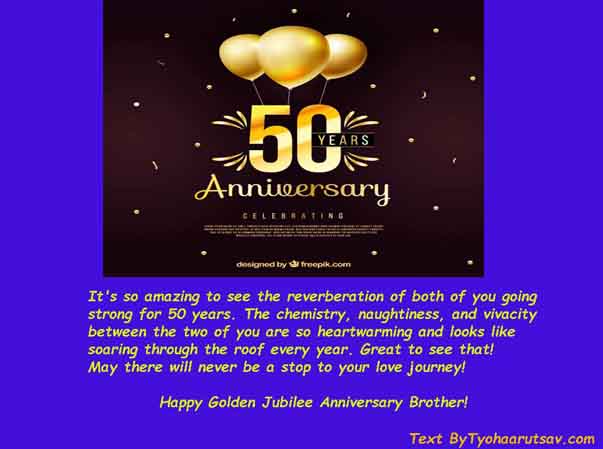 Image source: – Birthday vector created by freepik – www.freepik.com
It's so amazing to see the reverberation of both of you going strong for 50 years. The chemistry, naughtiness, and vivacity between the two of you are so heartwarming and look like soaring through the roof every year. Great to see that! May there will never be a stop to your journey! Happy Golden Jubilee anniversary dear!
There is no equivalent of fervor desire for a loving partner. Friends will come and go but this expedition of life can only be fulfilled with an equally appreciative partner. What you two have achieved is so rare these days! You guys are the perfect personification of a great relationship.
My dear brother! For 50 years, the two of you have given every ounce of time, effort and energy to each other. A feat that requires immense compromises and selfless love. You guys will always be an inspiration to me! Happy anniversary dear!
Hey brother! It is so heartening to see your evolution. The marriage has been a savior of your life! Keep it blessed! Happy anniversary!
Dear brother and sister-in-law! You two cuties will always be an integral part of my heart! Keep going strong as ever! Lots of anniversary wishes to you guys!
Happy anniversary to the beautiful couple! May the two surpass your wildest expectations this year! Love you!
Till now I mistook compromise for weakness but you guys have shown it actually may mean respect and commitment for the better half. Happy anniversary to both of you!
What adjectives and phrases can be used to prepare such types of messages?
In order to jot down such beautiful messages, you can use adjectives, phrases and thoughts such as cherish, an iota of doubt, thoughts and beliefs, resonance with heart, handsome brother, beautiful sister in law, surpassing the wildest expectations, a fountain of youth, loyalty, commitment, jouissance and gratification, omnipotent God, enigmatic personality, charm and charisma, compromises, transcends time and space, quench of love and nurture, troughs and crests, altruism, ebbs and flows, profound, pampered, gorgeous, quintessential, emotional traits, thought wavelength, a sparkle in both of your eyes, last breath, awe-inspiring, delicacies, perpetuity, communication, challenging, tranquility, mentor, a visionary, great human-being and etc.
Final thoughts!
Whether you are a man or a woman, having a brother is like having armor in life, with whom you will also share some of the best moments. As we mentioned in the introduction paragraph, he may not expect the wishes of some of his friends or even relatives, but definitely from you. 
We hope that you have enjoyed plenty of marriage anniversary wishes to your brother. We have covered almost all the scenarios that could be associated with this topic. We will add more engaging messages in the coming months. For any suggestions and constructive criticism, please use the comment section. Until the next time, take care!