Having the right boss in our lives is supremely crucial. A good Boss is more than a boss. He acts as a leader, mentor, and stands up for justice in situations like office politics and other endeavors of life.
A great boss is someone who is instrumental in propelling you to great success in your career. Needless to say, if a Boss puts in a lot of effort for the employees, the least he (or she!) expects from his employees is a sincerity to him (or her!) and well-meaning concerns.
If you have a Boss who is suffering from sickness, disease, or surgery, then we have prepared plenty of heart-moving Get Well Soon Wishes for your Boss along with Quotes and Images. Feel free to use, modify, and send it to your Boss.
Do's and Don'ts for Get Well soon wishes and email to Boss.
Always include a genuine concern for your boss in the message. Sincerity and honesty may not have a heroic connotation but they certainly stand out without requiring any polishing. Make sure that your messages are personalized and appropriate according to the situation of your Boss
Do not write a Get Well Soon message to your Boss expecting something in return. There is no shortage of employees who simply want to be in the good books of their bosses by wishing them every now and then for something, so that they can get away with less work done. A good boss will certainly appreciate your concern but will notice if you are slacking from work.
Just because you are sending a Get Well Soon message, make sure to reflect the distance between the two of you. Your message to the Boss should include a vibe of professionalism. No exceptions!
On the pretext of a Get Well Soon message, do not try to initiate a conversation about something else (unless your Boss does it), even if it is bothering you. Doing so dilutes the meaningful concern of your message. If you really want to discuss something else, then say it in the other message and preferably tell your Boss beforehand that you want to discuss something urgent.
Boss Simple Recovery Images, Messages, Quotes for sickness and accidents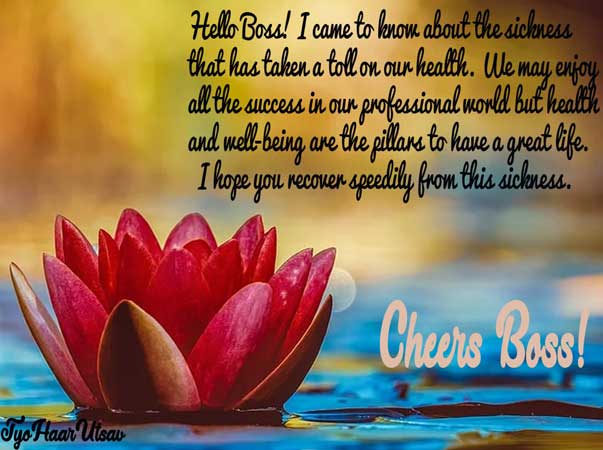 "There is one consolation in being sick; and that is the possibility that you may recover to a better state than you were ever in before."

Quote by Henry David Thoreau
Hello Boss! I came to know about the sickness that has taken a toll on our health. We may enjoy all the success in our professional world but health and well-being are the pillars to have a great life. I hope you recover speedily from this sickness. Cheers!!
"I believe that the greatest gift you can give your family and the world is a healthy you."

Quote by Joyce Meyer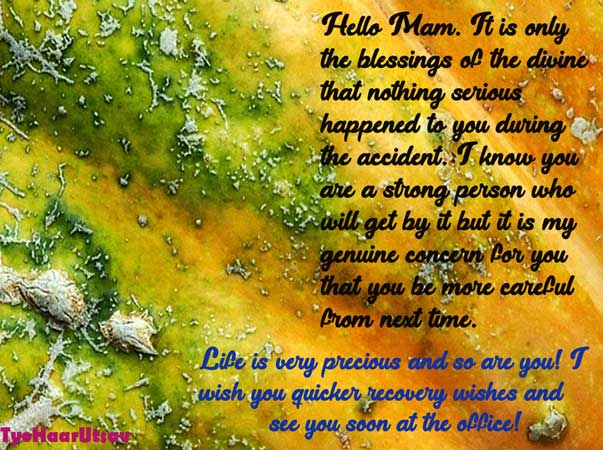 "The ingredients of health and long life, are great temperance, open air, easy labor, and little care."

Quote by Philip Sidney
Hello Mam (or Sir!). It is only the blessings of the divine that nothing serious happened to you during the accident. I know you are a strong person who will get by it but it is my genuine concern for you that you be more careful from next time. Life is very precious and so are you! I wish you quicker recovery wishes and see you soon at the office!
"Sleep is that golden chain that ties health and our bodies together."

Quote by Thomas Dekker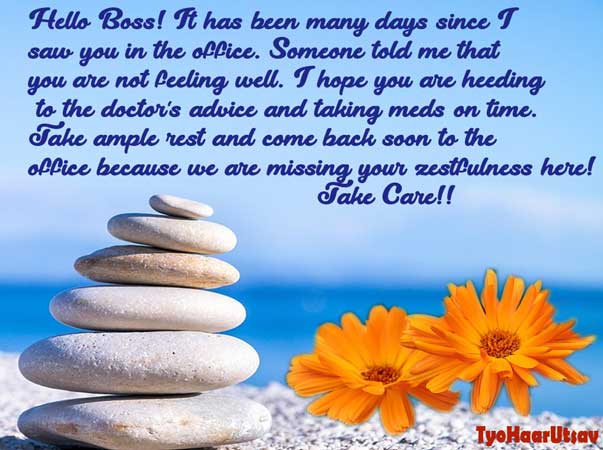 "Cheerfulness is the best promoter of health and is as friendly to the mind as to the body."

Quote by Joseph Addison
Hello Sir! It has been many days since I saw you in the office. Someone told me that you are not feeling well. I hope you are heeding to the doctor's advice and taking meds on time. Take ample rest and come back soon to the office because we are missing your zestfulness here! Take Care!!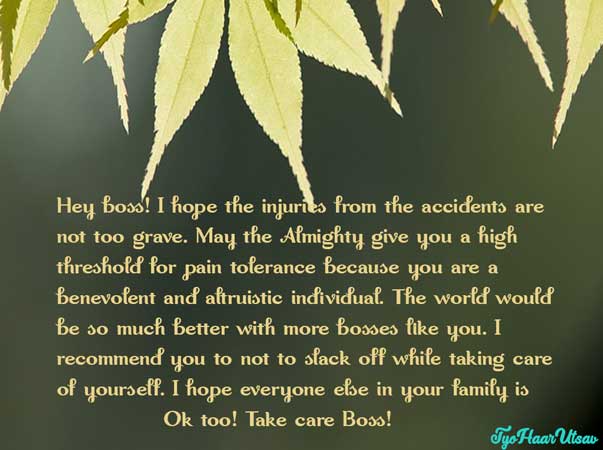 Hey boss! I hope the injuries from the accidents are not too grave. May the Almighty give you a high threshold for pain tolerance because you are a benevolent and altruistic individual. The world would be so much better with more bosses like you. I recommend you to not to slack off while taking care of yourself. I hope everyone else in your family is Ok too! Take care Boss!
Get well wishes for boss before surgery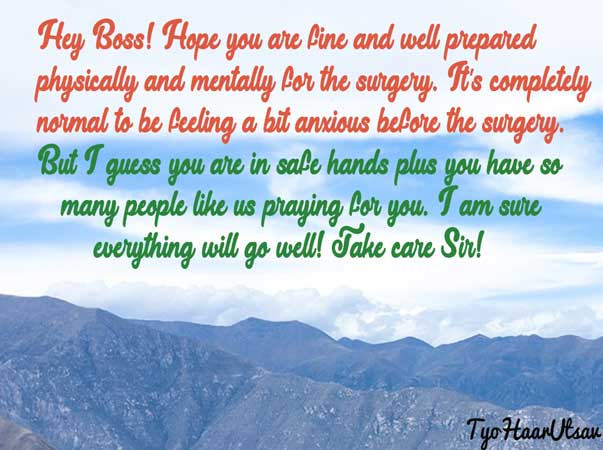 "Give a man health and a course to steer, and he'll never stop to trouble about whether he's happy or not."

Quote by George Bernard Shaw
Hey Boss! Hope you are fine and well prepared physically and mentally for the surgery. It's completely normal to be feeling a bit anxious before the surgery. But I guess you are in safe hands plus you have so many people like us praying for you. I am sure everything will go well! Take care Sir!
When the going gets tough, the tough gets going! Dear Boss! Surgery no matter how small is, can be a daunting task for individuals. I know you must have done your homework but I hope you are getting the procedure done from the right doctor. I am not questioning you at all but simply a concern for the surgery. I hope all goes well. Waiting to see your bright smile after the surgery! All the best Boss!
"I believe the greatest asset a head of state can have is the ability to get a good night's sleep."

Quote by Harold Wilson
Hello Mam! I know you are preparing for the surgery and so also our thoughts and prayers for you! I know you have a strong will power and am sure you're mentally prepared for it. While you certainly must have taken all the measures but still my heart feels compelled to say "Take Care!". May the Almighty make everything go smooth. All the best Mam!
Inspiring Get Well soon wishes after surgery to Boss with Images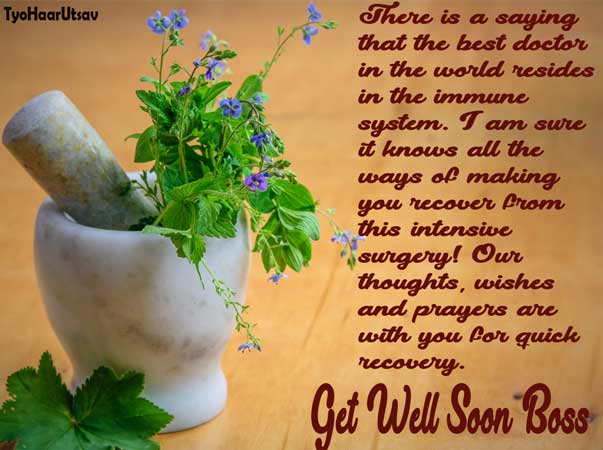 "I don't work out as much as I should, but I do believe that it's a healthy mind as well as a healthy body that keeps me fit, sound and calm."

Quote by Naomi Campbell
Hey Boss! I hope you are now feeling relieved after the surgery. This was really much needed and I am glad that you went through it. The hard part is over and now all that is needed is ample rest and lots of positivity. I am sure your immune system is up to the challenge to keep you healthy now. Good luck Boss! We are eagerly waiting for your return to the office. But take your time. No hurries!!!
There is a saying that the best doctor in the world resides in the immune system. I am sure it knows all the ways of making you recover from this intensive surgery! Our thoughts, wishes and prayers are with you for quick recovery. Get Well Soon Boss
"Physical fitness is not only one of the most important keys to a healthy body, it is the basis of dynamic and creative intellectual activity."

Quote by John F. Kennedy
If there is one thing that really scares me, it is the surgery. While this was inevitable, I still would like to admire your courage to get under the knife Boss! Hopefully the most challenging part is done and now you really need to take ample rest. I request you don't stress yourself for some time until you fully recuperate. While we always love to see you in the office, this time we would really be happy if you simply take rest 🙂 Cheers Boss! Take Care!
Get Well Soon Poems For your Boss
Rare are the bosses who inspire their team like you,
you are the one our hearts are connected to!
We hope this illness leaves you without too much trouble,
I doubt there is a boss who is more altruistic than you!

Speedy recovery wishes to you Boss! God bless you!
I wish more bosses in this world be like you,
The enigma still remains undeciphered about you!
May this trouble escapes your body at the earliest,
because we are missing on exuberance without you!

Get Well Soon Boss! Good Luck for recovery!
How to wish your ex-boss a Get Well Soon Message?
Dear (Name of the ex- Boss!). It has been a long time since we talked. And someone let me know that you are not keeping well with your health. I hope everything is fine dear! While we may have parted ways due to some or other reason, I can certainly say that your vision and personality really propels positivity at not only the workplace but also in the personal aspects of life. Take care dear because life is precious! All the luck for your speedier recovery!
Hey Boss! How are you doing? Just came to know that you are having a bit of trouble with your health. I know you are a hard-working person but I advise you to take rest from time to time. We may not be working together but I have all the best wishes for you. May the Almighty catapult you out of this sickness. God Bless!
Funny Quotes and Good Health recovery messages to Boss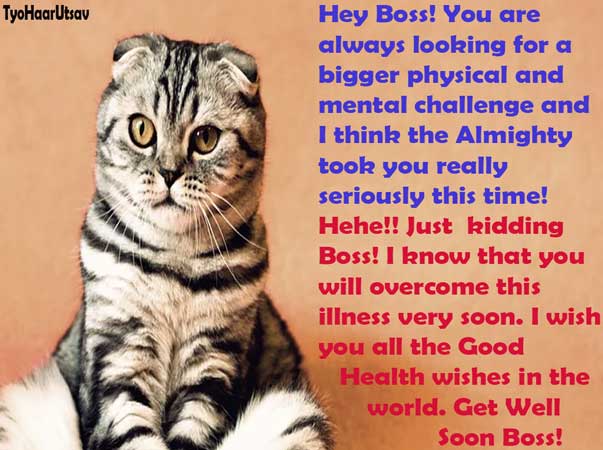 "My idea of perfect happiness is a healthy family, peace between nations, and all the critics die."

Quote by David Mamet
Hey Boss! You are always looking for a bigger physical and mental challenge and I think the Almighty took you really seriously this time! Hehe!! Just kidding Boss! I know that you will overcome this illness very soon. I wish you all the Good health wishes in the world. Get Well Soon Boss!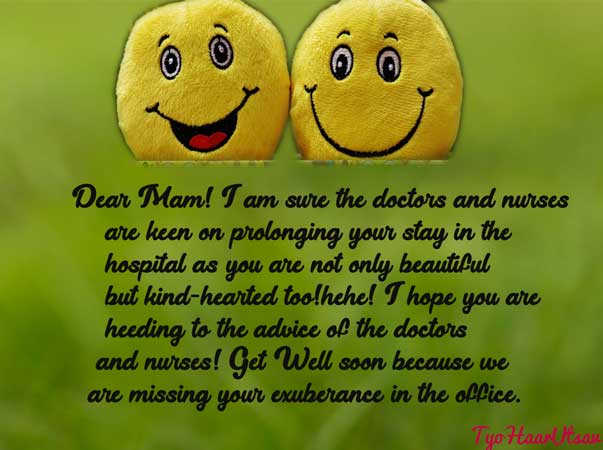 Dear Mam! I am sure the doctors and nurses are keen on prolonging your stay in the hospital as you are not only beautiful but kind-hearted too! I hope you are heeding to the advice of the doctors and nurses! Get Well soon because we are missing your exuberance in the office.
"It is not the soul alone that should be healthy; if the mind is healthy in a healthy body, all will be healthy and much better prepared to give God greater service."

Quote by Saint Ignatius
Dear Boss! I hope the surgeon did his duty well! Please take ample rest and do not worry about the office affairs until you are well recuperated. We are all doing our tasks as if you are keeping an eye on us. Hehe!! Take care Sir! Hope you come back soon
Hey boss!! You may be hesitant in granting us a big leave but you certainly allowed your immune system to have it! Hahaa!! I think you got caught off- guard from the infections. But no worries because I am sure the immune system is now revved up to work day and night in order to propel you for healing. All the best for speedier recovery!
Hello Mam! I hope you are recovering well from the sickness. We were expecting to feel a sigh of relief without your presence but ironically we are feeling less motivated in the office as you are one of the rarest bosses who really thinks about us. May you recover at the earliest and return to the office.
Dear Sir! I hope you are not giving a hard time to the doctors and nurses like you give it to us sometimes. Hehe!! You may be hard on us at times but that is exactly what propels us to greater success. Your convivial presence is badly missed here at the workplace. Hope you get well Soon. All the best!
Great Songs and movies to suggest your Boss
Queen – Under Pressure (Official Video)
The Devil Wears Prada (film)
Filter – Take A Picture (Official Music Video)
Get well email to boss
Hey Boss!

It's been long since we talked and I got to know that you are not feeling well. Sometimes in the pursuit of our professional endeavors, we take our health for granted. You are one of the hard-working folks I have come to know and I just wish that you allow yourself a sigh of relief every now and then.

I hope you are doing things as suggested by doctors and professionals. Take plenty of rest dear because great health is the pillar for having a great life. Hope you recover soon Boss. Cheers!

Much Regards
(Name of the employee)
Formal, Professional get well soon message to Lady Boss
Dear Mam! May the cosmos bestow a plethora of blessings onto you for a speedier recovery. The entire workplace misses your vibrancy and sternness because that's what gets the best out of us. Get well soon Mam!
Hello Mam! It has been a while since our entire team witnessed you at the workplace. We know that you are facing a crisis with your health but all we can say that you will get through it. You are a strong leader and we thrive on it. Have plenty of rest and take care of yourself! Take care Mam! 
Letter of Get Well Soon for Boss
To our coolest boss!

I have come to know that you are not keeping well these days! I hope the stress from the office work is not looming large on your mind because you are doing the best of what you can!

You are a very inspiring individual and I must say that when you are not at the office, we certainly feel a dip in the positivity of our workplace. While most employees wish their boss to not show up at the office, you are a totally different case. And all because, you propel us to excellence and you make us believe in ourselves.


Needless to say, we are praying for your quick recovery Boss! We want you to be healthy and hearty at the earliest so that the workplace becomes jovial and exuberance with your presence.

Hoping to see you soon at the office dear Boss! Mighty recovery wishes for you! Cheers!

From
(Name of the employee)
Final Thoughts!
We hope you have enjoyed some meaningful and engaging Get Well soon wishes for your Boss. We tried to cover scenarios of their accidents, surgeries, and sickness. We will add more messages, quotes, and Images in the coming months. If you think we have left a scenario, feel free to let us know in the comment section. Until the next time, goodbye and we wish your Boss to get well soon! 🙂