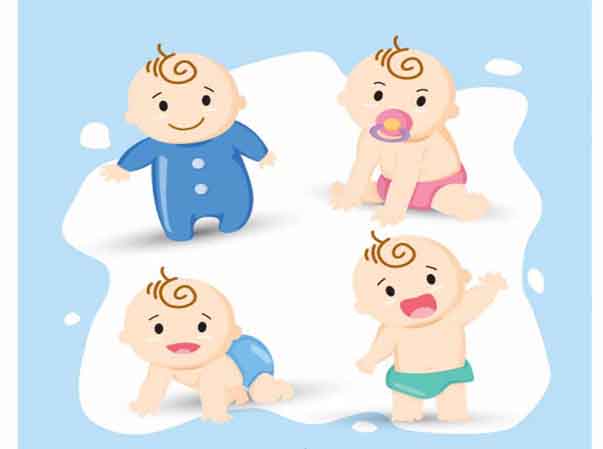 Image Source: – Background vector created by freepik – www.freepik.com
A newborn baby brings immense joy and happiness in every home. Whether it is your relatives or your own boss, greeting them with a simple but heartfelt newborn baby wishes will only make them feel good. And that's what this post is all about.
Here you will find plenty of newborn Baby boy and Girl wishes that you can send to your bosses.
New Born Baby Messages to Boss
The Almighty is blessing you with a new ray of sunshine. May it illuminate all aspects of your life with joy, effervescence, and vitality. All the love and congrats for the newborn baby Sir. Convey my congratulations to the Mam too!
Your sincere desire of having a newborn baby has been filled by the divine. May the presence of it propels you to great heights of not only joy but success and fortune too. Many congrats for the new kiddo!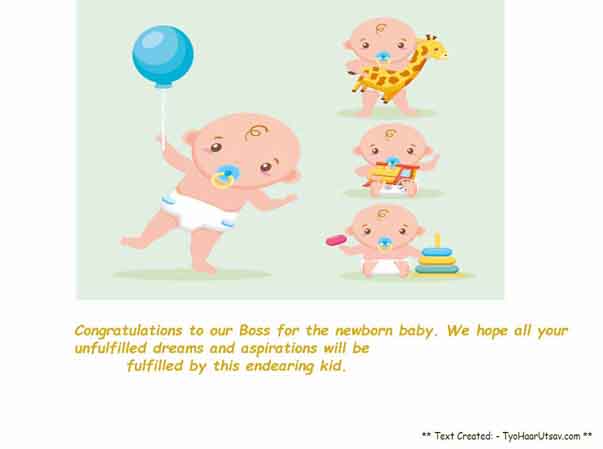 Image Source: – Background vector created by gstudioimagen – www.freepik.com
Congratulations to our Boss for the newborn baby. We hope all your unfulfilled dreams and aspirations will be fulfilled by this endearing kid.
Newborn baby girl wishes to Lady Boss
A new girl has arrived in the town, straight from the heart of Almighty! Seeing her parents, I can only be assured that this girl will be the perfect blend of the superlatives of her parents. Many congratulations you Mam. Hope you and the baby are fine!
I cannot restrain my joy upon hearing the arrival news of your cutest little girl. I am sure you will be a disciplined and a great mother just like you treat us. Many congratulations on the newborn baby girl.
Lucky are those parents where the angel has taken birth. I cannot express my heartfelt happiness I am feeling right now. This girl will bring you immense fortunes, and luck in your life. She looks like a perfect child from the divine. Congratulations from the bottom of my heart.
There is no better friend to a mother than her cute little daughter. She will be the one who will not only enhance your vigor and joy but with whom you will also be able to share your sorrow. Congratulations Mam for the adorable baby girl.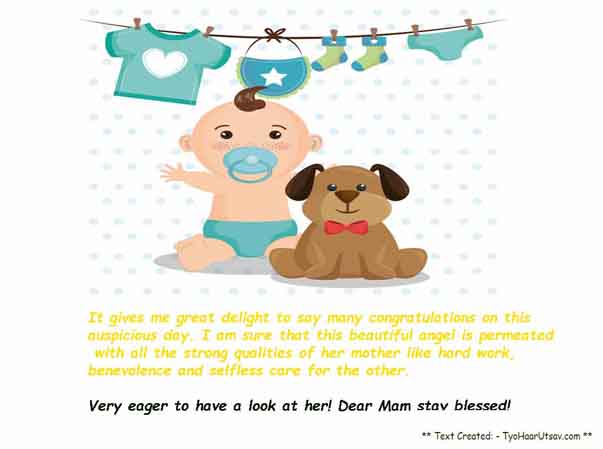 Image source: – Baby vector created by studiogstock – www.freepik.com
It gives me great delight to say many congratulations on this auspicious day. I am sure that this beautiful angel is permeated with all the strong qualities of her mother like hard work, benevolence and selfless care for the other. Very eager to have a look at her! Stay blessed!
How do you congratulate your Lady Boss for the newly born baby Boy?
Motherhood is one of the finest blessings of the divine. May you enjoy every bit of it. The boy looks adorable, just like his mom. I wish that he amounts to great success in the future. Many congratulations on the great news.
A mother-son bond is unique and cannot be expressed in words. You now have a new member in the family who will carry all your legacy. Many congratulations for the newborn son.
No matter how young and full of vigor we may feel at the moment, there is always a helping hand needed in the old age. And the son is perfect for that. But right now, the time is for celebration. Congratulations Mam for the baby boy.
Sentimental wishes to your Male Boss for the birth of a baby boy
There is no greater joy for a man than fatherhood. It gives so much content and satisfaction to the heart. I am so happy that you will now cherish this beautiful phase of your life. May the newborn boy achieve far greater success than your wildest expectations. Many congratulations for his birth
Every father wants his legacy to be carried with the same grace, poise and dignity that he once carried. This young handsome lad will take your legacy to far greater heights than we can only imagine. Heartiest Congratulations for the birth of the baby boy.
I am very certain that this newborn boy is infused with all the qualities of an altruistic man and a beautiful mother. He is one lucky boy to have such parents and I can't wait to see him grow up. Heartiest congrats for his arrival on the planet Earth.
Heartfelt, congratulatory and inspiring messages to Boss for the newborn baby girl
There is a unique and surreal satisfaction that only a father-daughter bond has. The divine has sent a beautiful spirit to your home and we couldn't be happier for you. Our mighty congratulations to you Sir!
I am sure this little angel has brought along immense fortunes and luck for your business with her. Her cute cheeks are adorable and she looks to have strong features just like her handsome dad. Many Congratulations on this angel from the divine.
Funny wishes
The junior boss has arrived and we are ecstatic to the core. I hope he doesn't be so stern like our Boss when he grows up. So happy for the newborn. Many congratulations on the great news!
We have seen how hard you can be on your employees. I hope that it won't be the case with this adorable cutie-munchy newborn. Kidding! Congratulations Sir / Mam for this amazing gift from the Almighty!
I am so envious of the new guy! He will get all the luxury, all the adulation and all the money from his rich parents, something which I obviously didn't get. Lol! Jokes apart! Time for a celebration! Maybe about a raise too!!!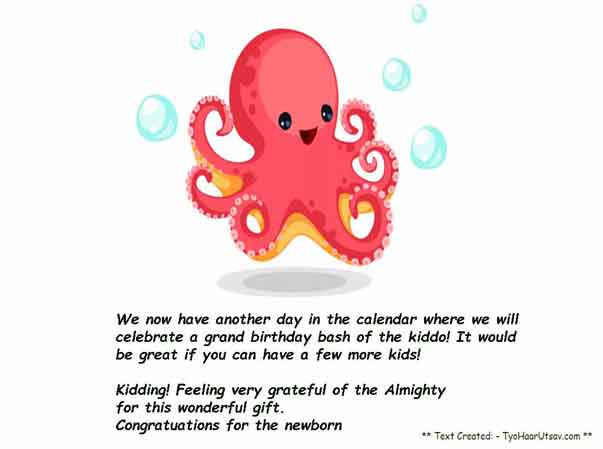 Image Source: – Baby vector created by user2104819 – www.freepik.com
We now have another day in the calendar where we will celebrate a grand birthday bash of the kiddo! It would be great if you can have a few more kids! Kidding! Feeling very grateful for the Almighty for this wonderful gift.
Christian Spiritual Religious messages for the newly born child of your Boss?
Grateful are the parents on whom the Lord Christ has bestowed such a perfect child. I can only foresee a handsome young lad that will get all the attention and adulation in the coming years. Many congratulations for the baby!
It appears to me that the Lord Christ has used the finest template of human specimens for crafting this gorgeous child. May he grow up and conduct her life like a true disciple of Christ. All the congratulations to you!
Adjectives and phrases that you can use to prepare such messages for the newborn
In order to prepare such messages, you can use adjectives and phrases like vivacity, compliment, gorgeous child, beautiful angel, sent from the divine, blessings of the Almighty, embodiment of altruism, zestfulness and etc.
Final thoughts!
We hope that you have enjoyed the various messages in this post for the newborn baby of your Boss. We will add in more messages in the coming months. Until the next time, take care!