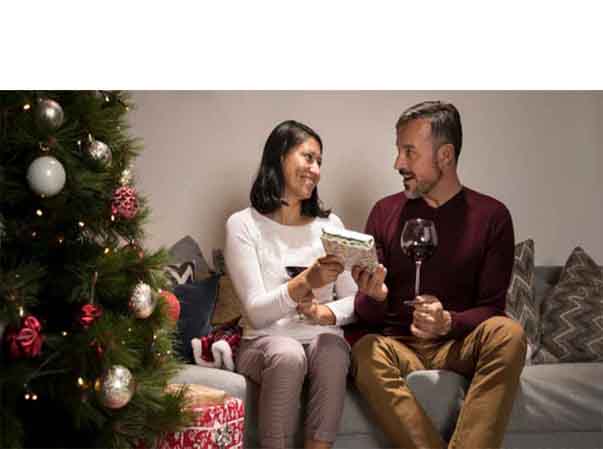 Image Source: – Christmas photo created by freepik – www.freepik.com
When we talk about heaven on Earth, nothing can be more blissful than a marital relationship between a man and a woman. Marriage is a commitment of loyalty, trust, admiration and selfless love for your spouse throughout the lifetime. Nothing makes your spouse feel more alive and more desirable than a well-crafted, thought-out anniversary wishes.
When it comes to the essence of your husband in a relationship, there will hardly be any other relationship that could replace his unconditional and selfless love and care. He is the one that makes your heart skip a beat, the one who fulfills all your emotional needs and does hard labor (usually!) to fulfill the requirements of your children.
Needless to say, but on the occasion of an anniversary, he absolutely deserves a nice, cute, romantic anniversary wishes to bring a smile to his face.
And therefore, we have created this post for you! Here you will find plenty of anniversary wishes for your husband with different moods and scenarios such as : –
Social media wishes for him
Religious messages and wishes
Messages for greeting cards, letters, SMSes
One-Line anniversary wishes for him
Messages if he is far away, in army
And plenty of wishes for different scenarios for him on this splendid occasion. So without wasting any more time, let us get started!
Sentimental Wedding Anniversary wishes for Husband
Dear Husband! I cannot thank my stars for having you in my life. Your presence has brought so much joy, exuberance, and vitality in my life. I will eternally be grateful to the almighty for giving me a handsome, cute husband who is committed to keeping her woman irrespective of the circumstances!
There is so much effervescence in your presence. There is so much love around your presence. Despite all these years of marriage, your love, joy, and commitment towards me and family hasn't diminished! You are a smart, handsome, funny, caring and sensitive man. And needless to say, but the sight of you still makes my knees go weak. Happy anniversary my sweetheart! You are the best hubby!
Your vivaciousness and generosity have only grown bigger with time. Your altruism and hard work have made life fruitful for so many of us. You have radiated my life with so much of your enthusiasm. In a nutshell, you are the embodiment of a husband for any woman! Love you a lot, my handsome! Happy Anniversary!
How to make up with a belated wedding anniversary wishes for your hubby?
We have to admit it here! We understand how stressful your lives can be! Being a wife comes with its set of challenges! And sometimes those challenges can slip out the occasion of the wedding anniversary from your mind. But worry not, there is always a way for making it up with a nice belated wedding anniversary wish to your husband. Check them out below
Dear husband! I apologize for the late anniversary wishes! I understand how grievous it was for me to forget something like that! Wishing you the late anniversary wishes might not convey my love and gratitude to you fully but know that you are the finest husband that a woman can ever have! Happy belated wishes to you dear! I have plans to make up for it!! Love you sweetheart!
There might not be that much excitement in receiving a belated anniversary message from your wife, but she is human too! She makes mistakes, and sometimes forgets things. On this anniversary, I request your forgiveness first! Secondly, we are planning something big tonight! Can't wait to make up for the belated wish! Love you sweetheart!
Crazy (Naughty) anniversary wishes for Husband who is abroad, far away (Long Distance)
Dear husband! I know that you are thousands of miles away from me, but it feels that our hearts are tied together, that our souls are intertwined together. On this special occasion, your absence does pinch me. But I know that we are going to have a blast upon your return. Happy anniversary sweetheart! May the almighty bring more fervor, zeal, intensity, and passion. Love you!!
I miss the touch of your hands, the sight of your face, and your warm breath! Lucky are the wives who do not have their husbands out of town during the anniversary! But unfortunately for me, I yearn for your presence deeply! Happy anniversary to my handsome hubby! Come back soon baby so that I shower all my love to you! Love you!
Nothing could be more punishing to my heart than your absence at this time. If you would have been here, my hands would have been all over you! You would have been in my arms and I would have given you the best anniversary wishes and gift! But nevertheless, you can still fantasize about your wife giving you sexiest welcome upon your return! Happy anniversary sweetheart!
Gratitude and Emotional wedding messages of Anniversary for Husband who is not feeling well
Hey SweetHeart! I hope your health is much better now. And it should be so! Why? It's our anniversary today and you got to be in the finest health to celebrate this occasion. I hope my anniversary wishes for you will help you recuperate from the fatigue and stress. Or we can simply sit together side by side and have the deepest conversation today? Lets see! Lots of anniversary love!
Propose beautiful and Romantic anniversary wishes for Husband for WhatsApp Status, Facebook and Instagram
People are extremely conscious these days on social media about their posts, especially of important live events! Everyone feels like writing the perfect anniversary wishes on their timeline of social media and this is why we have come up with some cool social media congratulatory messages for your husband on anniversary.
Times have flown by, and our hairs may have turned grey! But our hearts grew even closer. Every anniversary is evocative of our courtship period! And this won't be any different! Happy anniversary to the most adorable husband in the world! Love you sweetheart!
When I see you, my time stops! When I touch you, my desire to live increases! Every moment with you has been nothing but fabulous. Through thick and thin, we have, and we shall stand by each other! Happy Anniversary Darling! You are my lifeline! Love!!
Latest Unique trending wishes for your Hubby
There is not a day that goes by when I don't feel grateful to have you as my partner in crime. The cosmos has brought all my dreams to come true, courtesy to you dear! On this beautiful day of our anniversary, I wish to the Almighty to have you in all my lifetimes! You are amazing and I love you to the core! Happy Anniversary my love!
I feel sorry for all the other beautiful ladies out there. After all, you are the prized possession that I have! But the quality that has always got me hooked to you is your ability to keep going, whatever the circumstances maybe! The saying when the going gets tough, the tough get going, truly suits you. And I feel so glad to the almighty to have you by my side. Lots of love on this anniversary to you my teddy-bear hubby!
There is no iota of doubt in my mind about having you as my hubby! Life with you has truly been incredible and flavorsome! And I can't wait to see how the rest of our lives will unravel before us. Happy Anniversary to my love! May the Almighty keep us together for eternity!
Emotional Religious love marriage anniversary wishes for Husband
There was a time when I did not believe in love. It was then you not only came in my life but catapult me from a very low phase. I cannot fathom where my life would have been without you. You have been a great husband, a doting father and a complete family man. Every hallmark of a great Christian Husband! May this anniversary give you a long life, great health, and joy! Love you!
In all seriousness, I must admit that I had a different notion about the Husband! But you have redefined its meaning for me through your charm, charisma, affection and hard work. I have learned immensely from you and cannot wait to see upcoming years of our lives unfold with more opulence, joy, gratitude and what not! Happy anniversary my love!
Christian anniversary wishes for your husband
I prayed to the Almighty for a wonderful, nice Christian man and he surpassed my expectations by sending you in my life! You are the breath of fresh air that has jolted my life with adventure, joy, and content. Nothing remains unfulfilled for my heart! Thanks to you and the divine! Happy anniversary darling!
When everything is left to Christ, nothing can go wrong! I have always believed in love marriage but never knew that christ had something better for me! Your kindness, hard work, and your demeanor removed all my hesitancies. Needless to say but you are amazing! Lots of kisses, love, and hugs to you on this anniversary!
Christ answered my prayers when I needed someone to guide me for the next chapter of my life. I will be ever thankful to him for giving me a priceless gift like you. May this anniversary glue our relation with more love, effervescence, and vitality. Happy Anniversary! Love you with all my heart!
Rare are the couples who share the same frequency of thought on great Christian values. The Almighty has bestowed me with a noble husband like you who encourages me to chase all my dreams. May every woman get a christian Husband like you dear! Happy Anniversary to you lovely!
Simple Anniversary Cute Wishes to Hubby by pregnant wife
Lucky are the people on whom the Almighty floods upon so much of Joy at once. Carrying a human-being in your womb can be the most satisfying thing in the world! And the endorphins can be overwhelming when the occasion of anniversary arrives in between it. The following section contains the perfect over joyous anniversary wishes for your husband which also includes the envisage of your child to be born.
SweetHeart! I can bet that such two great news do not coincide with each other frequently! You have given me stupendous happiness beyond my expectations! A new chapter of our life will unfold in the coming months as we prepare ourselves to welcome the greatest blessing of divine! This time couldn't be happier for us. Happy anniversary sweetheart! Can't wait to welcome our baby!
One-Line cool anniversary wishes for Hubby
You are the star that I shot for! And I have been getting handsome dividends ever since. Haha!! Happy Anniversary my love!
When God needs a template to craft a handsome husband, he reviews your aesthetics. You are a perfect sweetheart!. Lots of anniversary wishes!
You have been the perfect blend of fervor, effulgence, and exhilaration in my life. You are my sunshine! Happy Anniversary sweetheart! No one likes you!
May our souls remain intertwined with each other for eternity! May our hearts share the same beat for perpetuity! Happy Anniversary my love!
Funny unique lines of wishes on the anniversary for your hubby
My biggest accomplishment in life has been to spend marital years with you despite the odds against our favor! You had been a demanding husband and I am no different either! However, when it comes to love, you and I have seen the ebbs and flows of life together. We have been through grief and joy together! And I am glad that we are still together! May the Almighty bless us forever! Happy Anniversary sweetheart!
What to write in wishes for the anniversary if the husband is rude?
Dear Husband, on this occasion of the anniversary, I know that I may not fulfill some of your expectations, however, I give my all to you every time. I yearn for your appreciation and your desire. I crave for joyous times between us. May this occasion of anniversary brings happier times for us in the coming months! 
How to make your army husband feel love through anniversary wishes?
Hey sweetheart! Happy wishes of Anniversary to you! I hope you are doing great! Know that you are the bravest man I know of and that all the country people are so proud of what you do! You are my protector and my hero! I pray to the Almighty for a longer, healthier life for both of us! Happy Anniversary again!
You are the embodiment of a man. Brave, action-oriented, smart, handsome and sensitive too. There is nothing that you need to be than what you already are dear! Every citizen of this nation is proud of your fearless demeanor! You make me proud too! Happy Anniversary to my strong partner!
Propose crystal anniversary wishes for husband
It has been a gracious ride of marriage for the last 15 years. We have been through thick and thin and I couldn't have gotten a better partner than you. May the almighty keep us alive so that we celebrate our golden jubilee with more joy and love. Lots of love on this crystal anniversary sweetheart!
It feels like yesterday only that we got married! In all these 15 years, you have been a perfect husband! No situation was (is!) insurmountable for you! You always bring the best out of me and I adore you with all my heart! Thank you for the unforgettable moments in these 15 years. Looking forward to more! Happy Crystal Anniversary dear!
Beautiful Pearl anniversary wishes for husband | Humorous and Sarcastic too!
Dear hubby! I am so surprised at how time really flies! It only feels yesterday that we took vows to care for each other, to love each other at all phases of life! On this 30th anniversary, nothing gives more content to my heart than to have you by my side! You are still the adorable, handsome man that I fell in love with. May the almighty bless us with more joy and love! Happy anniversary lovely!
It has been nothing but a roller coaster ride with you sweetheart! Handling you is far from easy! But I guess I pretty much reciprocate it through my irritating habits! Throughout all these years, I have admired your tenacity to resolve the issues by taking the initiative! You have been the finest husband throughout all our lives and I am glad that I met you on that day! Know that my love knows no boundaries for you! Lots of hugs kisses on this anniversary to you!
While it is true that I married you purely out of love, I was also concerned about our prosperous future! You not only proved me wrong, but also became nicer, more altruistic, and more tender-hearted! Being with you brings my cells alive. And I wish the almighty makes us explore the other dimensions of life together! Happy anniversary my dear love! God bless you!
Jotting heartfelt and gratitude messages to husband in heaven (deceased husband)
Dear husband! I know you are enjoying exploring the heavens! And I am so grateful to the Almighty to have given you all the love, respect and care during our marital time! While you may not be alive, know that your memories will always be itched in my heart! Know that my mind still has the perfect capture of your smile! It was today that we vowed to commit our lives to each other. You may have departed, but know that I will join you after my time here on Earth! Happy anniversary sweetheart!
Dear husband! Ever since you have departed, life presents me with instances which were reminiscences of your love, your laughter and your touch. You were a kind soul, the one who swept my feet, and the one who loved me to the core, and I greatly miss your teddy-bear hugs and kisses. It was on this day that we took the oath to give ourselves fully to each other for the rest of our lives. And you did that perfectly sweetheart! Happy anniversary wishes to you, wherever you are! You will always be mine!
Paragraph of anniversary wishes for an angry husband
My dear husband! This anniversary I want to speak my heart out to you. While I know your good intentions for me in all my personal and professional endeavors, at times your anger gets on my nerves! You are a great husband by all means but sometimes, a lighter tone can do many wonders than getting angry! I hope you understand. Lots of love to you on this anniversary!
Sad Anniversary wishes for Husband
SweetHeart! It pains my heart to see you facing this illness. But I am hopeful that my love and support will catapult you from it. You are my universe. You are the center of my inner being. And my life will become empty if I won't be able to save you! Happy Anniversary wishes my dear! I wish the almighty to take me away with you, if that's what her wish is!
Contemplating the anniversary wishes for your Future Husband
Every woman on this planet desires a handsome charming prince who will one day come to her rescue and will sweep her across the feet! If you are someone who is seriously considering tying the knot with your handsome prince, then our anniversary wishes for your future husband will come in handy!
My soon to be future husband!! Know that you will have a lifetime of support, loyalty, and trust from your soon to be gorgeous wife. Our love and lust will last through eternity and we will have a team of babies! Happy wishes for the soon to be marriage anniversary occasions of us.
Making your cheating husband realize your worth through anniversary messages
Dear hubby! I absolutely despise what you did to me but I can never hate anyone in my life! I forgive you for what you did to me and pray to the almighty to give your life some meaning and purpose. All the wishes and luck to you on this anniversary!
Should I send an anniversary wish to my ex-husband?
It really depends on the equation that you hold with him. Yes, we agree that forgiving your ex (if he did the wrong to you!) is difficult! But if the divorce has been done with maturity and understanding, then you can always send thank you sort of anniversary wishes to him. We say this because you two may have split up, but have shared a lot of good moments together! And we also expect the same reciprocation from him too!
Hey …(name of husband)………..Whatever happened, it has gone by! While nothing can be done to undo what you did, there is something that I would like to remind you of on this occasion of the anniversary. Know that I have given myself to you completely, that I had fought with my friends and family for you, that I have always wished for a smile on your face. And I still love you with all my heart! We may not be together anymore but know that I am grateful for the joyous moments that we had in our time! God bless you!
Hey there! How's life going on? Today is something day. The anniversary date of our marriage! I agree that life has not been smooth for the two of us after the divorce, but I just want to forgive you for all the things that happened! You tried your level best! And I am happy that you are doing great in life! To the joyous times, we had together, happy anniversary to my ex-husband!
What to keep in mind for preparing messages, SMS, letters and paragraphs for such occasions?
We consider many factors before jotting down the messages. While preparing a message of your own, you can consider the recent kind gestures of your husband and his physical and emotional attributes. While you can send one (even two-line) messages, according to us, they don't really incite any feelings in the recipient, your husband in this case!
Final Thoughts!
That's it for all the anniversary wishes for your husband this time. We hoped that we had covered messages for plenty of scenarios. We will, of course, keep on adding more and more meaningful messages for the rest of our lives. Until next time, take care!