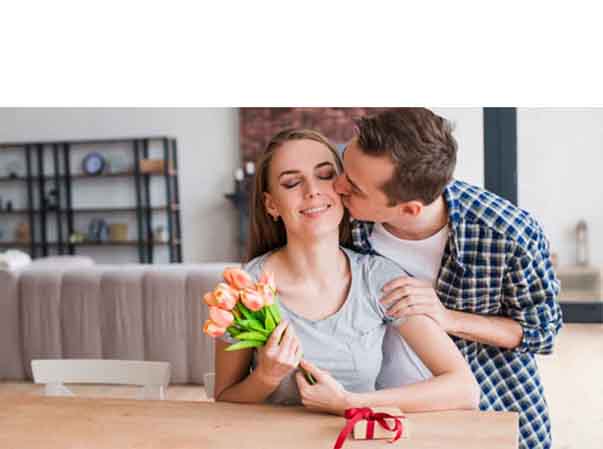 Image Source:- Ribbon photo created by freepik – www.freepik.com
Throughout your entire marriage, the first year could be the most challenging one, as two people get to know inside out of their spouses. Yes, there is a ton of excitement, fun, and adventure in the first year, but you get to know the trigger points of each other.
Being a new husband is far from easy. Giving quality attention to your wife does take a lot of energy, however, the rewards of it are way too sweet. And when it comes to writing the anniversary wishes to your wife for the first time, trying to come up with sentimental, funny, Naughty messages can be tricky. 
And this is why we have prepared this post. Here you will have plenty of 1st-anniversary wishes to your wife which you can send through social media, what's app status, SMSes, etc. We hope you will like the messages.
First Anniversary Wishes for Wife
Dear Wifey! It has been an exhilarating 1st year of our marriage and I couldn't be happier to have you! I am so glad to see how well our personalities gel with each other. While you have all the qualities of a wonderful wife, the most I admire about you is having a cool head, especially during the times of a heated argument! On this 1st anniversary occasion, lets vow to each other to invest more love, commitment, and trust into our relationship. Enjoy the 1st year anniversary my love!
When I envisaged marriage, all I prayed from God is to give me a loving and considerate wife who will show equal participation in my adventurous outings, in decision making and who knows how to keep a level head during times of conflict. All I can say is that the Almighty gave me more than what I asked for! You have brought a new perspective to my life and I couldn't be more thankful! Happy 1st anniversary my love!
The year was filled with a lot of thorns but little did I know that I have a champion wife who would propel me to enormous success. Her love knows no limits for her husband and she takes on challenges like a champ. I admire her courage, her mental strength for making the relationship work. Salute to my stunning wife on this 1st year anniversary.
I sometimes contemplate our future and the only thing that I wish is to be filled with fun and pleasure. The 1st year has been extremely gratifying for any husband. And I hope it has been the same for you too. Can't wait to witness the upcoming years of our marriage. Happy 1st anniversary my sweetheart.
Best anniversary wishes of 1st year to your wife
There is no greater blessing of the Almighty than to have a loving, caring and sympathetic partner. Your benevolence and gracious way of dealing with the unexpected circumstances really touches my heart! Let us pray that the upcoming years turn out to be more exciting, more adventurous and gratitude filled in our marriage. Kisses to you on this first anniversary!
Our marriage has been like a see-saw. The highs and lows, the troughs and crest have made us wiser only. Even after witnessing so much trouble in the first year, it would be an understatement If I say that I admire your tenacity to work things out. Glad to be your husband, my dear wife!
Your curiosity, novelty, and altruism has lit up my passion to do more in life. Your aura is the perfect blend of innocence, altruistic values, and persistence. Needless to say, but your moans in the night make me feel on top of the world. It is only a blessing of the divine that I have got as my partner in this life. Happy 1st anniversary Darling!
There is nothing in this world that gives solace to my heart in distress. Yes, we are not perfect but we do know how to keep the water under the bridge. It has been a remarkable 1st year and I pray to God to give it more in the coming year! Lots of love and blessings to you on this 1st anniversary!
Short sweet messages of 1st anniversary wish to your wife for WhatsApp Status and Facebook
God answered my wish! He gave me a beautiful wife, who is not only gorgeous but understanding too! You are a breath of fresh air into my life. May this marriage withstand the thick and thin of the coming years. Happy 1st anniversary darling!
I prayed to the Almighty to give me a wife who is smart, funny, intelligent and gorgeous as hell! He answered my wishes by sending you into my life! On this 1st anniversary, I vow to be always with you through the ebbs and flow of life.
No matter what the circumstances will be, I will always be there to lift you up from the low phases of life. I will always be your sunshine, your savior in times of distress. You are everything to me dear! Happy 1st anniversary!
There is a distinct joy in the ebbs and flow of life when the life partner is supportive like you. Your high-spirits and sanguineness are the intrinsic qualities of you and I wish it remains like this forever! Lots of love on our 1st anniversary!
May the vivacity and ebullience stay between us for the rest of our lives. The first year has been blissful. Let us pray that the divine bestows us with more joy and happiness in the coming years. Congratulations for completing the 1st year!
Romantic First anniversary wishes to Wife
Dear Wife! Your presence in my life is so invigorating. Your love for me has no bounds! My life revolves around you and my dedication for you will never waiver! The journey has been a roller-coaster ride and I am excited about the upcoming years of our marriage. Happy 1st anniversary to you sweetheart!
Before you came into my life, I never knew that Life could be so colorful. Your exuberant and vibrant personality takes away all my haggardness. Your beauty enlivens the cells of my heart and your touch spikes my lust enormously. Needless to say, but I adore you and will do so for the rest of my life. Happy 1st anniversary my gorgeous!
Your cheeks remind of the fresh roses, your sparkling eyes remind me of the stars. Your juicy lips rejuvenates the cell of my beings and your warm hugs rushes my blood like a teenager. I feel as if the divine has sent me an angel. Happy 1st anniversary wishes to you, darling!
Naughty Dirty 1st year anniversary wishes to your beautiful wife
Hey Gorgeous! It's been a sweet one year when we committed to each other! You are a ray of sunshine and your words rushes my blood, your sight makes my heart skip a beat and your touch sends shivers through my spine. Hopefully, I will never ever get enough of you through all our marital life. Happy 1st anniversary wishes to you dear wife!
There are days when all I want is to rip apart your clothes and make love to you! While our lust for each other has surprised us often, it is the understanding and care that gives content to my heart and soul. You are the embodiment of a gorgeous wife who knows how to keep her man happy and I can't thank my stars for having you in my life. Cheers to our 1st anniversary Gorgeous!
It feels amazing to have someone who not only matches our thought wavelength but is equally enthusiastic in the sack. Every night I can't wait to make your eyes roll back with intense pleasure! Let us plan a foreign vacation to commemorate this special tonight! Happy 1st anniversary to my sexy wife.
Funny happy first anniversary wishes for wife
Dear wife! It has been an eventful first year of our wedding and needless to say but we have managed to keep our hands away from each other's neck for the most part! We definitely witnessed many highs and the lows but you have elevated my level of patience for sure! Kudos to you for that! I am sure that you will also reciprocate my adjustment in behavior.
Your personality is a weird mix of laughter, seriousness, tranquility and sadness. I guess the Almighty has a certain algorithm for balancing the funny and cheerful personality side of yours. Lol! But whatever the case may be, I love your eccentricity and it has only made my life worth living. Happy 1st year anniversary to my wife! God bless us!
My Lovely Wife! I Kudos to you for completing this first year! I know my antics get on your nerves but you do also know how to reciprocate it. Isn't it? We had amazing laughs, fights and struggle in the first year which is likely to go on this year too! Lol! My cheers to you on this 1st anniversary. May the Almighty make us inseparable over the period of time.
1st wedding anniversary Card messages for Long Distance Wife
I would be lying if I say that I do not despite the long distance between us. But despite so many miles, seas and oceans, our love and faith for each other has only grown with time. I adore your love, your beauty and your touch and I can't wait to get my hands on you upon returning! Come back soon and let us commemorate this occasion with something special! Happy 1st anniversary my lovely! God Bless you!
We may not be in the proximity of each other but my heart feels synced with yours. Our souls are now intertwined forever! And this is why our hearts always feel for each other all the time. You being far away has only increased my love, affection and understanding for you! Happy 1st anniversary my stunning wife! Can't wait to get my hands onto you!
Perfect Reply message to your Wife for her first-year anniversary message
Hey Wife! Your 1st-anniversary wishes and messages are so invigorating, thoughtful and resonates perfectly with me. Life has become so colorful ever since you came into it. It amazes me how the cosmos work and send such a precious darling to take care of me! You are amazing and I pray to God to keep our relationship tranquil, full of love and gratitude. My 1st anniversary wishes to you too!
Reading such lovely wishes of yours is so soothing to my heart! Despite our flaws, arguments and bad phases of life, every morning I feel grateful to have you by my side! Your proximity gives me tranquility and your tender child-like heart takes away all the stress of my daily work. You are my lifeline and will always be! Lots of anniversary blessings to you my lovely wife!
Hey gorgeous! Your anniversary wishes are lovely! You are the queen of my heart and I will no stone unturned to ensure that you keep smiling always. You are a wife that every man desires and your beautiful face makes me go weak at the knees. Happy 1st anniversary wishes to you also. Thanks for always being there for me!
Things to remember while writing such a message for your wife
A key point in writing a genuinely heartwarming message for your wife is to include the positive traits of her which helped you immensely such as being helpful, having altruistic qualities, keeping the head calm in heated arguments, etc.
Some of the qualities that you can praise your wife on 1st anniversary include being straightforward, attentive to you, supportive of you in professional and personal endeavors, having intense participation in sex marathons and etc.
Final thoughts!
We strongly believe that words, if written with thoughtfulness are enough to incite a strong feeling in the reader. And that's what we aim to do with every post. Hopefully, you enjoyed this post of 1st-anniversary wishes to your wife. We will keep on adding more and more such messages in this post. Let us know your valuable feedback in the comment section.